Football Index Review 2020
Commercial Content | 21+ | T&Cs Apply
Football Index is the platform that combines one's interest in betting on football and the stock market. The platform allows you to bet on future success compared to the traditional way of betting on football matches. Find your inner Football Index trader with this Football Index review.
Contents

Football Index Review Summary
| Football Index | Rating |
| --- | --- |
| Football Index Promo Code Offers | ⭐⭐⭐⭐⭐ |
| Signup Process | ⭐⭐⭐⭐ |
| Football Index App | ⭐⭐⭐ |
| Payment Options | ⭐⭐⭐ |
| Average Rating | 3.8 |
What is Football Index's Betting Exchange?
Football Index gives you a different aspect of betting on football compared to traditional sites like bet365, Ladbrokes, and many more. Football Index lets you combine the thrill of football with your inner equity trader. Or in this case, a Football Index trader, and this is one of the only platforms to do so. With over 3000 football players to choose from in addition to new footballers entering the platform, you can construct your portfolio as you wish. Like a football version of a Wall Street trader.
The promo code gives you some leverage until you find your footing and getting the hang of the market. And then the interest hits the highs, you can use the Football Index app to put your wagers on the run, so you're never too far away for Football Index betting.
The main downside of Football Index is that it's still very new and raw. And there's plenty of room for improvements. It's the curse of being new and revolutionary on the market. In the near future, we expect Football Index will improve. This will happen once they have added more players to their pool, alternative payment methods, and improved user experience on the Football Index app. Then it's moving closer to the respects of other online sportsbooks around the world.
Therefore, our Football Index review scored a 3.8 due to the lack of payment methods and lack of availability in most of the big markets aside from the UK. The concept of Football Index is amazing because it lets you find your inner Football Index trader buying and selling on a football stock market. Having the thrill of buying shares and following your favorite players, hoping for their immediate success in the limelight.
What is Football Index?
Football Index was funded by BetIndex Ltd, which is a platform that gives the users the opportunity to find their inner stock market trader while being a passionate fan of the game of football.
Football Index is about having an interest in a footballer's success and buying and selling shares of each footballer. And Football Index betting will mainly focus on Media Day Rankings and Match Day Rankings. Where Match Day Rankings are the value generated by player performances on the pitch. And Media Day Rankings are the value generated by the UK Sports media. If all goes well on your investments (the shares you have bought in a player), you are eligible for dividends, which is payouts that you can pocket.
Just like any other normal company that wants to enter the stock market. Football Index can introduce up to 50 new players on a daily basis (Monday to Friday). This is referred to as an Initial Public Offering (IPO). And the price will be set at Football Index' discretion. This gives the Football Index traders first chance at getting shares in a player entering the platform.
The platform gives you a simple overview of the most traded players, the most expensive players, the high risers, the latest activities by traders and the top 200 players on Football Index.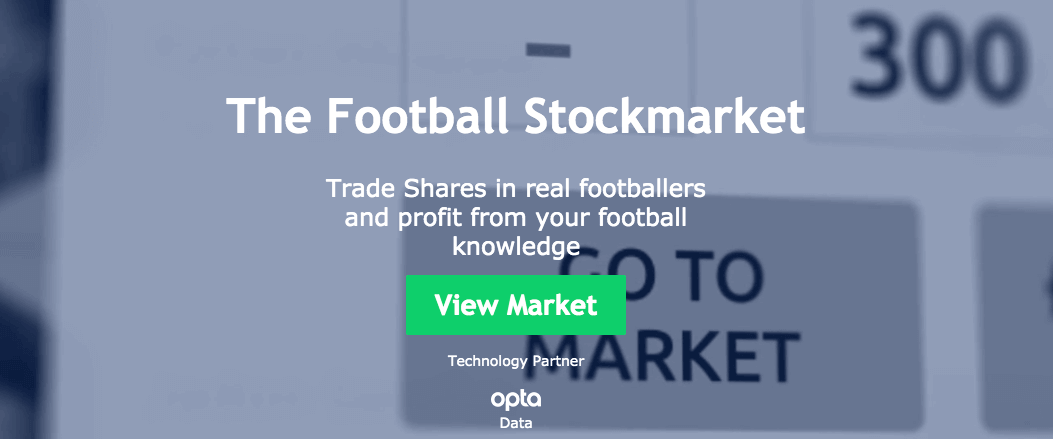 Football Index Promo Code & Offers
Football Index has a promotional offer for new customers. That involves a £1,000 money back refund when losses are incurred within the first 30 days of the deposit. The Football Index promo code requires that you at least deposit at least £10 into your account. Meaning that if you deposit £1,000 into your account and invest all of it, and when you liquidate your bets after a week, holding £800 afterward. That means that the promotion will refund you £200, which is the loss that you had incurred.
The Football Index promo code is mainly for new customers. And it's different to most other sportsbooks, as the traditional 100% deposit bonus up to a certain value. All your deposits are subjected to the promotional code up to £1,000. Which means that if you deposit £100 on your first deposit, and a week later decide to deposit another £500. Then all £600 will be subjected to the promotional offer.
How to Sign Up with Football Index
Football Index is currently only available in seven countries/regions as of now. Including Jersey, Ireland, and the UK. To sign up, the first step requires a valid email, phone number and creating a password. The second step requires personal information. It's simple to sign up and only takes a minute. Then you are eligible for the promotional offer of £1,000 cashback.
Signing up to Football Index is really easy and very straight forward. And takes no more than a few minutes to do so. Football Index could be a game-changer in the US betting market. As it is such a different platform compared to the likes of Daily Fantasy Sports from DraftKings or FanDuel, or the current state of most sportsbooks like PointsBet Sportsbook or SugarHouse Sportsbook. Football Index can take the passionate fan and bettor to a whole new level.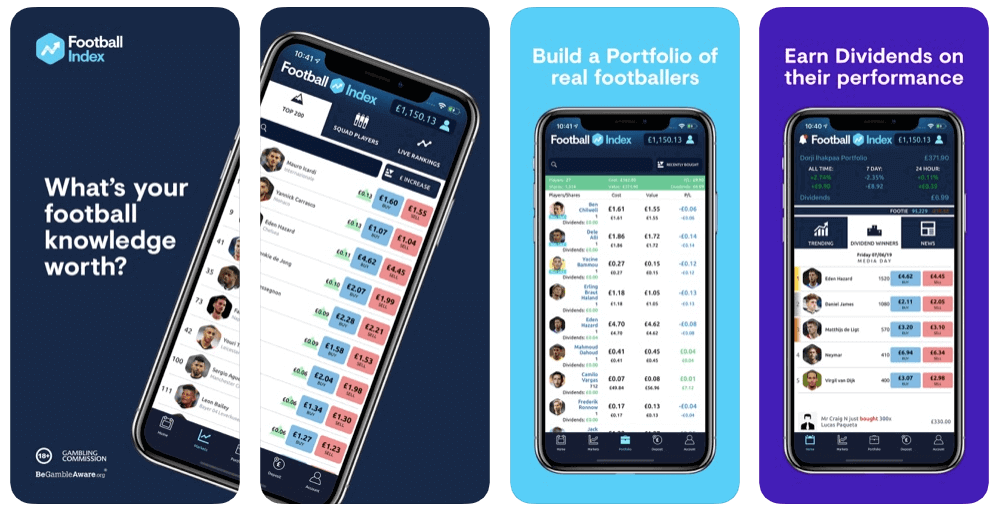 Football Index App
The Football Index app is available on Google Play Store for Android users and the App Store for iOS users. However, note that once Football Index comes to the US, Android users will need to download it from the website. That's because Google doesn't allow real-money gambling apps in the US Google Play Store.
In our Football Index review, we found the layout streamlined and easy to use. Conveniently, you get an overview of your assets –  your buy and sell values – alongside your transactions, giving you a clear picture of profit/loss and commission on your bets.
Usage is really easy, as you'll have all the necessary information in the app to make your bets. Although the design is still lacking, and have room for improvement to enhance the user experience. Using the browser version of the platform will still give you a better overview to compare players and prices, and the app should mainly be used when you're on the go.
Payment Options
As of now, Football Index only accepts two methods of payment. These two deposit methods are below.
That said, we hope that alternative payment methods will be available as the platform expands into new markets globally.
Withdrawal methods include the following:
If the funds are part of a Football Index promo code, the terms of service must be met first. After that, winnings can be withdrawn.
All deposits made into your account have been confirmed as cleared and have not been charged-back, reversed or otherwise canceled.
Football Index is required to verify users' identity in case of money laundering and other illegal activities. These checks include age verification and bank details.
We found these conditions in our Football Index review to be no different than many other sportsbook platforms.
FAQ
Football Index isn't available in my country, what do I do?
You can write them a message on feedback@fooballindex.co.uk.
Which players are available?
Football Index mainly has players from the Premier League, Ligue 1, Bundesliga, LaLiga and Serie A. But also have players from two club tournaments, namely Champions League and Europa League, and two national team tournament: the World Cup and the Euro Cup.
What is Media Ranking?
You can bet on Media Ranking of a player, which is solely focused on their appearance in the UK online sports news outlets.
Do I qualify for the Football Index Promo Code, if I withdraw within the first 30 days?
No, and nor will you qualify, if you have a profit by the end of the first 30 days.