Betting on golf in 2023 and beyond is a dynamic and fun way to interact with arguably the greatest sport in the world. If you've never placed a bet on a golf tournament, here's your how to bet on golf guide to help you get started. If you are new to sports betting and reading odds, first check out our betting 101 guide.

Jump to
The Beauty of Golf Betting
Betting on golf should be an enjoyable experience, and if it's not, it's best to avoid it altogether. Only bet within your means, and avoid increasing your wager to compensate for previous unsuccessful bets. For most recreational betters, placing a bet on a golf tournament makes watching the tournament more exciting, especially when your guy is on the top of the leaderboard on Sunday afternoon!
From 2000 to 2008, a popular bet on the PGA Tour was Tiger vs. the field. During his dominance on the PGA Tour, Tiger Woods' pre-tournament odds to win were often 2-1 or shorter, meaning wagering on golf during the Tiger Woods era could be pretty ho-hum.
But all that has changed. Today, there are a handful of golfers at the very top of their games, but there are also dozens of great players who can pull off a big win on any given Sunday.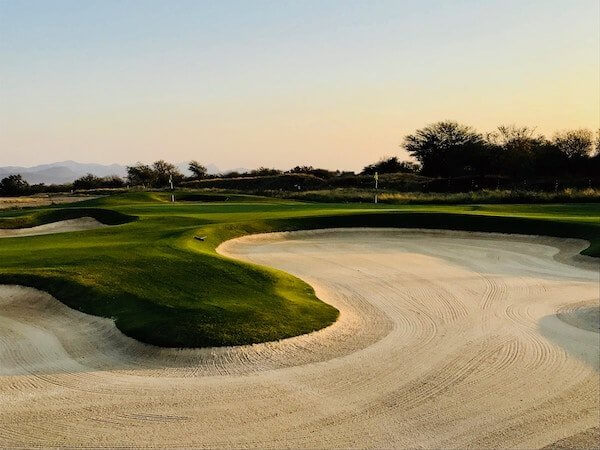 What sets golf apart from other sports is that there are over 100 competitors in the field, with endless possibilities of how the tournament will play out over 72 holes. Anything can happen, and that's what makes it so exciting.
We all witnessed Jean Van de Veld choke away a three-stroke lead on the 72nd hole of the 1999 British Open, and at the 2005 Masters, we watched in awe as Tiger's pitch on hole 16 rolled up to, stopped for a moment and then defied gravity and went in the hole, propelling him to victory.
Not every tournament will have the drama of one of golf's defining moments, but every golf tournament is an adventure. With so many different types of golf bets, every tournament can feel like a major.
If you are new to golf betting, you'll need to know how to read the odds. You'll see them written two ways: 5-1 (or 5/1) means that a $100 bet would profit $500, while +150 means that a $100 bet would profit $150. If you've got this information handy for the tournament, you're ready to place your first golf wager.
Betting on Golf: Types of Bets
There are countless ways to bet on professional golf. You can place a bet on who will win a tournament, or you can bet on how players will fare head to head. There are also longer bets on how a player will do over time. And let's not forget the fun prop bets. We'll cover the big ones here.
Betting on a Player to win:
The easiest and most popular way to bet on golf is to place a wager on a single player to win a tournament. Armed with your odds sheet and all the homework you've done (or maybe you have a gut feeling), you simply place your bet for a player to win.
So if Rory McIlroy is 5-1 to win and you place a $100 wager, and McIlroy wins the tournament, you'd profit $500. Underdogs do win from time to time but take a second look before placing a wager on a +40,000 to win.
Betting on the field:
If you look at the odds and don't see a clear winner in the group, you can choose to place a wager on the field. This means that you're betting that one of the golfers not given individual odds will win the tournament.
Golf Future Bets:
A future bet is made on events that will happen in the future. In theory, there is no limit to the number of future bets that could be made. In reality, however, the oddsmakers create odds for future events that bettors can wager on. A popular future bet is on the number of major tournaments a player will win in a given year.
Golf Prop Bets:
Prop bets are considered fun bets that keep things interesting during a tournament. Did you know you can bet on the coin flip of the Super Bowl? Prop bets in golf can be on anything from a player making the cut or the winning margin in a tournament. Your guy to win might not have made the cut, but you can still enjoy watching to see if the tournament winner will cry on the 18th hole.
In-Play/Live bets:
It's now possible to bet on a golf tournament in real-time by live betting. This means you can make bets during the round while it's happening. This is possibly the most exciting bet in golf because it captures momentum swings from one hole or shot to the next.
Going back to 2005 with Tiger standing with a wedge off the 16th green, what do you think the odds were for him to make that shot?
Betting on Golf: How to Increase your Odds
If we go back to the notion that betting on golf should be fun, that doesn't mean that you can't do a little homework. A lot of information goes into creating the moneyline for a tournament, so it makes sense to make choices based on the best information. There are a number of factors to consider when betting on a golf tournament.
Playing Trends:
Even the best golfers are streaky. Which players are coming into the tournament blazing hot, and which big names are ice cold? You can measure this in wins or top-five finishes over recent weeks or months, but you're looking for a player who has the game and the mindset to win.
Golf is now played year-round all around the world, and even the best players play in Europe and Asia, so don't forget to look at the other tours when doing your research.
The Course Setup:
A great player can score (and win) on any course, but certain courses set up better for some players than they do for others. If the tournament is being played on a long, wide-open course with forgiving rough, look for long hitters currently playing lights out to win.
If it's an older, tighter course, maybe one of the veterans who has played well on the course for years will pull off the big upset.
Start with how the general course setup suits a player, but don't forget to investigate how a player has played on the course over the years before making your bet.
Weather:
Every golfer plays the same course, but the weather can play a huge factor in the outcome of the tournament. Some players play well in windy conditions, while others struggle. Cold, wet conditions favor golfers accustomed to the toughest conditions, while some of the older guys with years of wear and tear will likely struggle in the worst weather conditions. Sorry, Tiger!
Log onto your weather app and look at the tournament forecast. What's the weather like? Are there storms lurking? Don't forget that players teeing off in the morning on Thursday tee off in the afternoon on Friday (and vice versa), so you can gain an edge by looking at weather forecasts that favor half the field of golfers.
Putting it all together:
You might keep it simple and place a bet on a player because it just feels right. But as long as golf tournaments are played by humans on unique golf courses out in the elements over the course of several days with millions of dollars at stake, almost anything can happen. As lovers of the game, we wouldn't have it any other way.
Masters Odds
Looking back at the Masters on April 7th – 10th, let's check out the 2022 Masters Odds from DraftKings.
Jon Rahm +1000

Justin Thomas +1200

Scottie Scheffler +1200
Cameron Smith +1400

Dustin Johnson +1600

Brooks Koepka +1800
Collin Morikawa +2000
Rory McIlroy +2000
Jordan Spieth +2200
Tiger Woods +4000
PGA Tour Odds
There are 48 events this year on the PGA Tour, which makes keeping up with the odds for each one difficult.
Closing Tips
With a love of golf and a little knowledge of the odds, it's easy to place a bet on a golf tournament. Do your homework (or don't) and start with a simple bet on the golfer you think will win the tournament, then sit back and watch it unfold.
Once you're more comfortable with the process, you can begin exploring other types of wagers, including live, in-play bets that capture the ebb and flow of the action. Have fun and bet responsibly.
However it is important to note, the content on this page is for informational purposes only. Us-bookies.com makes no representation or warranty as to the accuracy of information given or the outcome of any game or event.
'Draw no Bet' Meaning | How to Bet on NBA | How to Bet on NFL | 10 Fantasy Football Tips | How to Bet on Tennis | How to Read Odds | Moneyline Betting Explained | Football Parlays and Odds Explained | What is Live Betting