If you're looking for an exciting way to add another level to your sports watching experience, live betting is a great way to do that.
Live bets happen as the game progresses and on-the-fly, so tune in to your preferred game at a sportsbook like PointsBet and start placing live bets ASAP!
Jump to
What Is Live Betting Online?
When you're placing live bets online, you're betting on events to happen in the game. For example, if you're making live bets on the NBA, you might bet on which player will grab the next rebound, or which team will have possession of the ball at the end of the quarter.
Live betting is very similar to prop betting: in many cases, the two overlap Venn-diagram style. However, prop bets are usually placed before a game is televised, and are often wagers on things that have nothing to do with the outcome of a match (such as the color of the Gatorade dumped on the winning team's coach).
Live bets are match-specific prop bets that do have to do with the outcome of the game, like "will this kicker make the next field goal", etc. There are also live bet types that deal with outright winners and parlays between concurrent matches. Check the bet types offered by the operator of your choice to be sure that your preferred live betting options are offered.
When you're betting on live events in-game, it's important to make sure that you're watching on cable or have a dedicated stream on a good connection. The results of live bets can happen in an instant, and you don't want to be left behind because the live stream glitched out!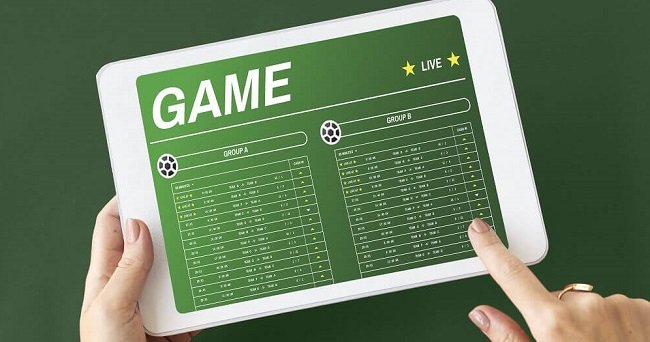 How To Find Good Live Bets?
When you're looking for a place to do some live betting, it's of primary importance to make sure online sports betting is legal in your state. Nowadays, many states have legal US sports betting and more are poised to draft regulations soon.
Once you've determined if online sports betting is legal in your state, it's time to choose a sportsbook operator that works for you. Make sure you're looking for live bets and good sportsbook bonuses, because not every sportsbook will offer the same thing.
Now that you've determined which sportsbooks offer live bets, choose one with the welcome offer and bonuses that work best for you.
Other sportsbooks will have deposit matching offers, rewards programs, and more. Take all of these into consideration when making your choice for an online sportsbook. Additionally, be sure to check the wagering and withdrawal requirements of the operator you're interested in–some of the wagering requirements can be quite restrictive.
Most of the national chains like BetMGM and Hard Rock Sportsbook have well-respected customer service and welcome offers that are worth your time. Additionally, NJ and PA-area casinos have partnered with sportsbook operators to offer an even more comprehensive gambling experience. If you want all your gambling money in one place, including casino games and sports betting, try one of these services. Some of the smaller books, like Sky Ute, will also need great services if they want to compete with the big players.
Once you've gotten your online sportsbook app installed on the device of your choice (or you've opened up a browser window on your PC), make sure to enable notifications for live betting and save your login on the app so you'll never miss the action. Live bets happen at a moment's notice, so make sure you're watching whatever game you're betting on live!
How To Manage Your Money During Betting
One of the biggest enemies of a gambler is a ticking clock. That's why live betting can be so enticing, and also why it should be approached with caution. It's also a reason why most casinos don't have clocks: they want you to get lost in the betting experience and spend more money.
Inappropriately used, live betting can be an ineffective way to profit from sports betting. That's why it's important to set limits both with your money and with your time. Betting on live events, in particular, can be dangerous because the decisions happen so fast: instead of planning to wager a set amount of money ahead of time, live bettors have to make quick decisions on whether or not to bet.
The human brain is not good at quick decisions. There's something in gambling called "chasing your losses". The brain is a delicate and complex device, and it's simply human nature to believe that "this one bet could recoup all my losses", especially when you're deciding under pressure. In reality, to have one bet recoup all your losses is something that almost never happens.
In addition to being mindful of time and limits, most online sportsbooks will allow their users to set gambling limits and enable cooling-off periods where accounts are locked. Every legal sportsbook in the US is run by their state's gambling or gaming enforcement division, so problem gambling and other issues are handled at a state level.
Myths of gamblers staking their entire life on a bet and winning are just stories; irresponsible gambling ruins lives every day. Regulated sportsbooks should several efforts to extend a helping hand to problem gamblers, so don't be afraid to ask for help if you feel your gambling is getting out of hand.
Finally, betting is not an investment strategy–it's for fun. If at any point the gambling stops being exciting, stop. The purpose of sports betting is to introduce real risk (in the form of your hard-earned money) into your sports watching experience, which is quite thrilling!
Hopefully, this short guide to live bets has been informative and enlightening. Live betting is a rapidly-growing trend in the gambling industry–our modern culture is addicted to speed and hyperstimulation, and betting on live events is a product of that affinity. Americans, especially, want fast-paced fun without delay, and live bets offer that momentary excitement that we crave.
'Draw no Bet' Meaning | How to Bet on NBA | How to Bet on NFL | 10 Fantasy Football Tips | How to Bet on Tennis | How to Read Odds | Moneyline Betting Explained | Football Parlays and Odds Explained