The Resorts Casino bonus code is 100FREE. Use the code at signup and claim the 100% deposit match up to $1,000.
For sports betting lovers, the Resorts Sports bonus code is MAXFREE. Get your first deposit matched up to $250 when using the code at signup.
Remember, read the terms & conditions before you play.
Jump to
| Resorts Online Offers* | Bonus Details | Bonus Code |
| --- | --- | --- |
| Casino Deposit Offer | 100 % up to $1000 | 100FREE |
| Sports Deposit Offer | $250 Second-Chance Bet | MAXFREE |
| Casino No Deposit Offer | $20 Bonus | MAXCASINO |
| Restrictions | New NJ Customers Only | 21+ |
| Last verified | Nov 30, 2023 | *You may only activate one bonus code upon registration. |
The Resorts Casino Bonus Code will give you one of the best offers out there. Players get a great opportunity to get up to $1,000 credited into their accounts as a match on their first deposit! Just use the promo code in order to access this great offer.
Simply deposit and meet the wagering requirements and you'll be let into a whole world of fun with the Resorts Casino Bonus Code.
How to Use the Resorts Casino Bonus Code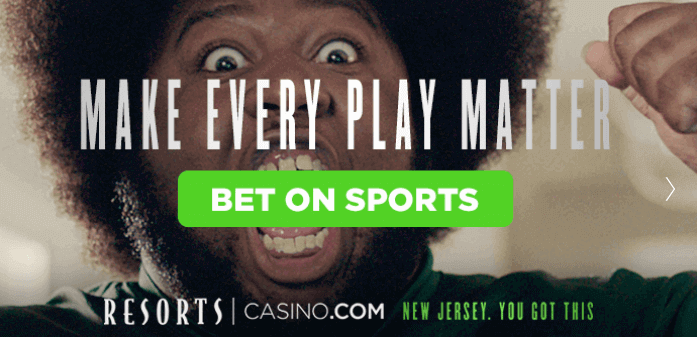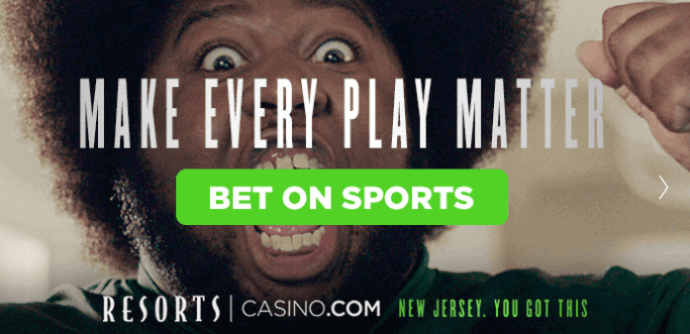 In order to claim the Resorts Casino Bonus Code, simply create an account and type in the promo code when you do so. Creating an account is no hassle, and if you follow the steps it's really quite intuitive.
With their fast and easy signup service, a whole host of game titles and some great rewards are just around the corner.
When you create your account, you can follow the links on this page to redirect you to the Resorts Casino online page. From here, you'll be able to create a new user account by clicking on the "Join Now" button.
This will redirect you to creating an account and request that you type in some personal information. Simply add your email address, name, date of birth and the last 4 digits of your social security information in order to create your user account.
Following this, enter your Resorts Casino Bonus Code in order to activate this casino online bonus. Then, as soon as you deposit your first funds into your account, your first online casino bonus will activate, and a bonus bet will be deposited into your account.
Once you have this, just start using it on a whole range of games, using one of the best online casino bonuses around to boost your money early on.
Register with Resorts Casino Bonus Code
Visit ResortsCasino.com
Click the green "join now" button
Make sure to read all terms & conditions
Fill in the registration form
Don't forget your bonus code!
Use 100FREE for a casino deposit bonus OR
MAXFREE for a sportsbook betting bonus
Verify your account with the confirmation email
Start playing!
Only players located in New Jersey are able to bet with Resorts Casino. This is due to the fact that they are licensed by the NJDGE, which only covers activities inside the state. This also means that if you are registered and go out of the Garden State, you can't play until you're back within state lines. This will be verified by taking GPS data of the device you are using.
Because of the restrictions, you'll need to provide a selection of personal details in order to create an account with Resorts Casino. In order to do this, you'll need to enter your name, date of birth, gender and the last four numbers of your social security number.
Don't worry, this information will all be safe, as it's regulated under the license under New Jersey law.
Other Resorts Casino Bonus Code Promotions
Good things can't last forever. That's why we're compiling some of the best Resorts Casino and Resorts Sports offers below. You can see what you've missed and get a taste of more possible offers to come.
As well as the Resorts Casino Bonus code, there are heaps of other offers available. This is one of the big strengths of Resorts Casino, whose size means that they are able to offer a massive selection of promotions. Here's a breakdown of the offers available to you once you use the Resorts Casino Bonus Code and become a Resorts Casino member.
Get up to $1,000 on your first deposit (Ongoing)
You can get 100% up to $1,000 in free bonus play when you sign up with the code DEPOSIT1 when you make your first deposit, and your bonus will be matched.
$3,000,000 Daily Game Plus $1,000 Weekly Drawing (Expires on 9/28/2022)
You have the opportunity to win $3,000,000 if you play every day our Daily Games. You can claim your tickets if you win our weekly $1,000 drawing by clicking the "CLAIM" button. You can earn more than one entry per day, so keep coming back to earn more. You have a better chance of winning a prize if you have more entries! 100 winners will be drawn every Wednesday for the $1,000 Weekly Sweepstakes, and they will each receive $10.
Expired Resorts Promotions
Pick Your Gift (Expires on 8/7/2022)
With VIPPICK, you'll receive one entry per 100 Rewards Points earned, and another for every $100 deposit you make between Monday, August 1 and Sunday, August 7. A total of five VIP Pick Your Gift Giveaway winners will be chosen, each choosing a gift worth up to $350.
Be Nice to New Jersey Week (Expires on 7/9/2022)
If you are located in New Jersey this offer is great for you. Based on your hometown location, you can grab a code that will win you 50 free Spins on Jersey Devil with a $50 deposit. This offer lasts from July 3rd until July 9th.
$3,000,000 Daily Game Chance to Win (Expired)
With Daily Games on Resorts Casino, they're giving away an opportunity to win a maximum of $3 million. All you need to do is log into your account to play. To participate, simply get onto your account and play any of the approved games for the promotion; they are clearly marked.
NetEnt Playmaker Giveaway – Win up to $50,000 (Expires on 6/12/2022)
To take part in this promotion, you should wager at least $25 on qualifying slot games. For every $25 wagered, you will get one entry. Don't worry if you prefer table games to slot games, but in that case, you must wager $50 on BlackJack, American Roulette, or Casino Hold'em Poker to receive one entry. The offer is valid from June 2 through June 12, 2022.
Pick Your Gift: VIP Exclusive (Expired on 5/30/2022)
15 random players will be awarded with a gift of up to $400. You will become eligible for this promotion by going to the website and claiming the code VIPPICK during the promotional period. By claiming the code you will receive 1 entry to the draw, and you can better your chances by depositing at least $100 in a single deposit. Depositing in such a way will grant you an additional entry.
Deposit and Get Up To $250- VIP Exclusive (Expired on 5/11/2022)
Between May 9th and May 11th, you have a chance to get up to 20% bonus money on your next deposit, up to $250, depending on your VIP Status. Just claim one of the codes (VIPECH, VIPDIA, VIPALL) mentioned on the website for a specific VIP tier and become eligible for this promotion.
Mother's Day Giveaway (Expired on 5/9/2022)
For Mother's Day, the Casino is organizing a Giveaway where you can get an up to $200 Hand and Stone Gift Card. Just claim the code "MOM" on May 8th, or even 9th, and grab one entry for the draw. For more entries, every time you collect 40 Reward Points, you'll get an additional one.
Deposit And Get Free Spins (Expired on 4/25/2022)
On any Monday during April, with the last one being the 25th, get the code SPIN50 and you will receive 50 Free Spins which can be used on Gorilla Go wilder. To become eligible for this promotion players need to claim the code and deposit at least $50.
VIP: Bunnies Love Apples Too! (Expired on 4/20/2022)
By entering code "VIPBUNNY" from 17th April to 20th April, you can win some of Apple devices in this Giveaway.
Upgrade Your Handbag – VIP Exclusive (Expired on 4/10/2022)
Players who claim the code VIPPURSE will get an entry for the draw where some of the prizes are handbags such as Coach Willow Tote, Prada Cleo and more. Players can also earn extra entries by depositing at least $200, or for every 100 Rewards Points earned.
Bonusback Mondays (Expired on 3/28/2022)
Depending on your account status, every Monday in March you will get from 10% to 30% (up to $75) cashback on your slot losses.
VIP: 100% Match up to $100 (Expired on 3/30/2022)
If your VIP status is Platinum or higher, log in from March 28th and March 30th and enter the specific code for that day to claim the 100% up to $100 Casino Bonus.
VIP Pick Your Gift Giveaway (Expired on 3/23/2022)
If you are a VIP member at Resorts Casino, use the promotional code VIPPICK between March 9th and March 23rd and get started on earning Reward Points. If you want to increase your chances just play more because for every 50 RP you collect, you get an additional entry. The reward is up to a $300 value gift of your choice.
VIP This Giveaway Is Not Joke! (Expired on 3/26/2022)
By entering the code "VIPLAUGH" from March 19th to March 26th you will be qualified for this Giveaway. If you want better chances for the prize, for every 50 Rewards Points collected you'll get one extra entry, or even, for every single wager of $100+ and you'll get 4 entries. There will be 4 winners on March 28th and the prize is VIP booth at the AC Comedy Club.
VIP Bonus Giveaway (Expired on 3/15/2022)
All VIP members with Platinum status or higher by entering the qualifying promo codes in the promotional period will get up to a $100 bonus. The best part of promotion is that no deposit is needed.
$5K Cash Giveaway (Expired on 3/13/2022)
If you are a VIP member, from Friday, March 4th to Sunday, March 13th you are able to win $1000 by applying the code "VIP5K". For every wager of a minimum of $100 or 50 Rewards Points you collect, you'll get one entry more. The drawing will be on March 14th.
Up to $50 Casino Bonus Every Day (Expired on 3/7/2022)
For four straight days, all VIPs with platinum status or higher can claim a different code each day along with their deposit, and get up to $50 casino bonus!
$1K Casino Bonus Giveaway (Expired on 2/28/2022)
Every Monday in February will be a chance for patrons to win a part of the $1000 giveaway. To opt in for the Giveaway, you must claim the code MONDAY and get your first entry. To get additional entries, earn 40 Rewards Points or get 5 additional entries for every $50 deposit you make. Every week you are in for a chance to win $10 casino bonus.
Bon Voyage! Giveaway (Expires on 2/28/2022)
Singing in and claiming the code "CARNIVAL" you have a chance to compete with other players and win prize up to $150. This offer is valid from February 24th to February 28th, and on March 1st will be drawing for 25 winners. Good luck!
VIP Deposit & Get Casino Bonus (Expired on 2/21/2022)
For Platinum Status VIPs or above, claim the code VIPPRESIDENT on the 21st and get 100% match up to $100 casino bonus!
President's Day Bonus Giveaway (Expired on 2/21/2022)
If you claim the code INAUGURAL during the promotional period, you will get an entry into the President's Day Giveaway, where 46 lucky winners will receive great prizes – with the first prize being $100 Casino Bonus. You can gain one additional entry per 40 Reward Points!
St. Valentine's Day Giveaway (Expired on 2/16/2022)
To participate in this Giveaway, you should make a deposit along with using the code VALENTINE. This will give you your first entry, but you can earn more – one entry for every 60 Reward points you accumulate. The first place winner gets $150 casino bonus.
Millionaire Mondays Triple Spins (Expired on 01/31/2022)
If you sign in between 9am and 9pm every Monday in January into your account, you will get 2 extra spins, plus the one you already have, on the daily game which can bring you amazing rewards.
National Escape Day Giveaway (Expired on 1/31/2022)
By claiming the code ESCAPE between January 29th and 31st, you get an entry into the National Escape Day giveaway! After claiming the code, you will receive an additional entry for every 30 Reward Points you earn. The top prizes include a FlightGift.com Gift Card ranging from $100 to $50, and there is also a Casino bonus for another 23 lucky winners.
Be a VIP All Month Long (Expired on 01/31/2022)
As a VIP, you can enjoy certain benefits all month long in January. And if you participate in all 7 promotions Resorts Casino is offering, and you earn more than 50,000 RPs, at the end of the month you will get $150 bonus dollars.
Daily Free Spins (Expired on 01/26/2022)
For all those patrons who are of the VIP platinum status or higher, you can receive 50 free spins if you use a specific bonus code with your deposit between January 23rd and January 26th.
All About the Benjamins (Expired on 1/17/2022)
For this promotion, make a deposit and claim the code BEN to get a chance to win $100 cash in Ben Franklin's Birthday Giveaway draw. You will get one entry when you opt in, and additional entries for every 40 Rewards Points you accumulate. There will be 40 winners drawn on January 18.
VIP Diamond+ Deposit Match (Expired on 1/19/2022)
Claim the code VIPDIAPLUS between January 16 and January 19 and you will get a 100% deposit match if you are a VIP with the Diamond status or above. This will bring you at most $100 in casino bonus dollars.
Weekly Bonus Bet
With you, you can claim a Bonus Bet every week! Every Friday-Thursday, if you make 10 valid sports wagers between those days, you'll get credited with a modest $5 bonus wager.
This bonus will be added to your account within 48 hours. You cannot use it for playing casino games.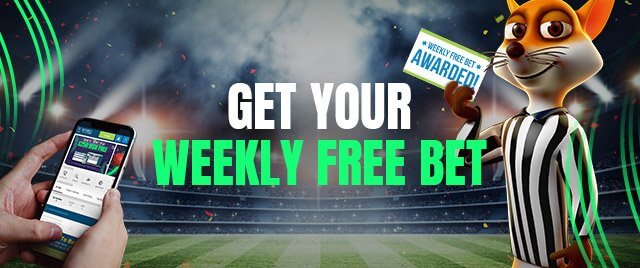 Deposit and Get Free Spins
Every Tuesday in December, you will have a chance to get extra free spins on certain slots as long as you make a certain deposit. The deposit you make will depend on your loyalty level, but you can get up to 100 free spins.

SGD Promo-A-Day
Resorts Casino is making the last week of this year special by offering a different promotion every day, and this includes free spins, double the reward points you earn, etc. At the official promo page, there is a table where you can follow which code you have to claim on which day to get the prizes.
$3K Casino Bonus Giveaway
Resorts Casino is organizing a big giveaway where 100 lucky winners will get $30 bonus. By claiming the code PRESENTS between December 26th and 29th, you will automatically gain entry into the lucky draw, but every 50 Reward Points you get will gain you an additional entry.
VIP Exclusive Offer
If you are a VIP at Resorts Casino, you will have a great opportunity between December 23rd and 27th to get a gift worth up to $200. If you claim the code VIPPICK you will automatically gain one entry into the draw, while every additional 50 Reward Points you get will earn you an extra entry.
Green Monday Daily Bonus
If you are a VIP, by claiming certain codes throughout the weekend and making deposits, you can get bonus casino money, points, or free spins, depending on the day. Then, on Monday December 13th, the Casino will reward you with even more casino bonus dollars depending on your loyalty level and the amount of Reward Points you've earned. However, getting those extra RPs depends on you claiming all three previous bonuses.

NETENT Exclusive Cash Giveaway
This Holiday Grotto promotion is valid between December 8th and December 15th, and by entering the draw, you have a chance to win $25,000. The draw will be on December 20th, and you can get entries by wagering over $25 on eligible slots or over $50 on table games.

60% bonus on Parlays
Resorts Casino also offers a bunch of game-specific promotions, to both encourage you to try out some new games and give you boosters on the ones you already love. With this reward, you can get between 20% and 60% of your winnings boosted. This means that it is possible that your next 5 picks could land you with a huge $25,000.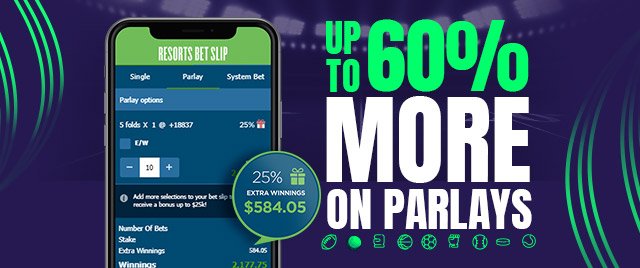 $50 Cashback Tuesdays
This reward gave you the chance to make a little bit of money back on your losses on Tuesdays during July (13, 20, and 27). You needed to simply activate the bonus code, MORE, play some slots, and your losses were credited to your account based on your loyalty status. This was a great way to make sure that you have a bit of a safety net when playing slots.
| | |
| --- | --- |
| Loyalty Status | Cashback |
| Diamond | 25% up to $50 |
| Platinum | 20% up to $50 |
| Gold | 15% up to $40 |
| Bronze/Silver | 10% up to $40 |
Be Nice to New Jersey Promotion
This Resorts Casino promotion pitted the different parts of NJ against each other for fun! You could choose a code North, Central, or South and play to earn reward points through July 4-10. In the end, the code with the most RP would win something extra. It was a chance to show your part of the state some love.
The reward points were tallied up on the following Monday, so you'll had to wait a few days until after the competition closed to know if you were a winner.
You could not claim two or more codes. This automatically disqualified you from the offer and you could not win anything, even if you got some RPs.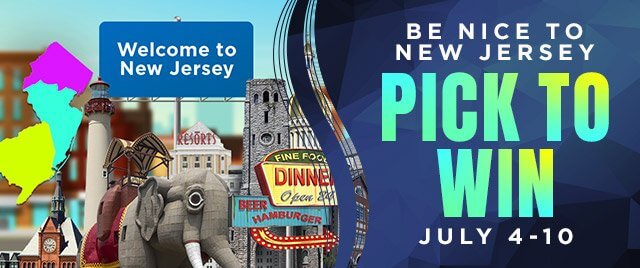 Resorts Casino Review
Resorts Casino is an operator that brings a wealth of experience into the world of gambling. The established Resorts Casino is the oldest Casino in Atlantic City and has given them a lot of insight into what the customer wants over the years.
As a result, the key advantage of Resorts Casino is that they provide a large range of games for you to play. A strong proportion of these games is also available through their mobile app. They also offer some great round-the-clock customer service, offering Live Chat, email, and phone as ways of getting in touch.
In terms of things they could improve on, we found that there could be more slot games available for a casino so big. They also offer high wagering requirements on some offers, which is worth checking out in the terms and conditions.
Resorts Casino Games
There's plenty of ways to play for free or with your own money at Resorts Casino. One you use your Resorts Casino bonus code, you'll have access to what is an excellent selection of games. If you think of yourself as a strong slots player, then Resorts Casino has all of the classic games.
We do think that this is the area where there could be a few more titles, but there's definitely enough for most players to get what they're looking for.
As a real-world Casino, you can be sure that Resorts also offers a bunch of table and poker games. If you fancy a spin on roulette or a quick hand of blackjack, then they've got you covered. There are also some great live features, which you can find down at the poker table.
Want to feel closer to the action and get some really in-depth gameplay? Then this might be for you. If you like the sound of these games, try using the Resorts Casino Bonus Code in order to boost your chances of winning big.
Resorts Casino App & Mobile Options
Now, all of the great features of the Resorts Casino website are available in a much more accessible and tactile setting–on your mobile phone. For both Apple and Android users, the app carries on the cool design of the Resorts Casino Website, whilst giving you access to all of their reward programs, games and much else besides.
There are around 150 games available through the Resorts Casino app, and pairing up with some great game developers means that they play just as good as the desktop version.
You can also access features like depositing and withdrawing over your mobile device. So no need to call up your bank, or get home fast to make a bet, instead you can do it all on the go. Players must also be advised that the app will only work if you have an internet connection.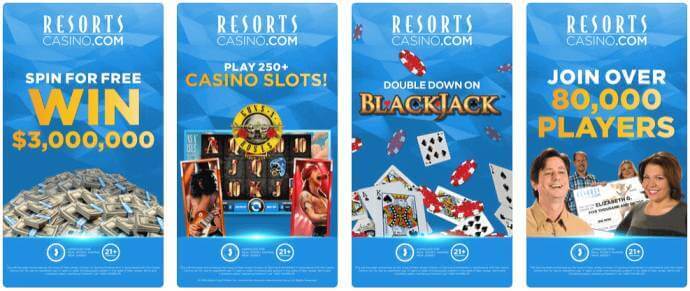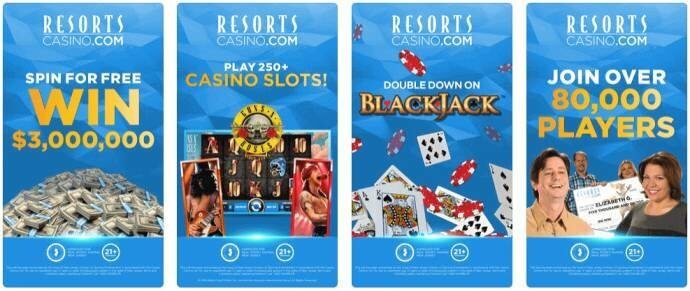 Resorts Casino Payment Options
However you want to pay, it's highly likely that Resorts Casino has it covered. As well as standard payment platforms, like VISA and Mastercard, Resorts have now expanded to include some newer platforms like Neteller and Paypal. This means it's truly down to the player as to how you want to deposit and withdraw.
Online Bank Transfer
Visa
MasterCard
E-checks
Resorts Card
Deposits at the Resorts Cashier Cage
Paypal
Pay Near Me
Neteller
Resorts Casino Customer Support
Resorts also offer a strong range of customer support options. If you experience some problems, or just don't understand anything, then don't hesitate to contact their lovely people. The three options for getting in touch are Live Chat, email, and phone. This means that all of the main bases are covered, and whatever you choose should be fine.
Their customer service team offers round-the-clock care with a 24/7 service. If you need to speak to someone, call 844 990 4263, email [email protected] or head onto the Resorts website to make use of the Live Chat feature.
Is Resorts a Licensed Casino?
Worried about whether this whole thing is legit? Providing that you're in the State of New Jersey, you should have no problem gambling with Resorts Casino.
Resorts is a fully licensed casino in New Jersey, which means that it is covered by New Jersey law and you're able to safely withdraw all funds and winnings.
Using the Resorts Casino app outside of New Jersey is not possible because you must use geolocation services on your phone to make sure you are with the licensed jurisdiction. So as long as you're in New Jersey, you should have no issues.
Roundup Resorts Casino
Get your Resorts Casino Bonus Code today and sign up to get some great promotions and rewards. Make use of their wide range of games and download the Resorts mobile app for the best playing experience.