Caesars is a booming online sports betting platform that is spreading to more states across the USA. It's already available for online betting in NJ, a sportsbook in NY, online sports betting in PA, and many other states.
Now, the online sports betting platform from Caesars has undergone some changes recently. However, the online sports betting operator still has a lot to offer sports betting fans.
Between a large betting market, an app, and the welcome offer, there is a lot to unpack about the Caesars Sportsbook.
Jump to
There is, of course, a mobile platform that we go into more specifically there. But for now, know that you can register on desktop and get a welcome bonus there too.
Caesars Entertainment has long been present in Atlantic City and Las Vegas, but their online sportsbook is something newer.
Look for sports betting at Caesars Sportsbook to expand to every state where there is a Caesars property. Soon enough, most Americans will be able to wager on sports with Caesars platform.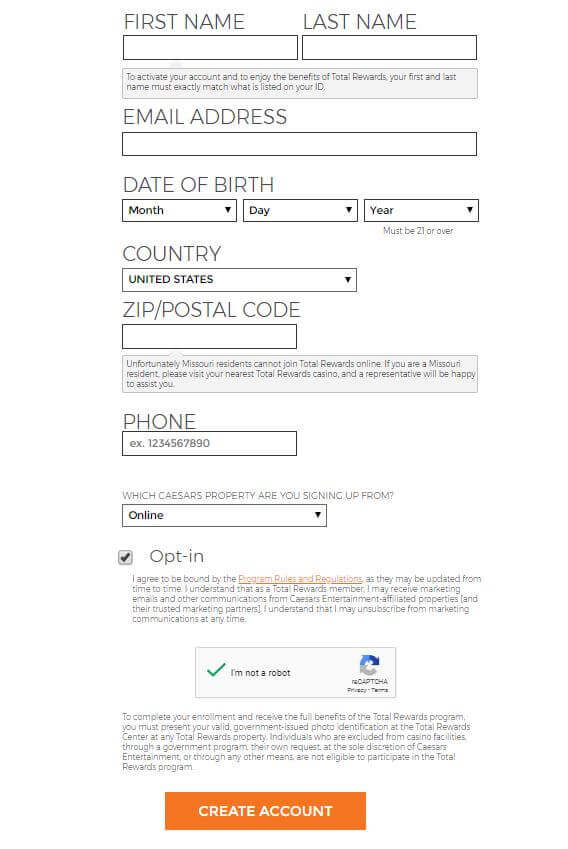 Register At Caesars Sportsbook
The Caesars online sportsbook has a straightforward registration process. Follow these simple steps and you'll be ready to bet on the Super Bowl in no time. Pro tip: be on the lookout for exclusive bonus offers!
Visit Caesars Sportsbook on your desktop or mobile browser (we prefer jumping right to mobile play).
Click on the gold "Join Now" button located in the upper right on both desktop and mobile.
Enter your personal details in the appropriate registration form fields.
Remember, enter the Caesars bonus code before you complete the signup process.
Visit the banking section to enter your bank account info and make a deposit and bet with real money.
Begin making sports wagers, and good luck!
| Caesars Sports | Description |
| --- | --- |
| Caesars Casino Offer | MAXCASINO |
| Caesars Sports (All States) | MAXSPORT1000 |
| App Availability | |
| Last Verified | Dec 2023 |
Caesars Sports Betting Markets
As mentioned above in this Caesars Sportsbook review, Caesars has a sizable betting market. This is in terms of both the amount of sports offered for users to bet on as well as the types of bets offered. Here is a list of the sports available for your betting needs on Caesars:
Boxing
Australian Rules
Rugby League
Rugby Union
Cycling
As you can see, pretty much every sport and then some that you would want to bet on can be found on Caesars. When it comes to the types of bets that you can place on Caesars, they are varied as well. You can place outright win bets, run line bets, and bets on the total number of runs when it comes to baseball.
When it comes to a game like basketball, you can place bets on the number of points, aka the points spread. The typical bets you would want to place are available on the online sportsbook. And, more specific bets will also be offered for specific sporting events.
Parlay Slips
You can also make parlay bets on the Caesars sportsbook. A parlay is a single wager that links two or more bets. In order to win the wager, the user must win all the bets in the parlay. If the user loses one bet, the user loses the entire wager. But, if the user wins all the bets in the parlay, the user wins a higher payoff than if the user had placed the wagers separately.
Caesars makes it easy to make a parlay slip on the platform. However, not all sporting events are built in a way that allows for parlay bets. So, you must make sure the event you are betting on is suitable to build a parlay.
Odds Boosters
Many sports betting fans are on the lookout for odds boosters to help pump up their bets. Caesars offers a Profit Boost option for some of the bets that users are looking to place. This Caesars Sportsbook review finds the Caesars Profit Boost option easy to find and use.
After a user adds a bet to their bet slip, any available Profit Boost will appear in the "Bonus Drawer." That is also where users can find and add Free Bets. However, Profit Boosts will only appear if they are available to use on the bets in the user's bet slip. For instance, if a user has a basketball-related Profit Boost, that Profit Boost would not appear in the Bonus Drawer for Football bets on the user's bet slip.
When it has been attached, the added Profit Boost will indicate the Boost percentage and the maximum bet that the boost will be applied to. The Potential Payout will show the boosted payout, and a "Was" price will be shown.
Extra Wagering Features
There are other features available on the Caesars Sportsbook to help boost potential bets. There are seasonal features for certain sports and sporting events that are available to help boost bets during those betting seasons and their events.
These include promos like Super Features which are connected to the Super Bowl winner. And, quadruple-header bets connected to the MLB baseball season. Also connected to the baseball season is the 7th inning winnings promo.
In addition, Caesars also has a rewards program where loyal customers earn points that can be redeemed as rewards. Customers earn these points simply by placing the bets that they would anyway. This Caesars Sportsbook review is boosted by the fact that there is a rewards program for users to benefit from.
Caesars Sportsbook App
As with the best mobile betting products, the Caesars app has both sports betting and casino gaming integrated in one app. Also, the sportsbook works just fine in any mobile browser. Easily make sports bets and check updated odds on your phone, or spin some slots. You can even register from your mobile device.
The odds are the same no matter if you're on your computer or phone. So, place your bets at home on your desktop and follow the betting odds updates live on mobile! Be sure you make smart bets. Sometimes it can be too easy and quick to place sports bets when you're on the go and in a hurry.
Every bet you place should be well researched and thought out. You can survive one or two bad bets in a row, but it quickly becomes increasingly frustrating to keep making poorly thought out wagers!
Customer Support
The support staff at Caesars is wonderful. Located in primarily New Jersey, that means you're not dealing with strange operating hours and don't need to feel guilty about waking somebody up if you choose to use the live chat function. Furthermore, there's a dedicated support page with FAQs. Quite likely, you can find an answer to your question there.
However, Caesars Sportsbook is always there to help. From difficulty registering and finding markets to how to place a bet, customer support is there to help!
Caesars Casino Online
Not only is there a sports betting platform operating in both NJ and PA, but casino-goers are also able to play online casino games in certain states! As long as you are physically present in those states (and above 21) you're able to download the casino app and play Caesars Casino games online.
Choose between a variety of popular slot titles like Cleopatra or Asgardian Stones. Additionally, you can find table games. Of course, BlackJack is the most popular of the online casino table games but you also have roulette and many variations of Video Poker. Caesars Online Casino is one of the bigger and more popular iGaming apps in New Jersey.
About Caesars Entertainment
Caesars in Atlantic City (and other locations, of course) is part of the Caesars Entertainment Corporation. This corporation prides itself on being the most diversified casino-entertainment provider, and now they back up this claim with an integrated Online Sportsbook.
Look for the Caesars Sportsbook bonus code if you're in a permitted state and want to bet on sports. Also, pay attention to the new locations where you'll be able to sports bet online with Caesars products. They'll surely expand to other states and we'll keep everything updated here on US-bookies!
Caesars Sportsbook: Conclusion
This sportsbook is brand new, but we can tell from its polished appearance and good odds that it's going to be a real player in the American sports betting market, starting in NJ. Plus, if their casino product is anything to go by, bettors can expect solid services and fun experiences in the sports betting world.
The Caesars Sportsbook is one of the first online bookies in America and they've set the bar high for their competitors. As more and more players enter the market and competition increases, look for enhanced odds, special promotions, bonus codes, among other incentives! For now, enjoy your time betting on sports get used to betting before the NFL regular season kicks off!