Users will find betting on the PointsBet App a quick and easy process.
First, register a new account online, and then both Android and iOS users can download the app via the PointsBet site, or find it via the iTunes app store.
Once you have downloaded and installed the app, you can immediately set up and fund your new account to get playing.
Use the PointsBet promo code to start with a welcome bonus, although users from Iowa must activate their account in person at a designated facility.
New users will be delighted with all the various sports betting options that the app has to offer, some of which can lead to sizeable payouts. Also, it is worth noting that the app utilizes the most up to date encryption software, meaning users can use the app with their mind at ease knowing that all their data and personal information are safe and secure.
Continue reading the Points App review to learn more.
Jump to
Requirements to bet with PointsBet Mobile
Below you'll find all relevant information on various restrictions and requirements in order to get started on the PointsBet Mobile App. The most important thing to note is that the app uses geolocation software to ensure that any users attempting to use the app for real money must be located within the New Jersey state lines. All users must also be at least 21 years of age in order to play.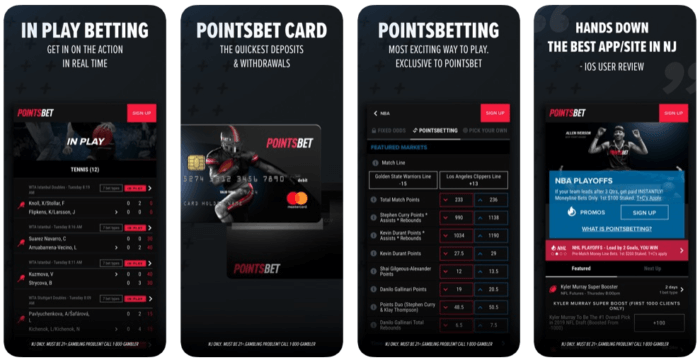 The app supports both Android and iOS version 8.0 or higher and iOS users can download directly from the app store. Android users must also have the most up to date software, but can only access the app via a download link from the main site, as the Android play store does not allow the download of any real money betting apps at this moment in time.
| PointsBet Mobile App | System/Legal Requirements |
| --- | --- |
| Devices Supported | Android, iOS via app store |
| Eligibility and access requirements | Must be located in CO, IA, IL, IN, MI, NJ, WV |
| Age requirements | 21+ |
| Minimum Wager to start | $0.50 |
| App access | Download, Instant Play |
What is Points Betting?
Although the PointsBet App does offer a wide variety of traditional sports betting options, what makes the app fun and unique is the ability to engage in points betting. How points betting works is relatively straightforward, though it can take some time to get used to if you are a new player.
Let's take a quick look at how this might work.
If you place a bet, and it wins you a point, you would win 1 x your stake. If your selected bet wins by 2 points, you win 2 times your stake. On the other hand, if you lose by 1 point, you would lose 1 x your bet amount.
The more you are right with Points Betting, the more you win which is why this has become such a popular option for knowledgable sports fans looking to cash in on their understanding of the games they watch. With this form of betting, you are able to place wagers on specific events throughout the games. Some of these might include:
Time of first field goal attempt (Football)
Time of first free throw by player and teams (Basketball)
Time of first goal, and first team to score (Soccer, Hockey)
Time of first try, and first team to score (Rugby)
Although Points Betting can lead to some large payouts, it similarly can lead to some hefty losses. For that reason, it is definitely in your best interest to make calculated, informed decisions when participating in this type of sports betting.