NFL, Super Bowl betting trends: Are bookmakers winning or losing?
Commercial Content | 21+ | T&Cs Apply
A sharp decline in NFL ratings over recent years appears to be taking its toll on the betting industry, with Las Vegas taking a significant cut in winnings despite record Super Bowl betting figures for bets on football.
Quarter-back and activist Colin Kaepernick remains without an NFL team, but his protest against the national anthem and the debate it sparked is thought to have impacted the fall in ratings.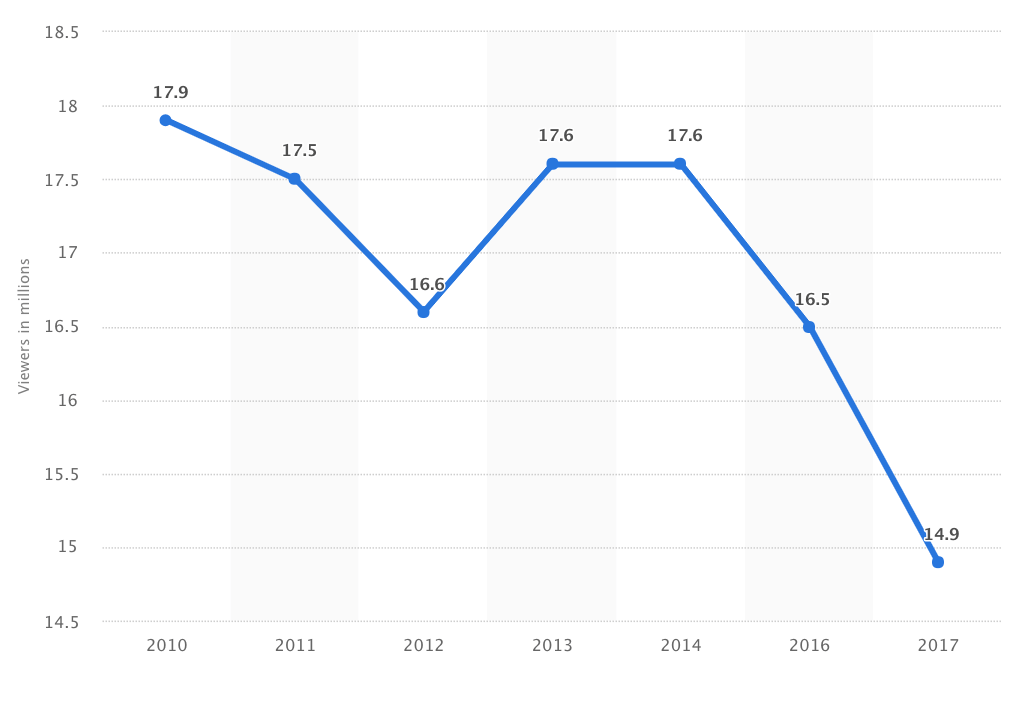 CBS Sports chairman Sean McManus said in 2017 that research conducted by the broadcaster found the protests encouraged by Kaepernick played a factor in the drop. Average television viewership for the 2016 NFL season dropped 8% from the previous campaign, and it continued along a similar trajectory in 2017:
The Super Bowl is the jewel in the NFL's crown and one of the biggest betting events in the annual sports calendar, which has attracted a steadily increasing amount of bets since 2009. Gross wagers have only dropped once since then, in 2015, and Super Bowl betting reached an all-time high of $138.48 million in 2017, per Statista.
That being said, the $5.93 million rise in wagers compared to 2016 was a drop of more than 60% on the previous improvement ($16.56 million, 2015-16).
It seems feasible to suggest Kaepernick's impact in reducing TV viewership may have helped turn away many casual viewers, those not as connected to the sport, and therefore a lot of casual gamblers also, particularly those interested in New Jersey online sports betting.
Whether it was punters being more sensible with their bets or recent Super Bowls simply running more to script, the Nevada sports book winning percentage has taken a dive in recent seasons. In fact, it was slashed to just 0.7% for the 2018 Super Bowl, the lowest its been since their bookies actually lost money a decade ago, per Statista:
After collecting winnings of 7.9% in 2017, that's a drop of just over 91% in their share of the take, showing just how destructive it could be for bookmakers to lose their casual customers.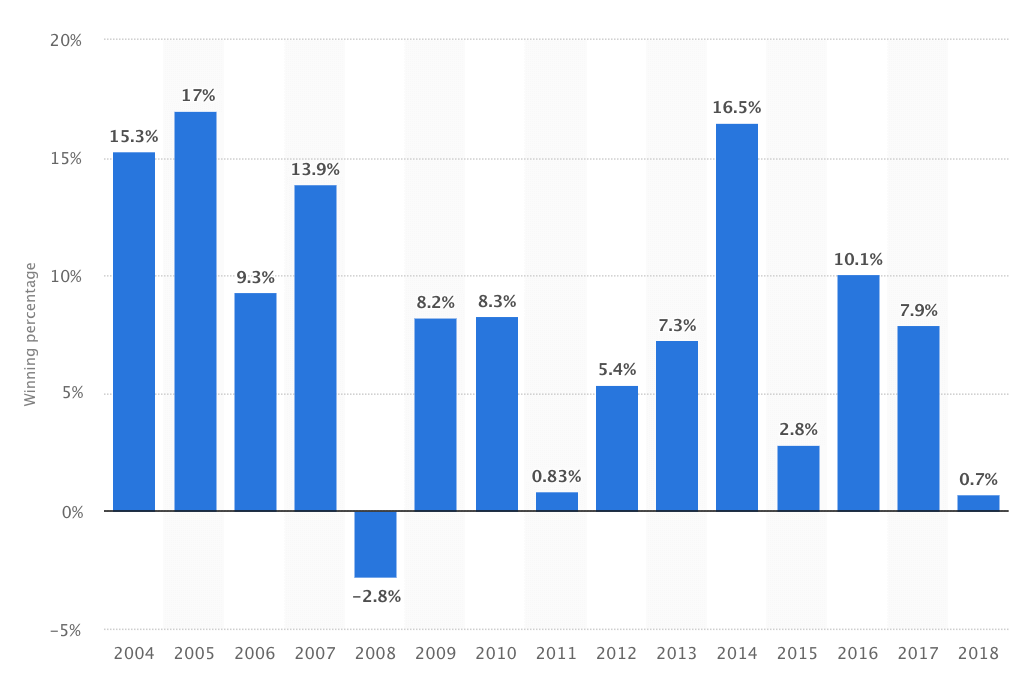 What would be left in that case, and what has perhaps been the case in the last two years, is more committed, savvy bettors making the most of the hole in the market.
The impact of Kaepernick's controversial, on-field appeal for equality was felt almost immediately. Nevada Gaming Control numbers released in October 2016, per ESPN, showed that betting on NFL and college football for the month of September that year was down $6 million (3.9%) on the previous season.
Forbes' Jonathan Berr attested to the NFL's 10% drop in regular-season viewership last season, reporting the decline was likely to continue, although he suggested an overall lack in product quality and the fall of some classic franchises were also poignant factors.
If those fears are realized and the NFL following continues to fizz out, Vegas will be the first to know about it.