National Championship Odds 2021
Commercial Content | 21+ | T&Cs Apply
The college football season will come a lot faster than you may expect. So, it is never too early to talk about what teams will win it all or at least win their conferences. Time for a look at the college football national championship odds.
Contents

College National Championship Odds Top Contenders
This could very well be the most exciting college football season ever. This last season Alabama and Clemson seemed destined for a rematch. However, LSU shocked the college football world by winning it all. They defeated the college football national championship odds. The Tigers did not even rank in the Top-10 for many oddsmakers coming into last season. So, could there be an upstart this season as well?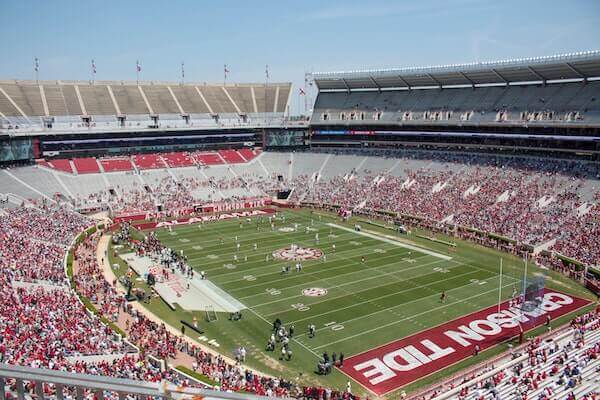 LSU would likely be the prohibitive favorite to repeat had Joe Burrow not opted to enter the NFL draft. That has opened the NCAA football championship odds field a bit. However, the usual suspects are still likely to win it.
The top four teams in terms of college football national championship odds are the same four before last season. Clemson (+200), Ohio State (+350), Alabama (+700), and Georgia (+750) round out the top four.
Clemson (+200)
The college football national championship odds start with Clemson on top. This team has been in the championship game in four of the last five seasons, winning two titles. They return quarterback Trevor Lawrence, who will most certainly enter the NFL draft following this season.
That will likely be enough incentive for him to lead this team to the title game for the third straight year.
There is still a lot of talent beyond Lawrence. They kept running back Travis Etienne, which is huge. Plus, they are deep and added six five-star recruits. This is going to be a top-four team for a decade.
Ohio State (+350)
Ohio State is coming off an undefeated regular season and a Big10 Championship. They also reached the national playoffs, falling in a close contest to Clemson in the semi-finals.
They have a Heisman Trophy candidate in QB Justin Fields. All he did was throw 41 touchdowns against just 3 interceptions. They have a top tier wide receiver and one of the top offensive lines. Plus, they had one of the top five recruiting classes.
A Buckeyes-Tigers championship game would not be surprising. It is not surprising they are a top odds college football program to win it all.
Alabama (+700)
The Crimson Tide have some big shoes to fill. QB Tua Tagovailoa is headed for the NFL, as are top wideouts Jerry Jeudy and Henry Ruggs III. On defense, they lose some key players, including Trevon Diggs, Xavier McKinney, Anfernee Jennings, and Terrell Lewis.
For any other team, this would be crippling. However, this is Alabama. Head Coach Nick Saban is used to restocking and still going 12-0 or 11-1. The quarterback position is going to be interesting in Tuscaloosa. Giving them the top national championship odds is a bit of stretch though.
Georgia (+750)
Like Alabama and LSU, Georgia will be replacing their star quarterback. Jake Fromm headed for the NFL. Now they turn to a youngster to keep this team on top.
What is great for the Bulldogs is that there is an enormous amount of talent on this team. As when Fromm was a freshman, there is plenty of talent to take the pressure of a young QB. This team is going to be tough defensively and will move the ball on the ground.
LSU (+1400)
The Tigers remain in the top five despite losing their Heisman quarterback. This team will not be as impressive offensively. However, they have Fred Biletnikoff Award winner Ja'Marr Chase returning and a deep defensive squad.
LSU has games against Texas, Florida, and Alabama. Win those three and they suddenly have the best college football national championship odds and will likely win it all.
However, in college football national championship history, no team has repeated. That will likely not happen this year either.
Notre Dame (+2000)
Mark November 7 in South Bend on your calendar. This game against Clemson will determine if this team is a good odds college football title contender. If they win that game, they jump atop the college football national championship odds.
Texas (+2500)
In the first five weeks, Texas has South Florida, LSU, and Oklahoma. Let them be 5-0 and they should sweep the Big12. They then are a top NCAA football championship odds team.
USC (+2500)
We don't hear USC mentioned as a national title contender much anymore. That will change if they open with a victory against Alabama. They close with Notre Dame. That should shake up the college football national championship odds.
Florida (+2500)
Florida's two biggest games come in a three-week span – 10/10 against LSU and 10/31 against Georgia. They will determine their fate in October.
Oklahoma (+3000)
Oklahoma was an impressive 13-0 after winning the Big12 title. They then got rolled by LSU in the semi-finals. There will be a lot of incentive here to make a splash. Outside of Texas, the Sooners have a pretty easy schedule. This should buoy their national championship odds as the season progresses.
2021 College Football National Championship Odds
Find all the relevant odds in the table below.
| | | |
| --- | --- | --- |
| National Championship Odds |  |  |
| CLEMSON +200 | NOTRE DAME +2000 | WISCONSIN +3000 |
| OHIO STATE +350 | TEXAS +2500 | TEXAS A&M +3000 |
| ALABAMA +700 | USC +2500 | IOWA +5000 |
| GEORGIA +750 | FLORIDA +2500 | MICHIGAN +5000 |
| LSU +1400 | OKLAHOM +3000 | PENN ST. +5000 |
Atlantic Coast Conference
Clemson isn't just favored to win the ACC Championship. There really isn't anyone who will be close. Louisville is considered the second-best team in the conference and they were 2-10 two seasons ago.
Clemson should roll in this conference. This team is too good to even think LSU will buck college football national championship history. No repeat this season.
Winner: Clemson
Big 12 Conference
Oklahoma has won the last five Big 12 titles and there are plenty of reasons to like them for six straight. Texas is the only real competition and they will be tough to beat. Oddsmakers like Texas better, but they are 1-3 in the last four contests between these two teams.
Winner: Oklahoma
Big Ten Conference
Some are hyped on Michigan in 2020. They always seem to be, then are greatly disappointed. Michigan cannot beat Ohio State – period! Wisconsin does not have a potent enough offense. Ohio State is a national title contender and will easily win this conference.
Winner: Ohio State
PAC-12 Conference
This is the toughest conference to call, to be honest. Four teams have a legitimate chance of winning the PAC-12, including USC, Arizona State, Oregon, and Utah. It is funny that USC is seen as a national title contender, yet not expected to make the conference title game. ASU and Oregon are given the best odds for that.
Herm Edwards has really turned the Sun Devils around.
Winner: Arizona State
Southeastern Conference
If you look at the college football national championship odds, four of the top nine teams are from the SEC. This is always a tough conference, but it will be even tougher. Especially with Florida looking really good.
Oddsmakers have Florida and Alabama in the SEC championship. That gives the nod to the Gators and quarterback Kyle Trask.
Winner: Florida