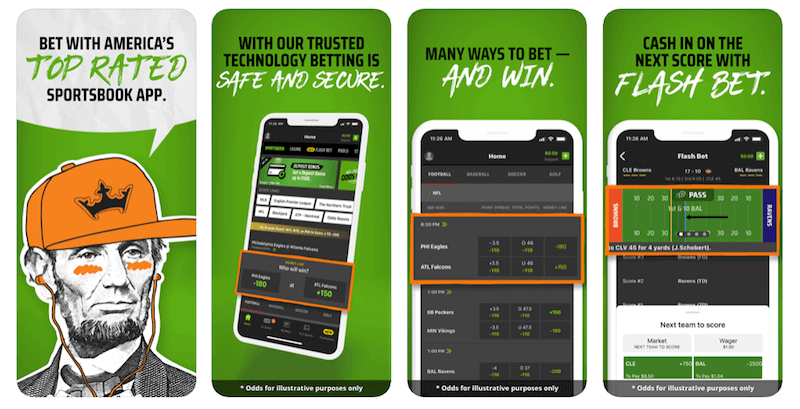 If sports gamblers could sit down and create their own sport from scratch, it would probably look a lot like football. The quarters, the scoring, the weekly schedule, the physicality – it all lends itself to being the perfect sport on which to place wagers and watch in a packed room with friends. But it's 2023, so what are the best football betting apps out there?
Likewise, even though across the Atlantic it is known as American football, it is being consumed by European fans at an amazing rate. The NFL makes annual trips to London, and all across Europe, professional and collegiate leagues are thriving.
No sports gambling experience is complete without football betting at its heart. So when choosing the right sportsbook for you, and the mobile app that you'll rely upon, there is no reason to compromise on your must-haves.
Jump to
Betting Variety
It's great to have quarter lines, teasers, and proposition bets during the Super Bowl. But you should have those available any week of the season, and on both a college football Saturday and a Sunday of NFL games. Even if you regularly bet point spreads and totals, it's good to have options. Make sure the football betting apps you choose have a large variety of available bets.
Furthermore, in-play wagering is a must. Even if you've never done it, make sure you have the option. And if you have, in fact, played live games through in-play wagering, you already know how exciting and interactive it can be. Make sure the app supports in-play wagering, but also that it's responsive enough to make in-play wagering simple.
The very last thing you want is for it to be Super Bowl Sunday, and now you'd like to place some unique and interesting wagers, but your money is tied up in an app that doesn't give you what you want.
Banking Options Fast Payouts
Make sure the football betting apps you choose give you a variety of ways to deposit funds. Credit card, direct deposit, bill pay, and other means of electronic transfer should all be standard means of making deposits. You can even opt for personal checks if you so choose. But that should be your choice and not the requirement of the sportsbook.
You should also expect fast payment on withdrawals. If you require payment by check, then, of course, it's going to take some time for processing. But if the funds can be deposited directly into your account, you shouldn't have to wait. Receiving your payout in three days or less is not unreasonable.
Deposit Matches and Bonus Bets
Bad football betting apps can offer you good bonuses. But we've yet to see a good app that doesn't also offer you good bonuses. So make sure you look at the deposit matches, insurance bets, and bonus bet bonuses before settling on an app and creating your account.
Bonus money is always a good thing, and bonus bets are a valuable addition to any sports wagering experience.
Top 4 Football Betting Apps
So with the above criteria in mind, plus the other things you want from the greatest football betting apps, here is our top five.
DraftKings
FanDuel
BetMGM
BetRivers
DraftKings Review
Jumping on the DraftKings app's college football page, you are immediately hit by all of the many options it offers. There are game lines, halves, quarters, game parlays, team futures, player futures, game props, and team props, and all of them are easy to navigate.
You can also play spreads, alternate point spreads, totals, and alternate totals, as well as a series of props that are accessible inside each game.
And when you navigate over to the NFL page, you'll see the exact same options.
DraftKings also offers a bonus of up to $500 for new accounts, parlay insurance, and odds boosts on big events like the Super Bowl. You can get $100 in bonus bets by referring a friend, there's a college football pick 'em contest, and you can buy offensive insurance. For that, if your team scores at least 24 points but still loses, you get your bet back.
DraftKings is a king among daily fantasy sports, and as a football betting app, you'll be hard-pressed to find a better option. That's why we rank it No. 1.
FanDuel Review
Like DraftKings, FanDuel built its reputation by being one of the real pioneers in daily fantasy sports. And like DraftKings, it has taken that experience and put together a great football betting app.
The FanDuel app is incredibly fast, making it the perfect betting app for in-play wagering. And its live events are accessible right on the main page as well as the pages for both the NFL and college football.
And if you want betting options, it has betting options. You can bet on alternate point spreads, away and home team points, halftime and quarter results, a variety of winning margins, as well as a multitude of point spread and totals parlays.
There are props, teasers, odds boosts, buying and selling points, as well as player and team futures.
FanDuel also offers up to a $500 bonus bet for new customers. Place your first bet with FanDuel, and if that bet ends up losing, the cost of the bet up to $500 will be placed in your account as site credit.
FanDuel also comes with FanDuelTV, allowing all customers to live stream select events.
FanDuel is one of the leaders in the industry, and it has created an excellent football betting app, and that's why we rank it No. 2.
BetMGM Review
BetMGM app is another football betting app that lumps its NFL and college football offerings together in one place. It's easy to use and pleasantly laid out, but if you prefer separate icons for the NFL and college football, you'll be disappointed.
The games are also laid out in a horizontal scroll as opposed to vertically, like most other apps. It's not a big thing, but it may take you just a bit to get used to it.
BetMGM does offer a bonus bet up to $500 for new customers, and on Mondays, it gives its customers a $10 bonus bet. Those are very nice options and definitely worth considering since Monday Night Football is a popular event to wager.
The app itself, however, is a little slower than the others. So in terms of its viability for in-play wagering, there might be a few hiccups. You can also only access live events from the home page, meaning that you have to back out of the football page to get there. Again, it can be managed. It's just not ideal.
For all of these reasons, as a football betting app, BetMGM ranks No. 4.
BetRivers Review
The first thing you'll notice, and especially if you use an iPhone, is that the BetRivers app isn't available on IOS. There is a workaround which involves the downloading of a location validation app, which then allows IOS users access to the BetRivers mobile site. It's less than ideal for some, and it may send some players looking for another option.
BetRivers is a part of the Rush Street Interactive family of sportsbooks and casinos, so it offers access to the iRush Rewards Program, which other apps fail to do. So that is definitely a point in its favor.
It's also powered by the sportsbook technology giant Kambi, which means it's extremely responsive and a good app for in-play wagering and would probably be a great app to use during the Super Bowl.
The app itself is easy to use and is laid out like its website. But in looking for football bets, they aren't always easy to see. Far fewer events fit on one screen as compared to the other apps, giving you less information at a glance.
It also uses a series of pull-down menus as opposed to just having the options laid out on the screen. So while it offers a lot of options, you have to find them. And that means it's going to take you just a bit longer to place your wagers on BetRivers.
For these reasons, as a football betting app, BetRivers ranks No. 5.
Online Super Bowl Betting Promotions
| Sportsbook App | Super Bowl 54 Promotions | Available States |
| --- | --- | --- |
| FanDuel | $500 Bonus Bet | NJ, PA, WV, IN |
| PointsBet | Deposit $50, Bet with $150 | NJ, IA |
| DraftKings | 20% Deposit Match up to $500 + $200 Bonus Bet | NJ, PA, WV, IN, IA |
| DraftKings at Casino Queen Sportsbook | 20% Deposit Match up to $500 + $200 Bonus Bet | IL |
| SugarHouse | 100% match deposit up to $250 | NJ, PA, IN |
| BetRivers | 100% match deposit up to $250 | PA, IN, IL, CO |
| Unibet | $20 Bonus + $250 Bonus Bet | NJ, PA |
| BetMGM | $500 Bonus Bet | NJ |
| Borgata | $300 Bonus Bet | NJ |
| | Last Updated | Oct 3, 2023 |
Bet Online On Super Bowl 55
Having the option to place wagers on online Super Bowl betting odds can make placing wagers much easier. However, you should take the time to peruse the betting odds and assess the value from the comfort of your own home before betting on the go.
As you know, Super Bowl online betting is incredibly popular. Most sportsbooks you'll find offer a fantastic range of online Super Bowl betting odds. These are not just based on the Winner market either, with Handicap, Total Points, and Spread betting available across the board.
So, when you're looking to bet, online Super Bowl odds can offer a great deal of value. Study the markets carefully and do your research. Remember, research goes a long way in picking the right bets, particularly for online Super Bowl betting.
Now, how can you enjoy Super Bowl betting online? Use a Super Bowl betting app or sign up on the mobile site. Make a deposit and hit the Super Bowl icon.
From here, all online Super Bowl betting odds will be displayed. Once you've found your bet, click on the odds, enter your stake on your betting slip and confirm your wager.
There are many advantages to Super Bowl online betting. For one, you can access a number of bookmakers and compare the odds on offer in your own time. Either way, it's convenient – you can bet from wherever you are without the need to travel to a land-based sportsbook.
You can also take advantage of a number of online Super Bowl betting promotions and bonus opportunities. Many of these offers are only available to mobile customers.
Super Bowl Online Betting: Is It Legal?
If you want to bet online Super Bowl odds are legal in a number of US states. Delaware became the first to legalize sports betting, and others soon followed.
New Jersey actually won a Supreme Court case to allow States to individually choose whether to legalize online gambling. Since then, the State has become the hub of online betting, with many casinos and sportsbooks now available to New Jersey customers.
Nevada, known as the home of gambling, has also allowed online betting to become a reality. Many other states are expected to pass regulations in the near future. These include West Virginia, Michigan, and Rhode Island.
For now, to bet online, Super Bowl odds are legal in the States we've mentioned above.
Sign Up & Bet On The Super Bowl Online
Betting online for the Super Bowl is a reality in a number of US states. That said, how do you sign up and take advantage of the number of online Super Bowl betting odds? Let's take a look at how you get started.
To sign up at any legal sportsbook, you have two options. Firstly, you can download the sportsbook app, or alternatively, visit the mobile site. For iOS users, for example, you can find the FanDuel Sportsbook app in the App Store. For Android users, you'll have to visit the company's website, as the Google Play Store does not allow real money betting apps at this time.
Once in the app, hit the Sign Up or Join Now button. From here, complete the registration form you're presented with. Confirm your account and make a deposit using an available method.
Then, you're free to start betting on the online Super Bowl betting odds your Sportsbook provides!
Final Verdict
For us, it was an easy decision. DraftKings offers a great sportsbook and a fantastic mobile experience. Sign up today in AZ, CO, IA, IL, IN, LA, MI, NJ, NY, PA, TN, VA, WV, WY, and get up to $1,000 in sign up bonuses!
'Draw no Bet' Meaning | How to Bet on NBA | How to Bet on NFL | 10 Fantasy Football Tips | How to Bet on Tennis | How to Read Odds | Moneyline Betting Explained | Football Parlays and Odds Explained | What is Live Betting