BetMGM Horse Racing is making big waves as it continues its expansion across the United States. The BetMGM Horse Racing app is now available in Louisiana and Florida. This means that people in three states can take advantage of this offering as it was already up and running in Ohio.
Users of the BetMGM Horse Racing app can place many different types of wagers. It covers races taking place on over 200 tracks globally, including Thoroughbred, Harness, and Quarter Horse races. People in the three states are now able to download the BetMGM app for both iOS and Android mobile devices.
As well as being able to place bets on a huge range of races, there are also extensive live streaming opportunities. Therefore, you can watch the action unfold on the BetMGM Horse Racing app after you have placed your bets. As time goes on, the app will launch in more and more states.
If you are looking for other BetMGM bonuses like sportsbook or casino, check out our BetMGM promo code page.
Jump to
BetMGM Horse Racing Options
The BetMGM Horse Racing offering provides you with a comprehensive range of betting markets. This allows you to have a lot of flexibility when you are considering the best bets to place for a given race. As well as pari-mutuel betting, there are plenty of straight bets and exotic wagers that you can place.
It compares favorably with the other leading horse racing betting offerings that are on the market today. Here are some of the most popular types of bets you can place through the BetMGM app:
Single Bets: The most popular bets that you can place on a horse race will be single bets. These include win, place, and each way wagers. These bet types will be available on every race that you come across on the Horse Racing app.
Multiple Bets: A lot of people love the opportunity of being in with a chance of winning big for a relatively small stake. This is where multiple bets shine, as they allow you to bet on numerous races all in the same betting ticket.
Exotic Bets: For more advanced bettors, exotic bets can be a great tool when betting on horse races. They include the likes of exactas, trifectas, and superfectas.
No matter what you are looking for, BetMGM has you covered. The process of placing a wager takes only a few seconds and you have no shortage of markets to choose between.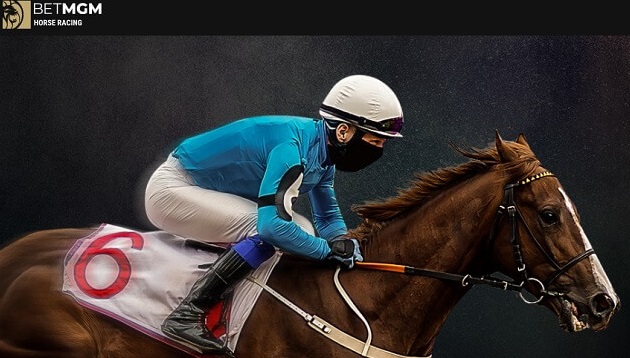 BetMGM Horse Racing App
The BetMGM Horse racing Ohio offering has been a huge success since launching. Therefore, it was only a matter of time before it expanded into more markets. It is now rolling out across the South thanks to the latest launches in Louisiana and Florida. Many more states are set to join the list as 2022 goes on.
You are able to access the BetMGM Horse Racing app on both Android and iOS phones. It works extremely smoothly on both types of devices. It also is compatible with tablets, as well as smartphones. In addition to the full range of betting markets, there are many other great features associated with the app. They include live streams of races, replays of races, and special promotions.
All of the biggest horse races in the world are covered. Closer to home, you have the big US races taking place at the likes of Santa Anita, Gulfstream Park, and the Aqueduct. Further afield, you have live streams available for the Melbourne Cup, Grand National, and the Prix de l'Arc. Therefore, you will never have a shortage of options.
If you prefer not to download an app, then there are a couple of other options available to you if you are looking to access BetMGM Horse Racing. If you still want to place bets on your mobile device, there is a website that you can access through your phone's browser. There is also a desktop site that can be accessed through your computer. Therefore, you have tons of choice and flexibility.
Android App
For those people who have an Android device there is a very straightforward process involved with getting started. Here is a step-by-step look at the process:
Step 1: Go to the Google Play Store
Step 2: Search for the BetMGM Horse racing app
Step 3: Download the app
Step 4: Sign up for an account
iOS App
If you have an iOS device, then the process of getting started is very straightforward. Here is a step-by-step look at the process:
Step 1: Go to the iOS App Store
Step 2: Search for the BetMGM Horse racing app
Step 3: Download the app
Step 4: Sign up for an account

BetMGM Horse Racing States
Having the ability to place online wagers on different types of sports has been growing massively in the United States over the past few years. Online horse racing has not been getting as much love as other types of sports, but BetMGM is looking to fix that with its dedicated horse racing offering.
It initially launched horse racing in Ohio. Having seen a good level of success, it has now gotten into the big markets in Louisiana and Florida. Many of the leading race tracks in the country are found in Florida.
There is also a passionate base of racing fans who love to have a bet on the action. Therefore, a lot of locals will be welcoming this expansion into the Sunshine State. There is also on shortage of horse racing fans in Louisiana. Therefore, BetMGM is clearly putting a lot of thought into what markets it will focus its attention on initially.
By building up a loyal base of horse racing bettors in these states, it looks like they will look to continue this expansion into other states in the near future. Therefore, it is certainly worthwhile keeping an eye on developments if you are living in a state that does not currently have access to BetMGM Horse Racing.
BetMGM Horse Racing FAQs
Does BetMGM have horse racing?
Yes, the focus of the BetMGM Horse Racing app is on races that take place both in the US and abroad.
Where can you bet on horses with the BetMGM Horse Racing app?
BetMGM Horse racing Florida and BetMGM Horse Racing Louisiana recently launched, while the BetMGM Horse Racing Ohio offering has been available for some time.
Is there a horse racing welcome bonus?
Yes, you will be able to get your hands on a BetMGM Horse racing welcome offer when you sign up for an account.
Is the BetMGM Horse Racing app free to download?
Yes, you can download the BetMGM Horse racing app for free on both Android and iOS devices.