Tradesports returns to the US just in time for the Super Bowl 2020. This exciting sports exchange will offer a combination of stock strategy and sports betting strategies to make a unique gambling option. Members will be able to trade on games and instead of placing traditional sports bets, you will be making a deal with another trader.
Read on to learn what to expect with the full launch in 2020 as Tradesports returns to the US.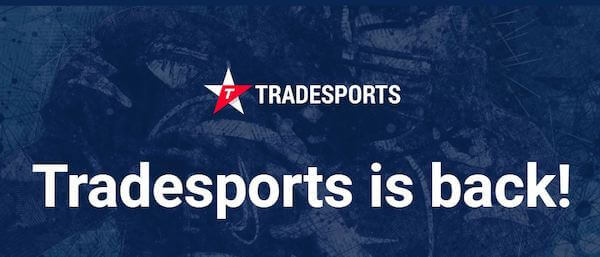 Tradesports is back!
After being out of the US market for 6 years, Tradesports will return to the US. The site will start by offering free beta testing in December of 2019 and will then offer real money services in early 2020. While the site is not yet licensed, it will be by the time real money wagering is supported.
Now that online sports betting is legal in many US states, Tradesports will be emerging, offering exchange betting using a unique sports exchange. When Tradesports returns to the US market, it will be introduced by a founder of the late Intratrade political exchange. This was shut down six years ago.
With 19 states offering legal sports gambling, and many more looking to pass laws, there is no better time for Tradesports to reenter the US. With a new market of traders and more interest, it is believed that the US launch will be quite successful. Other intra-trade businesses have been quite successful. We hope to see the same as Tradesports returns to US bettors.
How Does it Work?
When this sports trader becomes available it will offer trading contests to members. These will have entry fees that can be as low as $2. There will also be free games and trades available a well. Each member who enters a contest will get the same stake and they can buy or sell any positions in sports teams and players with other contestants.
At the end of the game, the member that has made the most money will be declared the winner. There will be two types of contests that will be available. The Pre-Game Predictions will have you making all trades prior to the start of the game and there will be fixed prices. With Real-Time Trading, you can trade as a game takes place and prices will fluctuate as the game is played.
There are a variety of betting exchanges to try out. Some of the most famous ones that we're aware of are Ballstreet Trading, Smarkets, and Matchbook.
Super Bowl 2020
With the Super Bowl being one of the most popular sporting events in the US, you can expect this to be covered at Tradesports. You will find props where there are just two outcomes possible. For example, one option may be whether the Patriots will win the Super Bowl 2020. With simple Yes or No outcomes, Tradesports offers an easy way to get in on exchange betting and win payouts.
If you believe the proposition will happen, you will want to buy shares and if you believe the opposite, you will sell. Markets will be settled at either $0 for a loss, or $10 for a win.