Unfortunately, there is no current offer for DRF Sportsbook. You can check out some other sportsbooks that we have here!
Sign up at DRF Bets using the DRF Bets Promo Code and take part in the Sign Up Bonus.
The bonuses are often only available for a limited time. Join now to make sure you don't miss out and fill out your first daily racing form with bonus money!
What is the DRF Bets Bonus?
| DRF Promo Code | DRF Promo Details |
| --- | --- |
| Welcome Offer | TBA |
| Deadline | TBA |
| Restrictions | TBA |
| Last Verified | Oct 3, 2023 |
Jump to
Daily Racing Form
The DRF Bets Sportsbook stems from the well-known DRF Horse Racing brand, one of the premier horse racing news and handicapping sites in the world. Similar to TVG, the platform is known for providing its users with a wide range of horse racing events from around the world to bet on each and every day, along with a number of resources and extras aimed to optimize the horse betting experience. DRF Bets is available in most states, however, there are some restrictions about which tracks you can/can't wager at. Please check exactly which tracks DRF supports wagering at by reading their special restrictions.
Some extras you can look forward to at DRF include expert analysis, live streams, free PPs and tournament betting:
Expert Analysis – DRF.com has long been one of the world leaders in horse racing analysis. The site gives users the chance to get expert opinions on past races as well as predictions on upcoming winners to create the best combinations on their daily racing form.
Live Streams – Live streams of most of the races are available for users looking to gauge conditions before placing their bets on race day and watch the race as it occurs. Live stream schedules are posted ahead of time, so users can check-in to see if their race selections will be available for viewing.
Free PPs – Free past performances for both thoroughbreds and harness are available with minimum wagers at the Free PPs Program. PPs include speed and pace figures, latest workouts, running lines, Beyer Speed Figures and much more.
Tournament Betting – DRF Tournaments allow users to compete against each other in various betting contests for prize pools determined by the number of entrants. Free tournaments are available along with a range of tournament buy-ins from as low as $11 to as high as $220.
DRF Bets Promo Code – The DRF Bets Promo Code is currently available for the Sign-Up Bonus giving users $150 in credit. Another DRF Bets Promo Code may be on offer from time to time so be sure to keep a lookout.
After going through a recent revamp to the site's layout and structure, DRF Bets has been able to create a very user-friendly betting experience and a simplified betting system. If you're looking to place quick bets without any hassle, DRF might be the right choice for you.
What are DRF Bets Rewards and Bonuses?
DRF Bets Rewards and Bonuses are available as both seasonal and long-term promotions. The current Sign Up Bonus and DRF Promo Code gives users the chance to claim a 100% bonus bet on their first deposit at the site.
To activate the sign-up offer users must apply the DRF Bets Promo Code when registering for their DRF account. Not using the DRF Bets Promo Code will result in the loss of the bonus.
The bonus will be deposited into a user's account within 24 hours of a successful deposit. The bonus money will be given to the user in the form of wagering credits which must be used within 7 days. Initial deposit and wagering credits must be wagered prior to withdrawal or the bonus will be forfeited.
DRF Bets Store Cash
DRF Bets Store Cash is awarded to players who wager over a $1000 per month at the site. The amount of store cash awarded scales between $1000 and $5000 from $20 to $100.
The following preset DRF Bets Rewards packages are currently available to be redeemed with DRF Store Cash:
| $20 | $40 | $60 | $80 | $100 |
| --- | --- | --- | --- | --- |
| 5-Card Formulator PP Plan | 10-Card Formulator PP Plan | 15-Card Formulator PP Plan | 20-Card Formulator PP Plan | 25-Card Formulator PP Plan |
| 8-Card Classic PP Plan | 15-Card Classic PP Plan | 20-Card Classic PP Plan | 30-Card Classic PP Plan | 40-Card Classic PP Plan |
| 10-Card Pack DRF Picks | Monthly Unlimited DRF Picks | 30-Card Pack DRF Picks | 40-Card Pack DRF Picks | Quarterly Unlimited Plan DRF Picks |
| 20-Card DRP PP Plan | 20-Card HarnessEye PP Plan | Monthly Unlimited DRP PP Plan | Quarterly Unlimited Plan Quicksheets | Monthly DRF Digital Paper Subscription |
DRF Store Cash can also be used on a number of different digital and physical products such as DRF Past Performances, Handicapping Tools, DRF Plus, The Wizard, Harness Products and Race Forms.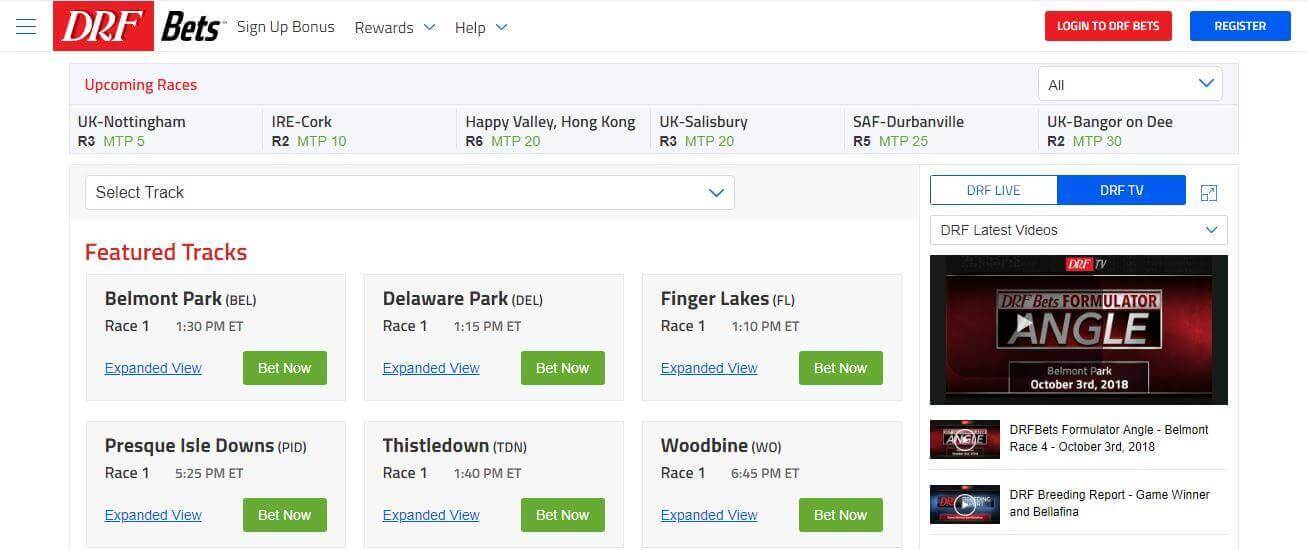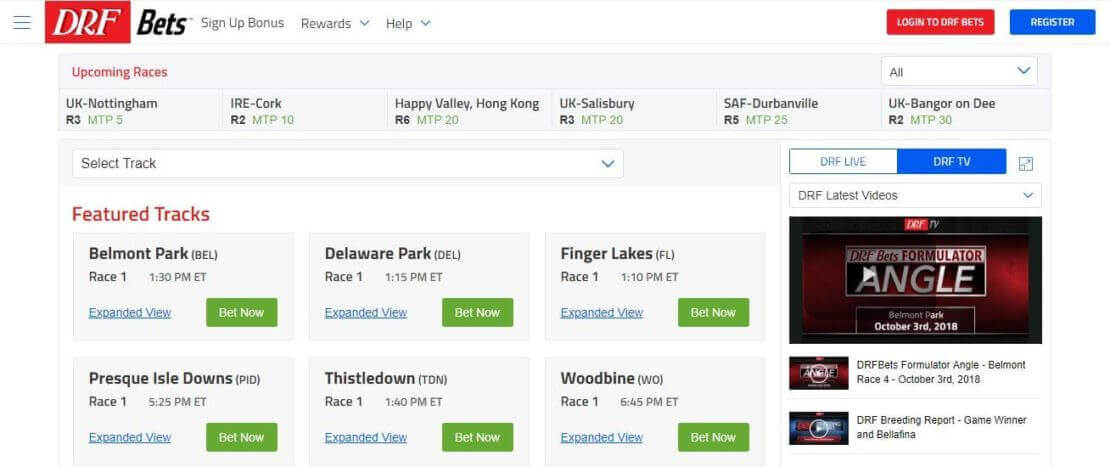 Daily Racing Form Past Performances
PPs are available for on daily, monthly and annual subscriptions for a variety of different statistics which include running lines, equibase speeds and pace figures, class and power ratings as well as expert picks and analysis. As you'd expect monthly and annual subscriptions come with large discounts for bulk buying.
Handicapping Tools
Special handicapping tools like DRF Quicksheets, Key Race Reports, and ROI Reports are available for purchase at the DRF Store.
Daily Racing Form Plus
DRF Plus is a daily subscription that provides everything from race analysis and real-time reporting to DRF's GamePlan playbook Closer Looks & Beyer Figures. This all-in-one horse race handicapping package is available for less than a dollar a day.
The Wizard
The Wizard helps players make winning wagers by providing bettors of all skill levels with daily selections, in-depth analysis, and wagering strategies. Picks of the Day can go for as low as $6.
Harness Products
Harness products come in the form of packs along with DRF Plus. The harness programs themselves are one of the best selling products at the store and are also available in a print version.
Sports Forms
For users who enjoy betting American Football, sports forms are available each week which feature every NFL game and over 40 college football games.
DRF Bets CashBack
The DRF Bets Rewards Program also offers Past Performance customers who wager $1000 or more per a month a cashback bonus. To access the cashback rewards users must buy a qualifying Classic or Formulator PP plan or already have an active PP plan. Cashback starts off at a rate of 1.5% on exotics and 1% on Win/Place. The larger the PP plan the longer the cashback will be available for:
Buy 10 Card Plans or 20 Card Plans – Cashback for 1 month
Buy 30 Card Plans or 60 Card plans – Cashback for 3 months
Buy 120 Card Plans or 240 Card plans – Cashback for 1 year
Cashback scales based on the amount wagered by a customer from 1.5% on exotics to 5% and 1% to 2.75% on win/place bets:
| Wagers ($) | Win/Place | Exotic |
| --- | --- | --- |
| 1000 to 8000 | 1.00% | 1.50% |
| 8000 to 15,000 | 1.75% | 2.00% |
| 15,000 to 25,000 | 1.75% | 2.50% |
| 25,000 to 50,000 | 1.75% | 3.50% |
| 50,000 to 100,000 | 2.25% | 4.00% |
| 100,000+ | 2.75% | 5.00% |
*No DRF Bets Promo Code is required to redeem Cashback.
Daily Racing Form on Mobile
The Daily Racing Form site can be accessed via a mobile device through a browser-based client much like accessing via PC. Simply visit the DRF Bets website on your mobile browser, no download necessary. The mobile site is optimized for mobile browsers giving all the same functionalities as the PC client in an easy-to-use mobile-friendly layout. Users may register and use the DRF Bets Promo Code to apply for the sign-up bonus via mobile as well.
An iOS Mobile App is also available for DRF Bets which can be downloaded from the iTunes store. The app gives users the ability to set notifications on races and make quick withdrawals and deposits. Results and a list of a user's bets can also be accessed on the mobile app. It is expected that DRF News will be added to the iOS app in the coming months.
DRF Bets banking methods
A number of different banking methods are available for users to fund their betting account. Any of the banking methods can be used to activate the Sign Up Bonus with the DRF Bets Promo Code. The following payment methods are currently available at DRF:
Bank Transfer (Formerly Xpressfund) – Users can make electronic transfers from their checking or savings account online or by telephone at 1.877.408.1999.
Credit Card – Users may make a credit card deposit online, or via telephone at 1.877.408.1999.
Paypal – PayPal is available at DRF for both deposits and withdrawals.
PayNearMe™ – Users can use cash to fund their DRF account at a 7-Eleven or Family Dollar. To do this, users may create a payslip with their printer or mobile device and take the payslip to their local 7-Eleven to make a cash deposit.
Wire Transfer – Users may wire money directly from their bank account into their betting account. Wire transfers of $250 or more will not have any transfer fees.
Checks or Money Orders – Users can mail in checks or money order to DRF at DRF Bets, 200 Racetrack Road, Building 26, Washington PA 15301.
DRF Customer Support
The DRF Customer Service Team can be contacted via email by clicking on the 'Submit a request' button found at the top right-hand side of the Help section or by emailing [email protected]. Alternatively, users can use the very robust FAQ section to answer any questions they may be having by entering their query into the search feature or browsing through popular FAQ questions.
DRF Bets Summary
DRF Bets provides a large number of races and resources to choose from along with a variety of great incentives. With the long-standing DRF.com site as support, users should have no trouble finding help.
The DRF Bets Rewards offers cashback and store credit which can be of great advantage to avid bettors. The DRF Sign Up Bonus is another generous incentive provided with the help of the DRF Bets Promo Code which should definitely be taken advantage of while it lasts. Remember that the promotion requires that the DRF Bets Promo Code be entered in during the registration in order to activate the bonus.