The Caesars brand originally rose to prominence because of their retail casinos nationwide. Now, Caesars has also made a name for itself when it comes to online casino gaming. However, that marketplace has seen an influx of a lot of online casino gaming operators. So, you may be wondering how Caesars Online Casino stacks up against the rest.
At this time, Caesars offers a very no-frills type of online casino gaming experience. It has a variety of casino games that should fulfill its users' needs. Plus, it is laid out in a very easy-to-see and navigate the type of manner.
It would be nice if the brand tried to up their game when it came to the layout and aesthetics for this website, as it is kind of dated as is. Though, I will concede that what is really important is the quality of the games as well as their quantity, and, of course, their Caesars bonus code for new customers. So, we will dig into the casino games that are available in a little more detail.
Jump to
Caesars Casino Online Games
When it comes to online casino games, Caesars does offer a good variety. You can find the old classic table games like poker/video poker, blackjack, roulette, baccarat, and of course, slots. You can, of course, seamlessly switch to the Caesars Sportsbook as well if you wish.
The slots games have the largest offering of any of the types of casino games. Plus, the gaming options are boosted by the fact that there are also live dealer games offered on the online casino.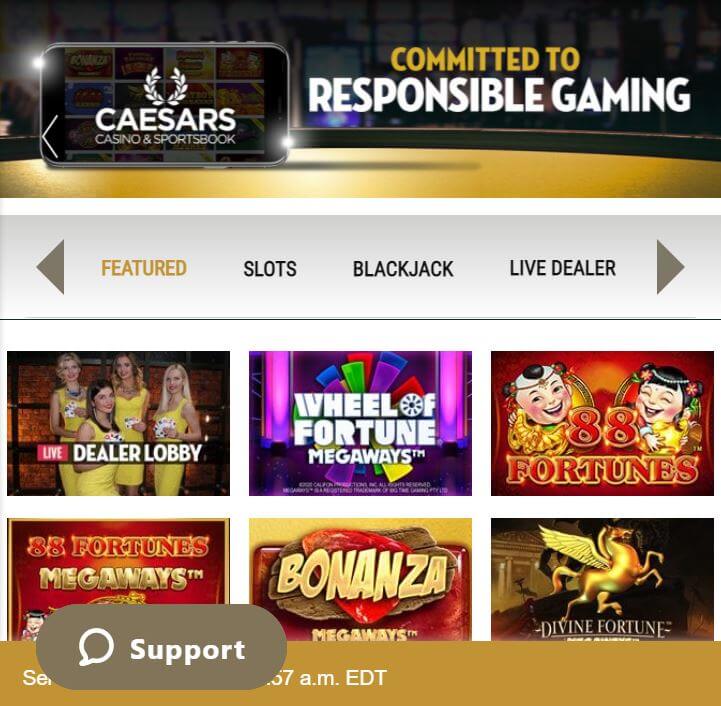 Online Roulette
On the Caesars online casino, you will find two options for roulette. These are American Roulette and European Roulette. But, the American Roulette version is a live dealer option as well, which can make it more interesting. Unfortunately, because there are only these two options, the selection is a bit disappointing. However, these options should be enough to quench your thirst for roulette gaming.
Online Slots
Now, when it comes to the selection of online slots games on the Caesars online casino, it is much more plentiful. There are dozens upon dozens of slot games available on the online casino. And, some of them feature popular movies like Jumanji, which is typically fun.
There are a variety of slot game providers on the Caesars online casino. You can find games from Konami, SG Digital Interactive, and Spin Games — just to name a few.
Online BlackJack
There are a lot of options for online BlackJack on the Caesars online casino. You can find around eleven options for different kinds of BlackJack, ranging from single hand to multi-hand as well as Pro and Blazing BlackJack.
And, you can also find multiple live dealer options for BlackJack as well. As of right now, there are nine different options for live BlackJack on the online casino. You should be able to find a BlackJack option that works for you, and you should not get tired of the options available.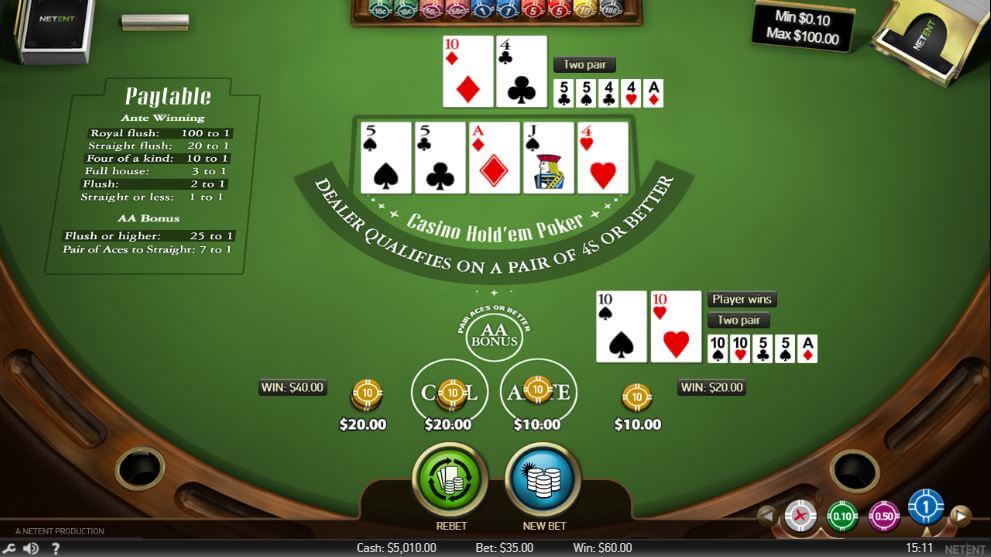 Caesars Live Dealers
As mentioned above, Caesars has live dealer options for many of its online casino games. A live dealer option is a fun way to bring the excitement of a casino into the comfort of your home.
There are live dealer options for American Roulette, Baccarat, BlackJack, Casino Hold 'Em, and Three Card Poker. Some casino games have multiple options available for live dealer games, like BlackJack. It should be easy for you to find a live dealer game that is accepting players. And, you are not likely to tire of the live dealer options that are available.