New York Online Sports Betting 2020
Commercial Content | 21+ | T&Cs Apply
So you want to participate in New York Online Sports Betting but don't know where to get started? Our handy guide will tell you all you need to know before taking the plunge.
In general, Online Horse racing in NY is ok — not great but not terrible either. At present, there are a number of legislative hurdles to online sports betting in NY.
It is currently being debated in court whether or not the state of NY can move ahead with online sports betting without a constitutional amendment.
While this is all still up in the air, it makes betting online in NY a little tricky though it can still be done.
Contents

Land-based NY sportsbooks
For now, only land-based sportsbooks accept sports bets in New York. Here is currently where you can engage in sports betting in the Empire State:
These are also the only options for engaging in casino games, as NY online casinos are not yet legal.
Likely New york Online Sports Betting
Let's take a look at what are likely to be your options for online sports betting in NY. Of course, when the legislation passes.
FanDuel
FanDuel Sportsbook is one of the most popular sites for Online Betting. In addition to a terrific website that allows users to live stream sports and make bets in real-time, FanDuel also has a terrific app for both Android and iOS users for betting on the go.
They offer a wide variety of sports — NFL football, Baseball, Basketball, Soccer, Rugby, Hockey and more. In addition, they have a great number of offers and promotions. Both new and existing users can take advantage of those to boost their payouts.
DraftKings
DraftKings Sportsbook is another favorite of sports fans in states where online gambling is legal. DraftKings has over 9 million players worldwide. It boasts advanced security software which makes it one of the safest platforms to bet with.
They have an app compatible with both Android and iOS devices and offer fantastic welcome bonuses to new users.
BetRivers Sportsbook
BetRivers Sportsbook is an online platform for those in PA and IN. Rivers Sportsbook in Pittsburgh is their physical location.
There are many great lines and markets. Those include NFL Football, Hockey, Boxing, Basketball and more. They have 10 TVs on-site allowing you to watch your favorite teams and bet in real-time.
SugarHouse Sportsbook
SugarHouse Sportsbook is one of the most popular sites in New Jersey for sports betting. They offer terrific odds on a wide variety of sports.
Though it is worth noting that you must be located physically within New Jersey state limits to be able to place bets. They have dozens of sports to choose from and have an excellent app that is available for both Android and iOS devices.
bet365
According to impressions that I have got, bet365 is a favorite of sports fans across the pond and taking over the US since it finally launched here.
I love that they offer the best odds around for soccer in particular. It is important to note that this is a subject to change at all times since odds can vary greatly.
Now that they are fully launched in the US, they are likely to rival sites like FanDuel and Draftkings as the go-to place for US sports fans to bet online.
Caesars
Caesars Sports Online is another great place for sports fans in New Jersey to place online bets and wagers.
They offer odds on everything from Tennis to MMA. Plus, they have an excellent rewards program, as well as offering users daily promos and a number of fabulous welcome bonuses for new users.
Once you know who's coming to NY sports betting, you'll be able to get online sportsbook bonuses.
Online Horse Racing in NY
Currently, betting on horses is the only type of legal New York Online Gambling one can engage in. The following are the most popular operators that offer online horse racing and sports betting. Keep reading to learn more about them.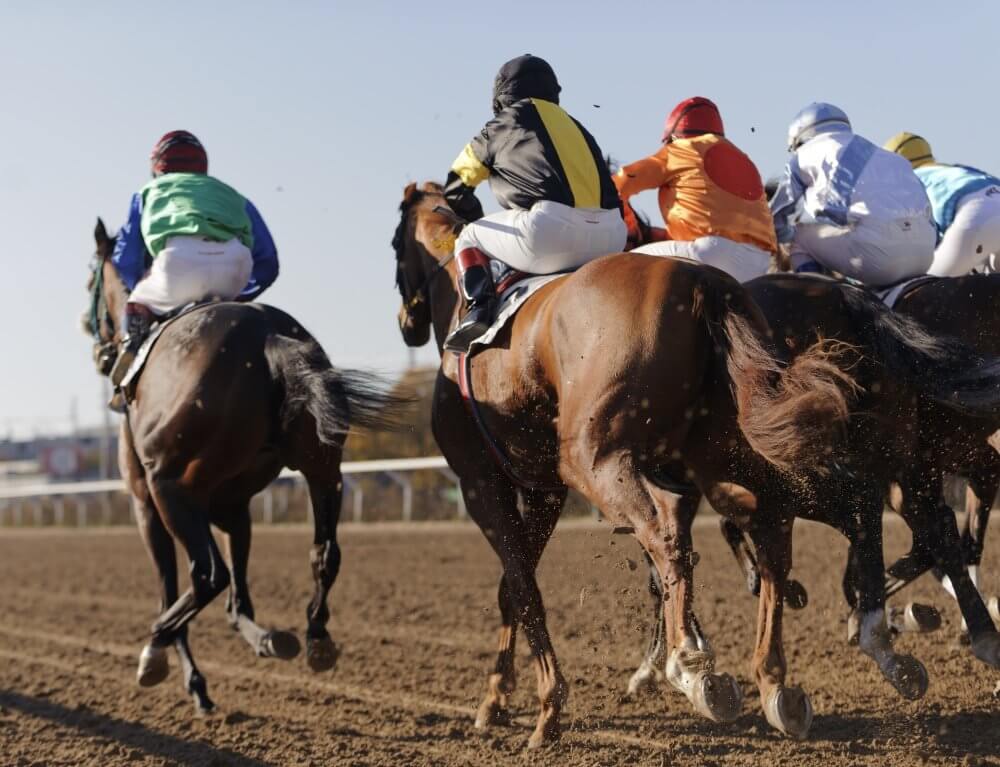 TVG
TVG is the premier site for online horse race betting in NY, as they specialize in horse racing and horse racing alone. That means that they have the widest range of races, odds, and horses on offer. They also have an excellent live streaming service which allows you to watch races in real-time and place live bets.
New users can also benefit from an excellent welcome bonus offer, as TVG will match 100% of your initial deposit up to $100.
TVG also offers the option to bet on the go by downloading the TVG app, which is currently available only for both iOS devices. iOS users can download the app directly from the iTunes app store. Whereas Android users will be able to access the mobile version of the website through their browser.
TVG also accepts a number of different payment options including debit/credit cards, BetCash, Wire Transfer, PayNearMe, and PayPal.
TwinSpires
TwinSpires is the proud home of the official online wagering site of Churchill Downs race track, home of the Kentucky Derby. Through their site, users can place bets on nearly every Thoroughbred, Quarter Horse, and Harness at a number of race tracks all over the world.
TwinSpires has an excellent online streaming platform for live videos and race replays. Moreover, it has a wealth of real-time information that includes odds, will-pays, program changes, track conditions, and race results. They also offer an EZMoney online deposit and withdrawal service that users can take advantage of quick and easy payouts.
BetAmerica
BetAmerica Horsebook is another great option for online horse race betting in NY. They have an excellent streaming platform that offers live races from over 400 tracks. It allows users to bet in daily handicapping contests all from a single account.
BetAmerica also has a great mobile app, which allows users to watch any of their offered races and place bets from anywhere using their tablet or mobile device.
They also boast a wide range of withdrawal and deposit options for fast and easy payouts. Those include Visa, Mastercard, PayNearMe, Green Dot MoneyPak, Neteller, Paylucky and Wire Transfer to name a few.
Lastly, BetAmerica has one of the best customer support options around. They have specially trained agents available from 9 am-Midnight EST, as well as options for email and live chat to help anyone with questions or concerns.
DRFBets
DRFBets (which stands for Daily Racing Form) boasts a 123-year history and is the country's dominant horse racing media company. DRFBets is the betting arm of the Daily Racing Form.
It largely benefits from the information, and statistics available through DRF directly. DRFBets online offers users a wide variety of odds, races, and horses to choose from. As well as a live news feed with the most up to date information about everything related to horse racing and betting.
DRFBets also has an excellent rewards program that gives back users who wager up to $1,000 a month over 20 times more than some of its competitors. If you plan on betting a lot through DRFBets, it is definitely worth signing up for their rewards program and taking advantage of a number of the special cashback and promotions they have on offer exclusively for their rewards members.
NYRA Bets
NYRA Bets is another popular betting outlet that users can access in 30 states nationwide online, at the track, and through their online app which is accessible for both iOS and Android devices. NYRA Bets has an excellent offer for new users, as they offer a $200 welcome bonus which users can get via a promo code.
NYRA Bets also has a rewards program that users can take advantage of to gain cashback on their bets. It also gives access to a daily promotion offer exclusive to rewards members.
They offer an excellent variety of races via live stream on their website in HD in both English and Spanish, as well as on-demand video analysis from NYRA's team of experts to provide you with the most up to date information before you place a wager.
Land-based horse tracks in NY
Now let's take a look at some famous land-based horse tracks in NY.
Batavia Downs
Batavia Downs is the oldest harness racing track in the United States. Located equidistant between Buffalo and Rochester in Batavia, New York, Batavia Downs first opened on September 20, 1940, and has been in operation ever since. The track itself is a half-mile long, and there is also a casino and several restaurants on site.
Buffalo Raceway
Buffalo Raceway is located in Hamburg, NY, and has harness racing on offer from January to July every year. They offer simulcast racing wagering Wednesday through Sunday, as well as every day free admission and parking. The Buffalo Raceway has been opened in 1942 and is located on the Hamburg Fairgrounds.
Historic Track
The Historic Track is a half-mile harness racing track located in Goshen, New York. The Historic Track first opened its doors in 1838, making it the oldest and longest-running horse racing track in the country. In 1966, it was made a National Historical Landmark. Today, the track operates mostly just in the summer. It remains a "must-visit" for long time horse racing fans across the nation.
Monticello Raceway
Monticello Raceway is located in Monticello, NY, and is nicknamed "the Mighty M" by horse enthusiasts. It is perhaps best known for an event that took place in 2006 in which a World War II Veteran named Don Karkos was hit by a racehorse in the exact place where he had been hit by shrapnel during the war, which had caused him to lose sight in one eye. After the collision, the shrapnel became dislodged and he regained his sight. Since then, this has been referred to as the "Monticello miracle".
Saratoga Raceway
The Saratoga Raceway in Saratoga Springs, NY is an excellent venue that boasts a casino on-site as well as a race track. The most famous race that takes place at the Saratoga Raceway each year is the Midsummer Derby. This race dates back to 1864 and is the oldest race for three-year-old thoroughbreds in the country.
Tioga Downs
Located in Nichols, Tioga Downs NY is a race track with a "country fair" theme. Tioga Downs is one of the newer race tracks around, having only first opened for business in 2006. There is also a casino, a couple of bars and restaurants and coffee and bakery shop on site, with racing taking place between May and September.
Vernon Downs
Vernon Downs located in the town of Vernon, NY and has been open since 1953. In addition to a full-service race track, it also has an on-site video gaming and entertainment center as well as a 173-room hotel.
Yonkers Raceway
Yonkers Raceway in Yonkers, NY is one of the closest tracks in proximity to New York City proper. This race track was originally opened in 1899 and was known as the Emerald City race track. Among many notable horses to race at Yonkers was Seabiscuit who raced there in 1936.
Aqueduct Raceway
There is however a race in New York City itself, as Aqueduct Raceway is located in the borough of Queens. Aqueduct opened in 1894 and has been in operation ever since. It has a total capacity of 40,000 and houses the New York Racing Association headquarters.
Belmont Park
Belmont Park located in Elmont, NY is home to the world-famous Belmont Stakes, the final race of the three races that make up the Triple Crown. The 1.5-mile-long course opened in 1905 and is considered to be one of the country's premier race tracks.
Saratoga Race Course
The Saratoga Race Course in Saratoga Springs, NY opened its doors in 1863. After an expansion in the 1960s it now has a capacity of 50,000. It is the 4th oldest raceway in the country. In 1999 was named #10 on Sports Illustrated's list of Sports Venues of the 20th century.
Finger Lakes Gaming and Racetrack
The Finger Lakes Gaming and Racetrack is located about 25 miles southeast of Rochester and has been open since 1962. It is home to the New York Derby, which takes place each July. It is a race for 3-year-old horses who have been bred exclusively in the state of New York
Possible NY Sportsbook Apps
The following list of possible NY Sportsbook apps is not a complete list, but these are the apps that will most likely be the first to enter the market once laws are passed. Here, you can learn a bit about the mobile platforms that will be offered and you can prepare for a great experience when these NY sportsbook apps launch. It is expected laws will be finalized and apps will be available later in 2019.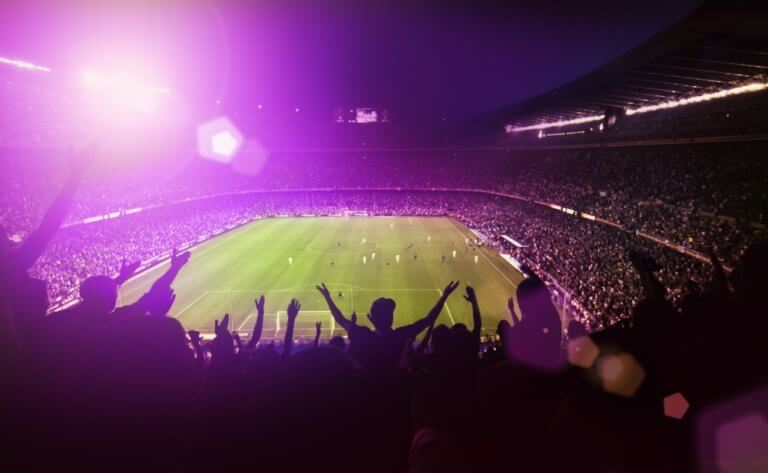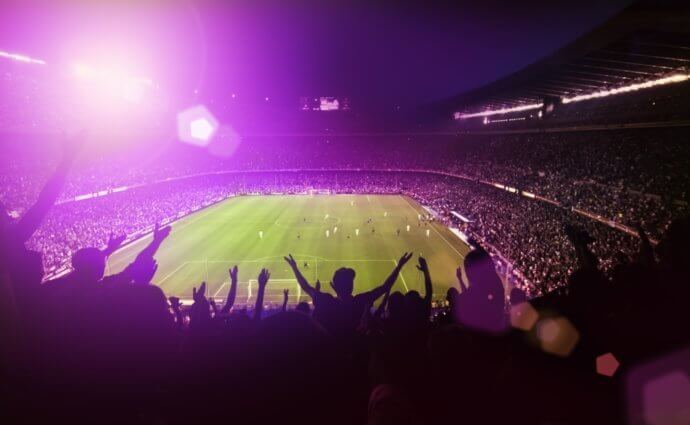 FanDuel
FanDuel is a daily fantasy sports wagering site that has recently started to offer all types of traditional sports wagering. With the FanDuel app, you will be able to get in on all the action at any time. The app will focus on point spread betting but you will also be able to place all other types of bets on your favorite sports and events.
The FanDuel mobile app will be available for Android and iOS users in New York and will replicate the online site. You will benefit from shortcuts that lead you to your preferred sports and will also be able to redeem an exciting bonus offer when you create your new FanDuel account.
FanDuel will most likely be one of the first NY sportsbook apps to launch.
Easy navigation will make this sportsbook app a top choice and you will also be able to enjoy live betting. The platform will offer simple access to all events as well as future events. So you will find it easy to locate games and matches and place secure wagers using this trusted app.
DraftKings
This was one of the first sportsbooks to launch in New Jersey, and it will probably be at the top of the list in New York. Offering a secure mobile platform, you will be able to enjoy all this sportsbook app has to offer and will benefit from 24-hour access on any mobile device.
The DraftKings sportsbook was designed to cater to mobile bettors. So you will surely find the platform easy to use and simple to install. There will be a download for Android and iOS devices. You can also access the DraftKings app using your web browser if you do not wish to install any software.
The mobile site offers fast and easy navigation. You will find all the information you need on the main page. You will also be able to access your current and previous bets, view all game lines, compare odds, and engage in live betting with this app. When you first sign up through the app, you can benefit from a welcome bonus and will then have access to the ongoing promotional deals.
DK is known for offering fast betting menus that are always updated as well as many proposition and futures betting options. This sportsbook also offers some of the best parlay and teaser prices in the industry.
Rivers Sportsbook
Rivers seems poised to offer mobile sports betting in neighboring PA and can quite possibly move into New York. They partnered with Kambi to operate the exciting sportsbook. With the mobile app, you can enjoy betting on the go.
If you are using an Android or iOS device, you will find the link to the app provided on the main online site. Here, you can enjoy a fast and secure download of the software and can quickly get started with account creation, bonus redemption, and start wagering with your smartphone or tablet.
The sportsbook app that will be available in NY will also offer a web-based option. With this, you have no restrictions regarding operating systems and you will be able to access the full mobile site right through your web browser.
This NY sportsbook app will require the use of geolocation software to ensure you are in NY when wagering. You can expect the app to offer simple navigation and mobile-optimized displays. The menu will offer a list of all supported markets and you will have easy access to your bet slip. You will also find you can conduct all transactions using your mobile device. Users may even find some mobile-specific bonuses once the app launches.
SugarHouse Sportsbook
SugarHouse will be another sportsbook app that will potentially go live in New York. With this app, you can also play casino games using the same account.
The mobile app will be available for Android and iOS devices. A download link will be provided on the main page of the SugarHouse online sportsbook. You will also be able to enjoy instant access using a web browser if you do not wish to complete the software installation.
The SugarHouse sportsbook app will mimic the online site in design, so you can easily navigate to the sections you desire. With extensive coverage of markets and some amazing betting options, you will find the SugarHouse app to meet all of your betting needs. You will even be able to claim a great paying welcome bonus when you create your account and make your first deposit.
If you are a sports enthusiast, you will surely love the in-play betting options with this app. This will allow you to place your wagers as games are taking place. The app will also offer streaming services so you can watch games and matches and have access to the latest odds and constant updates.
bet365
If you are looking to bet at one of the most reputable and trusted sportsbooks in the industry, you should watch out for the bet365 app. I believe that this app will be loaded with options that are easy to use. You will benefit from Android and iOS versions as well as a web-based platform for other operating systems.
With the bet365 sportsbook app, you will have the ability to wager on all types of sports, including professional and college events. This bookmaker is known to offer some great paying bonuses that will be available when the site launches in NY. So be sure to check these out for your chance to get free bets and free cash.
Judging from my experience the platform is designed for simple and fast navigation. You will easily be able to access your bet slip and add more bets or check which have already been placed. The mobile app will also most likely provide various features that will enhance your betting experience. At bet365, you will enjoy secure access at all times, trusted banking options, stellar customer support, and some of the best odds in the entire industry.
Caesars
Caesars is another trusted name in the gambling and betting industry. With the Caesars sportsbook app, you will be able to easily place wagers using any mobile device. The NY app will be available for download on Android and iOS devices. You will also enjoy instant access using your supported web browser.
Offering enhanced security and backed by a stellar reputation, Caesars sportsbook app will provide you with a safe way to engage in all types of betting action. You will find many bet types being offered with the Caesars app. Those include Moneylines, Totals, Futures, Point Spreads, Parlays, Teasers, and more. The downfall of using this sportsbook app will be the lack of a Cash-Out option, which is often featured with other apps.
When NY legalizes mobile sportsbooks, you fill find Caesars to cover all of the popular sports. You can wager on your favorite NY teams as well as college and professional teams in many different leagues. There will also be a great welcome bonus that can help you get started with some free cash or free bets.
The Caesars sportsbook app is expected to launch in 2019 as soon a NY passes laws to allow legal betting using a mobile device. Watch for updates and get ready to begin a thrilling and rewarding betting experience with this trusted sportsbook app.