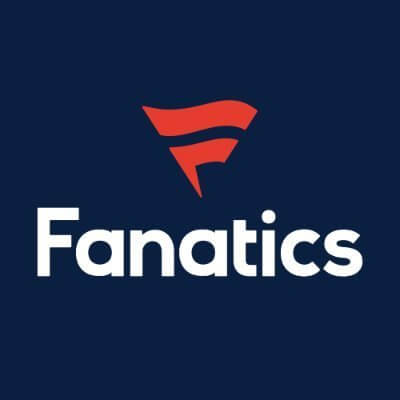 The most significant insight that implies Fanatics will be entering into the world of sports betting is them hiring Matt King, former CEO of FanDuel, with the possibility of establishing their betting and gaming presence.
Fanatics is a sports merchandising company. However, it seems that after conquering one field, they are looking to gain ground into another. Therefore, Fanatics betting is something that we might be getting sooner than we actually think.
Jump to
What is Fanatics?
Fanatics is a famed e-commerce retailer brand. They are a licensed sportswear, merchandise, and sports equipment distributor. Additionally, they also offer sports collectibles and memorabilia through its Fanatics Authentic and SportsMemorabilia.com.
Founded by Michael Rubin, an American billionaire and a partner of the Philadelphia 76ers, Fanatics was recently valued at $12.8 billion. Their next step might be venturing into IPO, but there is no word about whether or when that might happen.
Fanatics Betting: Is This the Plan?
After largely conquering the e-commerce and sports apparel world, there is not a lot that Fanatics could hope to gain in this field. The most logical step is expanding and trying their luck in an entirely different one.
In a world where many media companies are crossing over to the betting world and online wagering operators are going the other way around, there is more than enough room for another – namely Fanatics Sportsbook.
It seems that Matt King is their biggest asset and the name around which all of this ruckus has emerged. Namely, King has been hired by Fanatics but the nature of his future position has not been fully disclosed.
We do know that he will be staying with FanDuel until his replacement arrives. So we can't really speculate about his new position until he finishes with his old one.
As for Fanatics, they do have plans to use King to help them explore other business opportunities. All things point to these being working on and possibly starting a Fanatics betting and gaming division.
Fanatics Sportsbook – What Can We Expect?
Does Fanatics plan to become a sportsbook? The answer to this question is among the main things on everyone's mind. But many are also wondering about the betting markets and the betting types that we could expect.
The answer to this question is more apparent as we are surely going to receive a standard offer of US-centered sports markets. Their biggest advantage lies in them already being tied with sports, so they are fully aware of how to start things off and where to go.
Furthermore, having Matt King onboard is something that should ensure success. He has been able to stir the ship that is FanDuel for the past four years in the right direction. There is no doubt that he could do the same with the Fanatics Sportsbook, should it become a reality.
Fanatics Betting: Summary
A lot of companies have managed to successfully transition into a new market and become successful in it. Fanatics may be planning to do the same. We shouldn't be surprised by it as there have been many that have done so before.
As far as Fanatics goes, they have a lot of experience in sports merchandising and e-commerce, making them a perfect company to start an online betting site. More so, they have pulled a magnificent move by getting Matt King to their side, who is clearly the right person for the job.
The best and the only thing that we can do now is to wait and see what happens. The US market is not in shortage of sportsbooks nor gaming sites. But, having another one is not going to hurt, especially if it is a promising one with a lot of potential.