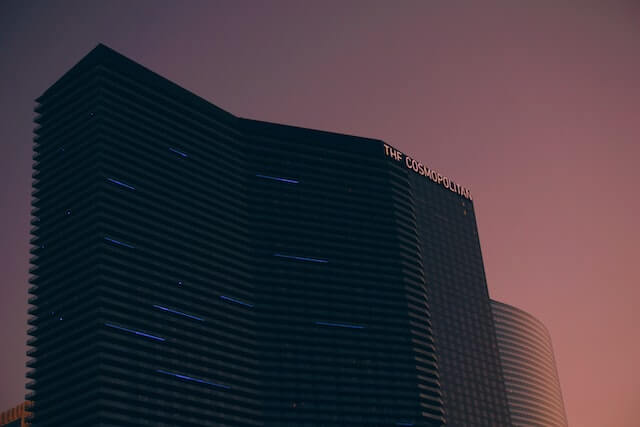 The BetMGM Sportsbooks is now featured at the Cosmopolitan. This is the first in a long list of ways to improve the quality after becoming the MGM Resort International property.
BetMGM operated as a sportsbook is the first time patrons will notice MGM Resorts branding alongside the Cosmopolitan branding. The company is also highlighting the BetMGM Sportsbook has a lead-in to making more significant changes.
Jump to
Cosmopolitan's BetMGM Sportsbook is the Only MGM Rewards Points Contributor
BetMGM has a special place in receiving all the sports bets at the Cosmopolitan. President and Chief Operating Officer Anton Nikodemus relayed that BetMGM will be the only contributor in earning MGM Rewards points.
The rest of the property uses Cosmopolitan's Identity Rewards program. This will continue to be the case in the coming year. MGM Resorts has a plan to shift to the MGM Rewards program in 2023.
MGM Rewards is a new loyalty program that debuted in 2021. Sports bettors at BetMGM can earn MGM Rewards points and status for all their MGM Resort's properties. Whether in Las Vegas or around the country, the MGM Rewards program is tied to BetMGM.
No New Immediate Changes for the Cosmopolitan's BetMGM
The BetMGM Sportsbook operates in the Cosmopolitan but guests will not notice significant changes. There are no physical structures to remains and additions to replace. Nikodemus said MGM Resorts will "evaluate operations after football season" to see what changes will be made.
Sports bettors will receive the BetMGM ticket when placing wagers. The video poker in the bar will continue to rely on the Cosmopolitan ticketing system. Cocktail waitress service and food delivery will continue in the sportsbook.
BetMGM patrons may notice how sports betting kiosks at the Cosmopolitan are in play. Until the MGM Rewards system is fully operational, this will be the case.
BetMGM Nevada App
BetMGM is a legal US sportsbook operator. The BetMGM Nevada app is not compatible with another BetMGM mobile gaming app. While BetMGM Sportsbook is expanding to the Cosmopolitan, the BetMGM Nevada app is staying put.
The odds in Nevada move differently than in the rest of the country. BetMGM Sportsbook in Nevada reflects the changes made in the Silver State.
Any sports bettors visiting Nevada should have to register with a BetMGM Nevada app to wager on a mobile device in the state. Along with the Cosmopolitan, there are Las Vegas BetMGM sports betting venues in the Aria, Bellagio, Excalibur, Luxor, Mandalay Bay, MGM Grands, The Mirage, New York-New York, and Park MGM.