Michigan Online Sports Betting 2020
Commercial Content | 21+ | T&Cs Apply
Michigan online sports betting is now legal! We've got the info you need regarding how and where to place bets, and much more. Keep reading for all you need to know to start betting legally today.
Legal Sports Betting in MI
In late 2018, former Gov. Rick Snyder struck down a bill, citing concerns of "encouraging gambling". However, lawmakers argue that gambling is already happening in the state and it makes sense to legalize and tax it.
The legality of MI sports betting has been a controversial issue for a few years now. Michigan does not have a favorable history with gambling, and it looks like things are finally starting to change. There is bipartisan support for HB 4926, a bill that essentially legalizes Michigan sports gambling.
Luckily, Gretchen Whitmer, the new governor, has legalized MI sports betting. This includes both online and on-site at Michigan sportsbooks throughout the state. More details will be revealed in 2020 once casinos and operators start to take their sportsbooks online.
Horse Racing Betting
Likewise, there is legal online betting in Michigan for horse racing. BetAmerica Racebook, a nationwide horse betting platform, is legal in Michigan for horse racing betting. That means legal, safe online betting is happening already and should help push sports betting to be ready by early 2020.
Operator
Key Features
Go To Site & Sign Up
The Future of Michigan Sports Betting
We can expect Michigan sportsbooks to offer a competitive environment that puts the needs of their players first, similar to New Jersey. All across the US, sportsbooks are throwing in extra bonuses, rewards programs, and more to draw in new customers. That means when Michigan sports betting is up and running, you can expect the same extras!
When sportsbooks go live online, they tend to have both a browser version and a smartphone app. If you have an iOS device, when Michigan sports gambling apps start to get released, just search for them on the App Store. Android users will generally have to download the app from the operator's website, as Google Play does not allow real-money gambling apps.
For those of us in Michigan looking to start placing bets online today, you can join BetAmerica to bet on horse racing. If you prefer casino games, try out the Michigan Lottery.
Bet on Sports in Michigan
As stated above, you'll only be able to go online and bet on horses or play the Michigan lottery at the moment. Likewise, you need to be over 18 to play lottery games or bet on horses. However, Michigan online sports betting will be 21+.
Make sure to check back in with us to stay up to date as the online sportsbooks and casinos start to go live online in early 2020.
If we take a look at what BetAmerica offers in other states, we'll get an idea for what sports you'll be able to bet on in Michigan as soon as it's live. Luckily, that may be as early as March Madness this year! BetAmerica covers NASCAR, MMA, NBA, NFL, MLB, and more. Basically, anything you can watch on TV, you can bet on!
Operators will have to stay competitive when offering Michigan online sports betting. If your favorite sport isn't covered, you'll go elsewhere to spend your money. Therefore, we expect Michigan to have coverage for a wide variety of your favorite sports.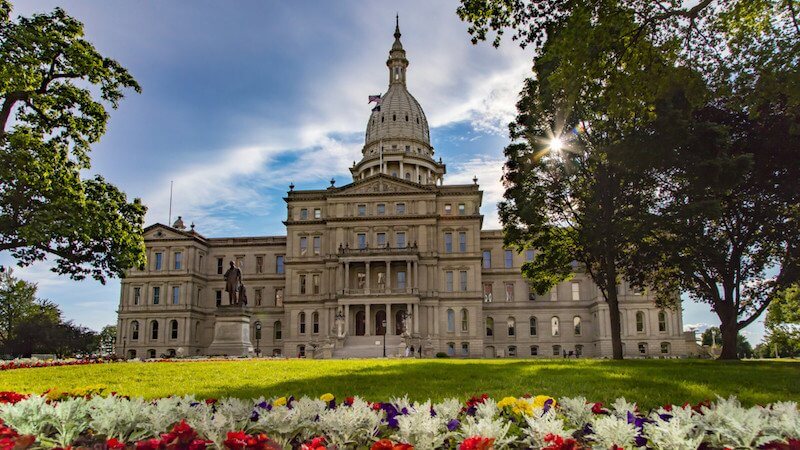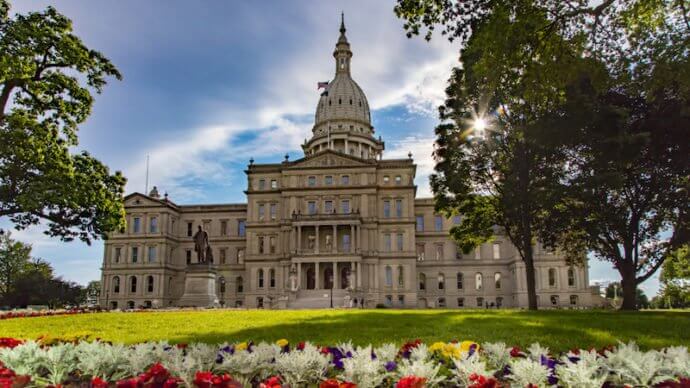 Where to Bet in Michigan
When MI sports betting is rolled out, we expect commercial casinos to be among the first to offer legal betting. App support will take a bit longer to implement than a physical sportsbook. However, one casino already has experience with online, real-money gambling apps in other states, and that's the MGM Grand.
With a great rewards program, app support, and bundled promotions on a regular basis, expect good things from the MGM Grand in Detroit.
In 2015, a California Supreme Court judge decided that a tribal casino attempting to offer online gaming was in violation of the Unlawful Internet Gambling Enforcement Act. Because of this, we expect tribal casinos to have a bit more trouble implementing sportsbooks or other online versions of favorite casino games.
The language of the recently signed house bill allows all casinos, tribal or commercial, to provide Michigan online sports betting legally – which is great!
If you're unwilling or unable to get out to your favorite casino sportsbook, don't worry. Check back with us soon for the latest in promotions, legal info, and everything you need for Michigan sports gambling.
Michigan Sports Betting Apps
Soon, Michiganders will have Michigan sports betting apps to choose from. The recent legalization of online sports betting means it's only a matter of time before Michigan sports apps go live. Here's what you need to know.
When Can We Expect a Legal Michigan Sports Betting App?
With the overturning of PASPA in 2018, the US has removed federal restrictions on sports betting. That said, sports betting apps are still going to have to get through the state bureaucracy. Luckily, the bill that would allow for sports betting already has passed into law.
At the moment, Michigan sports betting apps and sports wagering are legal, thanks in part to Rep. Brandt Iden championing a legal sports bill as a way to stop illegal gambling:
"We know sports betting is going on in the marketplace and want to make sure that it is brought into the light" – Rep. Brandt Iden
As mentioned before, HB 4926 was put on new governor Gretchen Whitmer's desk in June 2019 and passed in December. There are several operators that will leap on the chance to have legal betting apps. Here's who we think will be offering a Michigan sports app, and how you can get online and start betting.
Operator
Key Features
Go To Site & Sign Up
Michigan Casinos with Sports Betting Apps
The language of recent house bills suggests that casinos will be the first operators to create betting apps. That said, there are both tribal and commercial casinos doing great business at their brick-and-mortar locations. However, only one casino in Michigan has experience with sports betting apps: the MGM Grand.
MGM Grand Detroit
The MGM Grand is Detroit's premier hotel and casino and one of the great landmarks of the Motor City. It's also the only casino in Michigan that already has sports betting apps in other states.
When Michigan gambling apps finally go live, expect the MGM Grand to be one of the first apps out the gate. With the support of the M Rewards program and a whole host of promotions and goodies, they'll have a strong start.
That's not to say that no one else will have the experience and customer service to handle a Michigan sports app. Plus, BetAmerica is already live in the state, if only for horse racing betting.
BetAmerica Online
BetAmerica is already operating with regulated online horse racing in the state of Michigan. That means that you can bet on horse racing anywhere in the Wolverine State with BetAmerica.
In addition, BetAmerica offers regulated online sports betting in NJ. So, they're likely going to launch their mobile sportsbook ASAP.
Final Thoughts
If you're looking to bet on sports in Michigan today, you can start planning your bet slip! While you wait for sportsbooks to launch, check out BetAmerica's racebook or the MI Lottery online games.
Check back with us for more details so you can get out there and start placing your bets!
Also, check back with us for more details about Michigan gambling regularly for the latest info, best promotions, and more.