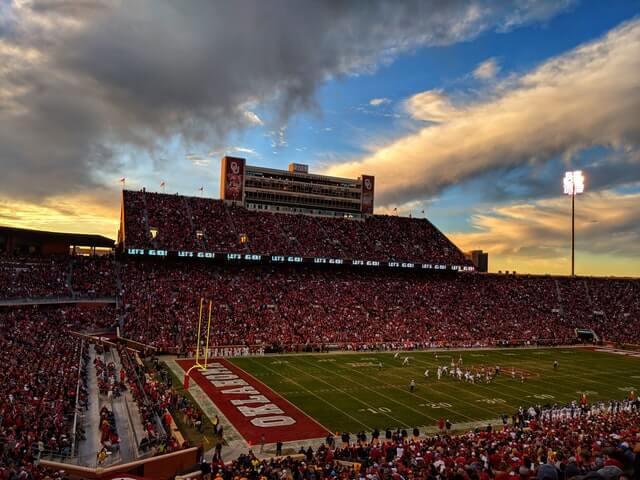 State Representative Ken Luttrel has recently proposed legislation that would bring legal sports betting to Oklahoma. Under the terms of this bill, the industry would be operated by the state's tribal casinos.
House Bill 3008 would only authorize retail sports betting through land-based tribal gaming casinos. This piece of legislation does not contain any provisions for legal Oklahoma online sports betting through mobile sportsbook apps.
Taking a simple approach to the issue may lend itself to more widespread support in the conservative state. However, the lack of legal online sports betting would severely limit the industry's potential. This mainly pertains to any tax revenue and licensing fees online betting would be able to raise.
Jump to
Oklahoma's Current Tribal Gaming Industry
One of the reasons why sports betting would be limited to tribal retail sportsbooks is availability. There are more than 140 tribal casino gaming locations in Oklahoma. This would give in-state bettors a wide range of opportunities to bet on the games.
A big reason for the stronger push this year is lost revenue opportunities. Sports betting is currently legal in border states such as Arkansas and Colorado. Arkansas is moving towards legal online sports betting and Colorado sportsbooks have been one of the most successful markets in the western part of the US.
With more and more states looking to join the ranks of legal US markets, the timing is right for a change to Oklahoma law.
Opposition to any form of gaming expansion still remains strong among a certain group of Oklahoma lawmakers. However, it is getting tougher and tougher to keep the lid on legal sports betting.
Latest Hollywood Casino News
The Oxford Economic Group has assessed the market potential in the Sooner State. Revenue estimates have the potential to generate $240 million on an annual basis. Some lawmakers have questioned this figure in a state with just 4 million residents.
However, these is still some strong demand for legal sports betting in the state. The NBA's Oklahoma City Thunder would be a strong draw along with college teams at in-state schools such as Oklahoma and Oklahoma State.
Matthew Morgan is a spokesperson for the Oklahoma Indian Gaming Association. He expressed his group's thoughts on the matter as follows:
"Our patrons are always asking us, what is on the forefront, we're in the entertainment business and they're always looking for offerings, so we hear questions about sports betting quite regularly…"
The state's first gaming compact with in-state tribes was not enacted until 2004. This took place after Oklahoma voters pushed for the expansion of gaming options. The time has come for state lawmakers to take things one step further with legal tribal sportsbooks.
Prospects for House Bill 3008
Heading into the 2022 Oklahoma legislative session, House Bill 3008 does indicate some forward movement on the issue. The provisions of the bill makes it rather easy to enact the will of most Oklahoma residents.
This bill would also support the tribal gaming industry in the absence of commercial mobile sportsbook operators.
While it remains to be seen if this piece of legislation results in an actual change in the law, most proponents agree that 2022 is the year to get something accomplished.