Beau Rivage Sportsbook 2021
Commercial Content | 21+ | T&Cs Apply
With the federal prohibition now gone on sports betting, casinos throughout the country will start offering sports betting as a service. Gamblers in Mississippi can expect some of the top-rated land locations to begin offering exciting betting options. Beau Rivage, one of the top-rated casinos in the state, is operated by MG Resorts. It will be one of the locations that will be offering sports betting options for patrons.
As an MGM Resort, Beau Rivage will be offering some excellent bonus codes and promotions to bettors who start placing sports wagers at the casino. These offers can provide a great chance to earn free bets that can generate some amazing payouts. So get ready to begin enjoying a thrilling and rewarding experience at this casino resort and be sure to watch for any upcoming bonus deals that cater to sports bettors.
While Mississippi passed laws that would allow casinos and resorts to offer sports betting on July 21, 2018, most locations are not ready to start offering services. At Beau Rivage, however, August 1 is their official kick-off date! Look for the online bookie to follow soon and we'll report on bonus codes that become available.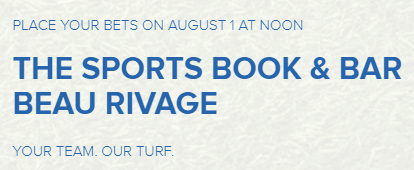 Beau Rivage Sportsbook Bonus Offers to Watch Out For
When the new sportsbook opens and starts offering real-money betting, patrons will be able to take advantage of numerous bonuses and promotions. This casino offers great player perks and this will surely extend to the sports betting section of the casino. Members will find they will be able to redeem bonus codes and collect special offers that can award free cash as well as free bets. So there will be many opportunities to place more wagers without depleting the bankroll.
The sportsbook at Beau Rivage will most likely offer ongoing promotions for various sports bets. Those who visit the casino can benefit from some great deals that make sports betting even more exciting and affordable. Beau Rivage is prepared to offer the most exciting and rewarding sports betting experience in the state. So those who visit should definitely check for any available promos that can enhance their betting experience and also watch for special offers that may be announced online.
Beau Rivage Sports Mobile App
When the Beau Rivage sportsbook is open and ready to accept bets, punters will be able to place sports wagers from anywhere on the casino floor and will engage in thrilling betting action. Unfortunately, since Mississippi does not yet have legally operating online casinos, there will be limited mobile betting options. Players and bettors at the casino will be able to use their mobile devices if they are located in certain areas of the land-based casino. There is no full-service betting site that will be available yet. Give the sportsbooks a chance to catch up.
Should Mississippi follow suit with some other states and legalize online gambling, punters will then be able to engage in a wide array of sports betting activities using mobile phones and tablets. However, until that time comes, mobile betting at Beau Rivage will be limited.
Beau Rivage Casino and Mississippi Sportsbook
Beau Rivage is one of the most popular and highly respected casinos in the state of Mississippi. With the soon to be sportsbook opening, those who visit the casino will be in for a treat with a full-service sportsbook that will operate just like the major sportsbooks found in Vegas.
The new betting section of the casino will offer ongoing betting action on all college and professional sports. It will also offer amateur events that can generate some great returns. With amazing betting odds, a large variety of betting options and some special betting lines, punters are eagerly awaiting the Beau Rivage sportsbook to open so they can start placing wagers in a secure environment and start winning some superb returns on those wagers.
Beau Rivage Sportsbook Review Conclusion
Mississippi is one of the latest states to have legalized sports betting.
At Beau Rivage, patrons will enjoy a full-service sportsbook that will be located on the casino floor and will also be able to make use of mobile betting options while at certain locations within the casino.
Beau Rivage Sportsbook will be opening soon. Once it does, it will surely attract a large group of bettors who are seeking high valued bonuses, great incentives and some of the best betting odds that will be available in the state of Mississippi.

Beau Rivage Sportsbook Quick Review
Summary
By all accounts, the Beau Rivage Sportsbook is running smoothly! As a brand new sportsbook, and one that's relatively unproven, we're hesitant to give it 5 stars. But should they add online sports betting to their services soon and have no major hiccups along the way, we see no reason why the Beau Rivage Sportsbook won't be one of the top sports bookies in Mississippi.