The brand has a very strong presence online with the Tropicana Online Casino, but instead of launching a separate online Tropicana Sportsbook, they have decided to stick with the one their partner, Caesars, already offers.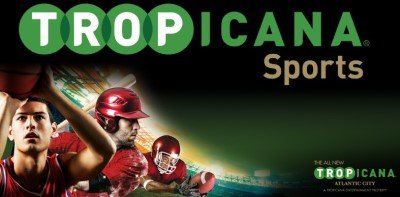 Tropicana Promo Code (Expired)
| Tropicana Sportsbook | William Hill Sportsbook Bonus Details |
| --- | --- |
| Welcome Offer | NA |
| | NA |
| Minimum Deposit | NA |
| T&Cs | 60 days upon register to make a qualifying bet |
| Last Verified | Nov 28, 2023 |
Jump to
The bonus code is a way for brands to attract new customers. Each brand decides what kind of bonus is going to be offered. However, with stronger competition, brands start competing with each other and become more generous with their welcome offers. Their land-based sportsbook is powered by William Hill and the latter operator also offers a great online and mobile betting platform.
The Tropicana Sportsbook in partnership with Caesars has some competitive advantages, even though there are plenty of other New Jersey online sportsbooks to choose from.
Tropicana Sportsbook Welcome Bonus (Expired)
Bonus codes are used to activate a welcome bonus. Those who are going to become Tropicana Sportsbooks customers are going to be given some sort of welcome offer to make use of. As the brand already has a page where people can make bets and play for free, they know how to do their marketing. If players play on their platform for free, they can win a free stay in the brand's luxurious accommodation. This is a sort of a welcome offer already.
Tropicana Available Sports (Expired)
Caesars Sportsbook is definitely amongst the leaders, so it is no doubt that it offers to bet on some of the most popular sports and events:
These are only the most popular sports that we have mentioned. People can also bet on golf, MMA/UFC, auto moto race betting, and many other sports and disciplines.
Tropicana On Mobile (Expired)
Establishing a presence on mobile should be the priority of all online betting and gambling brands. New Jersey has completely taken all actions to legalize online betting and gambling. Therefore, all the brands that appear are going live in New Jersey know that they must deliver on good software on mobile.
If we are to look at other betting providers, those who enjoy using iPhones will likely get the chance to bet on the go via their devices.
This is only because The Apple Store has better regulation of apps that involve betting and gambling.
Google Play simply does not allow such apps on their store.
You will not be able to find the app on the App Store if you search for "Tropicana Sportsbook". However, the William Hill App is available for download on their site and iTunes.
Tropicana Sportsbook Customer Support (Expired)
Customer support is an important part of all brands across all industries. Especially when it comes to industries that involve betting and gambling.
As we are living in an age where the cost of communication has significantly dropped to amazingly low levels, having customer support is no longer such a challenge and people know it.
There are at least 3 or 4 different channels of communication between the regular customer and brand's customer support representatives. This includes social media, email, live chat, and phone.
Final Thoughts (Expired)
Although there is technically no Tropicana Sportsbook, their partner, William Hill offer s a great alternative. The brand has been in the US market for decades now, and we do believe that they are experienced enough to make the right call for the future of their business growth.
New Jersey has just received one more brand to its arsenal of locations where people can have fun. Even though the brand is also present online, there is a lot of room to move forward. Tropicana Sportsbook is the 7th brand present in Atlantic City, while it is the 9th on the state level. Use the Tropicana Promo Code to get started!