Sugarhouse Sportsbook Promo Code
Visit the first online sportsbook in New Jersey and start with a Sugarhouse Sportsbook Promo Code. Get bonus cash (up to $250) on your first deposit and start placing wagers to collect amazing payouts.
Click For Promo Code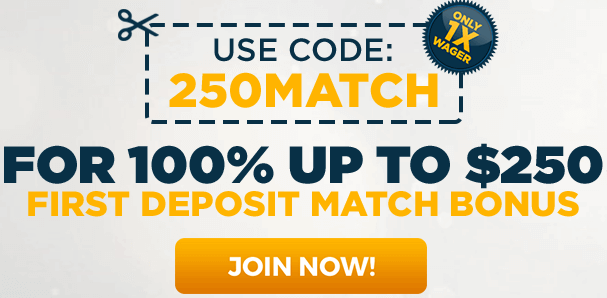 Featuring a wide coverage of sports and many betting options, this betting site is quickly becoming a top choice for online punters.
How to use Sugarhouse Promo Code
| Promotional Code | 250MATCH |
| --- | --- |
| Offer | 100% up to $250 on first deposit |
| Wagering requirements | Once through (1x) |
| Loyalty program | Get points on sports and casino |
| Location | New Jersey only |
| Age | Over 21 |
With the exciting bookie promotional code, new members at the New Jersey site can benefit from free cash added to their account when they sign up. The code is easy to use and can be enjoyed by anyone who is opening a new account with this trusted online sportsbook.
To get started with this Sugarhouse bonus offer, simply follow the steps outlined below and quickly claim the bonus cash they're offering:
Start by clicking on Join Now to create a new account.

Punters will then choose a screen name, enter their email address, select a password and enter the promotional code in the appropriate field.

The next step will require punters to provide the site with personal information, including a name, address, and date of birth.

The final step will have members choosing a security question as well as providing the site with a mobile phone number and a valid Social Security number.

After all of these steps are completed, one will simply access the site cashier, where they can make their initial deposit and benefit from the Sugarhouse Promo Code.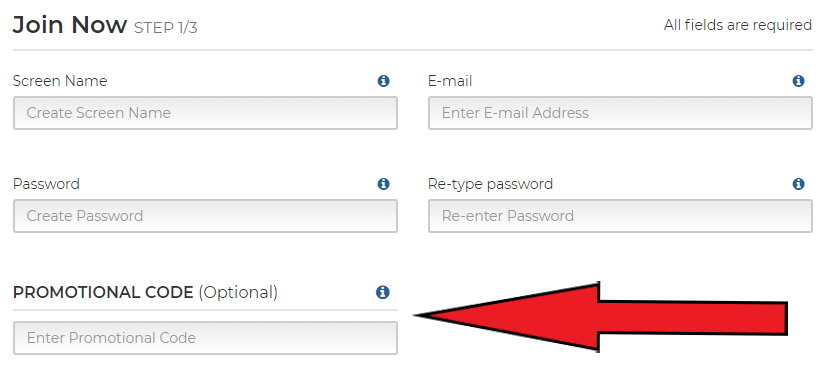 Click For Promo Code
When using this sportsbook promo code, there will be a 1x play through requirement that is in place and this must be met before members can withdraw any winnings that have been generated using the provided bonus funds. To redeem this great offer, one must make a deposit of at least $10 to a new account.
Wagering requirements
With the Play Sugarhouse Sportsbook Promotion Code, there is a very low wagering requirement that is in place. Many other online bookies require punters to bet more money to clear bonuses, but at here, the wagering requirement is just 1x. The bonus money can only be used to wager on slot games, video poker selections, live dealer games, or on sports bets. With this low requirement, punters can quickly clear the bonus and have the ability to withdraw the winnings that are generated. The Sugarhouse sportsbook promo code is simple to use and has one of the lowest wagering requirements of all operating sportsbooks in New Jersey.
This bonus, as well as any other offer that is presented at the site, can only be claimed by those that have a real money account and are accessing the online site or the Sugarhouse mobile sportsbook within the borders of New Jersey Members are required to be of the legal gambling age in order to create an account and once they make their initial deposit this amazing promo code can be applied for the chance to instantly add up to $250 to the new account.
Sugarhouse Loyalty Program
As with most online sportsbooks, members at Sugarhouse will benefit from a great loyalty program, called the iRush Rewards program. This is a premier program in New Jersey and offers a generous way for members to earn extra for placing wagers on sports or casino. The loyalty program is easy to use and as soon as an account is created and the bonus code has been redeemed. One will start earning points as they place wagers at the site or when using the mobile app.
There are multiple tiers to the program and as punters wager more, they will earn more points and benefit from great perks. Some of the great aspects of the rewards program include faster withdrawals, exclusive VIP events, special bonus deals, birthday gifts, and so much more. With every wager placed, more points will be earned, allowing members to take advantage of this amazing Loyalty scheme.
Sugarhouse sports betting mobile app
There is also an exciting Sugarhouse sports betting app that can be enjoyed by New Jersey gamblers. This app can be used on Android and iOS devices and can easily be downloaded from the App Store or the Play Store. With the mobile sportsbook, one can enjoy on the go betting action at all times, as long as they are within the borders of New Jersey. There is also an instant access option, where users of smartphones or tablets can visit the Sugarhouse site through their web browser and take advantage of mobile betting options that way.

Get App for iOS OR Get App for Android
New members who are just getting started will be able to redeem the sportsbook promo code when they create a new account, just as they would with the main online site. With a great 100% match bonus and low wagering requirements, this is the perfect way for any mobile bettor to earn some free cash and get started placing wagers on some of the hottest sporting events.
In order to place real money wagers using the Sugarhouse mobile sportsbook, Android and iOS users must have Location Services or GPS enabled on their device. This is used to ensure that are accessing the site are in fact located in New Jersey. With a great layout and easy navigation, the Sugarhouse mobile sportsbook provides a safe and simple way to engage in exciting betting action at any time. Users will find they can access the cashier, make sure transactions, make use of customer support options and even redeem any of the provided promotional offers that are available.
This exciting mobile platform is a great way for anyone to always have access to their account and be able to place wagers that can yield some impressive payouts. Get ready to enjoy all that Sugarhouse has to offer with the reliable mobile sportsbook.
Banking methods at Play Sugarhouse
At Play Sugarhouse, there are a variety of banking methods that can be used to safely and securely conduct transactions and manage an account. Right after signing up at the site, one can visit the cashier to learn of the different options that are presented and will be able to select a deposit method so they can make an initial deposit to benefit from the Sugarhouse promotional code.
Banking options can be used with the desktop version as well as the Sugarhouse mobile sportsbook and with fast and simple transactions, punters will always have great ways to manage accounts and enjoy real money betting action. All transactions will be processed through secure encryption software to ensure the protection of personal and financial details and to help make sure that all accounts are completely secure at all times. Should members have any questions about banking, they can contact the support team for more information.
How to make a deposit
Making a deposit oi the Play Sugarhouse account is a simple process and one will do this by visiting the cashier and selecting one of the supported methods listed. At the site cashier, one can choose from any of the following methods to instantly add funds to their account:
ACH/eCheck

Cash at the Casino Cage

Neteller

Online Bill Pay

Pay with Cash

Sugarhouse Prepaid Card
While there is not a long list of available methods, those that are supported are known to be trustworthy and reliable and there are no added fees when adding funds to your account. The deposits will be conducted instantly and the funds will be available in the account within minutes, allowing almost instant access to all real money betting activities at the site and at the mobile betting app. There is a minimum deposit amount of $10 for those looking to cash in on the Sugarhouse signup promotion.
How to withdraw
Once all wagering requirements have been met after using any Sugarhouse bonus or promo, e can request a withdrawal from an account. To do this, members will access the Cashier section of the site and select Withdraw. They will then choose from a list of withdrawal methods, which will include a Prepaid Card, Neteller, ACH/eCheck, Cash at Casino Cage, and Check by Mail.
Requested withdrawals are usually processed in 24 hours, though it may take as long as 72 hours to review and approve a withdrawal. After the transaction has been approved, it can take some time for one to receive funds, and this will vary based on the method that has been selected. Prepaid cards and Cash at Cage will offer instant withdrawals. Neteller withdrawals may take up to one business day, ACH and eCheck requests can take 3 to 5 days, and requesting a Check by Mail can take as long as 14 days to receive the physical check.
Sports betting odds at Sugarhouse sportsbook
One of the most important things about sports betting is understanding the odds and how they work. In some cases, betting odds can be a bit complicated, but with some knowledge, punters will be able to understand odds and use them to place educated bets. Odds will tell punters how likely an outcome of an event will be and will also tell them how much they stand to win with a successful bet. If the chances are high, then odds will typically be low. At Play Sugarhouse, there are three different ways in which odds can be displayed and members can change this at any time using a menu at the bottom of the page.
American odds are quite popular and anyone that has experienced Vegas betting odds will know how these work. These are traditional in the US and they are the default setting at Sugarhouse. There are also decimal odds, which are easy to understand These are basically what one would multiply their stake by to calculate a payout. For example, a $100 bet at 2.5 offs would offer a $250 payout. Finally, there are fractional odds and these are most commonly used with horse racing bets.
Supported sports
On the desktop and mobile sportsbook, there is a huge coverage of sports and the market is incredible. Here, one will find they are able to place wagers on all major professional sports as well as college sports. The site does cater to North American sports, but there are also events and games that can be bet on that are being played in other countries. Some of the more popular sports that are covered at this betting site include NFL, NBA, MLB, NHL, MMA, soccer, cricket, golf, rugby, cycling, tennis, boxing, and motorsports.
With a huge variety of sports being covered, Sugarhouse caters to the needs of all bettors and offer amazing odds and superb bonus offers. The site also offers In-Play betting where one can place a wager on an event, game, or match that is being played live. Bets can be placed at any time during the event and the odds are always being updated so punters have the latest information available at all times.
Types of bets to place
At Sugarhouse, there are many types of bets that can be placed and these will vary depending on what sport has been selected. After the Sugarhouse Sports Promotional Code has been redeemed, one can use their bonus funds to place many types of bets. The most popular at the site include Point Spreads, Moneylines, Totals (Over/Under), Futures, Proposition Bets, Parlays, Teasers, and In-Game Bets.
Play Sugarhouse Sportsbook FAQ
Seeing as Play Sugarhouse is one of the newer online betting sites in New Jersey, some new punters will have questions to ask before they create an account. The site does offer an amazing Help Center where many questions can be answered and we cover some of the most commonly asked questions here. With these FAQs, new members can quickly get started and begin enjoying sports betting at its best and benefit from the Sugarhouse Sportsbook Promo Code.
Is there a mobile app?
Yes. Play Sugarhouse does offer a mobile app for those that are looking to enjoy betting action on the go. There are apps that can be downloaded for Android and iOS users and there is also an instant play platform that can be accessed through the web browser. Anyone with an account can enjoy money betting in the state of New Jersey and mobile players can also create new accounts, redeem bonuses, and connect with customer support or the cashier at any time.
What are the banking options?
At Sugarhouse, there are a variety of great banking options that can be used and punters will be able to select a method that will meet their needs. The site allows members to select from Neteller, Prepaid Cards, Cash at Casino Cage, Online Bill Pay, ACH, eCheck, and PayNearMe. All of these offer fast and secure transactions. To select an option, simply create an account and visit the cashier.
Where can you play Sugarhouse Sportsbook?
At this time, only residents of New Jersey are able to place agers at the Play Sugarhouse Sportsbook or Sugarhouse mobile sportsbook. Members are required to use Geo-location services to ensure they are in fact within the borders of the state before they are able to begin placing any real money wagers. The site is only available to NJ residents who are of the legal gambling age.
How can I reach customer support?
Sugarhouse offers professional customer support to all visitors and this can be accessed daily between the hours of 9:30 am to 2 am. At this time, the site only offers email support and a live chat option. Both of these will connect members with trained support agents that can assist with any matter, including the redemption of bonus codes, banking issues, betting questions, and more.
Sugarhouse Sportsbook Score
Summary
The Sugarhouse Sportsbook is off to a great start! Their promotional offer helps their score, but could still be improved slightly if they included a "no deposit" bonus or enhanced odds. Look for them to do that in the future. The fact that their sportsbook is seamlessly integrated with their casino games helps their rating as well. It makes no difference to their loyalty program whether or not you bet on sports or casino. Currently, the customer support is adequate but hopefully, they'll expand their hours of operation soon and make even more ways to contact them if you need help. As it stands now, don't miss the Play Sugarhouse Sportsbook!