Resorts World Catskills Sportsbook 2021
Commercial Content | 21+ | T&Cs Apply
When one of the largest online gambling companies in the world, bet365, signed a 20-year deal with Empire Resorts in 2018, it was obvious that sports betting would become legal in New York soon.
Now, with the new law legalizing land-based NY sports betting, Resorts World Catskills Sportsbook is up and running. The New York State Gaming Commission approved their license at the end of August 2019.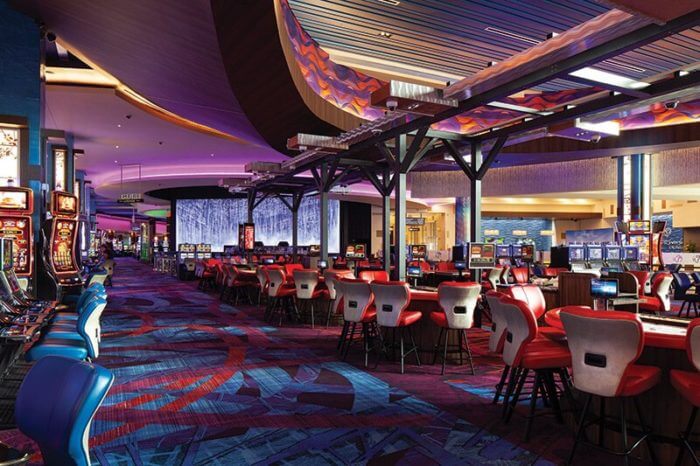 Resorts World Catskills Sportsbook Partnership with bet365 and What It Means to Bettors
Thanks to a strategic partnership, bet365 provides services for the land-based sportsbook at Resorts World Catskills. Later, when a new bill allows it, bet365 will develop an online sportsbook, too, which is a big deal for Resorts World Catskills.
Undoubtedly, bet365 is a world leader in online wagering and has proven this since entering the NJ online sports betting market. Likewise, their sportsbook is considered as one of the best worldwide when it comes to a variety of markets, betting options, and sporting events offered to the bettors.
Now, Resorts World Catskills Sportsbook has a chance to be the number one destination for sports betting in New York State. Granted, bet365 invested a ton of money in this collaboration, so bettors can expect only the best.
New York State is one of the largest markets in the United States. Its potential is huge when it comes to sports betting, and Resorts World Catskills and bet365 are surely well aware of their opportunity. On the other side, bettors can only make a bigger profit due to the best service.
What Sports Will Be Offered at the Resorts World Catskills Sportsbook?
bet365 offers numerous markets on almost every sports event in the world. From American Football to Winter Sports, they cover everything. Their customers can even wager on amateur soccer leagues around the world or ITF tennis matches.
International sporting events are a big part of the bet365 offer. World championships and continental tournaments in all different sports should be available to the bettors.
Of course, Resorts World Catskills Sportsbook will focus on bettors' needs in New York State. On the other hand, a wide array of sporting events can only attract more people and obtain more wagers.
Major Sports
Obviously, wagering on NFL, NBA, MLB, and NHL is essential for the bettors in New York. Therefore, the major sports will be a priority for Resorts World Catskill Sportsbook and its partners.
bet365 offers plenty of different markets on all these major leagues. As well as they can take straight bets, the bettors will be able to take parlays and in-game bets.
The NFL season starts September 6, and the bettors might be able to lay the odds on Week 1 matchups. It depends on how fast will the Gaming Commission work, but everything should be ready for the start of the NBA season.
Future odds will be available, too, while bet365 offers around 80 different markets on each NFL or NBA game. Likewise, baseball and hockey fans should be excited about the current betting options with bet365 available at Resorts World Catskills Sportsbook.
College Sports
At this moment, bet365 covers NCAAb and NCAAf. Analogous to major sports, bet365 offers plenty of markets to choose from. The bettors will be able to pick any football and basketball game from all conferences.
In-game wagering on college sports is also available which is another important information for the bettors. This will be a quite interesting option when the New York State Gaming Commission legalize online sports betting.
Resorts World Catskills Sportsbook Mobile App
This is the next step for Resorts and bet365, and it will feature the identical offer as a land-based sportsbook. The customers will have to sign up and make an account in order to start betting.
Considering the agreement between two companies, bet365 will use its brand and proprietary platform to power online betting. It would facilitate the whole process, and considering bet365 in specialized in online wagering, it would benefit the bettors.