Teams across the league are changing how they will do things as well, opting to go away from the traditional war rooms located at team headquarters, and instead creating virtual war rooms with coaches, general managers, scouts, and team owners all connected from their own homes.
EA Sports is also getting in on the "virtual" aspect of this year's NFL Draft. Since we won't be treated to the usual Commissioner announcement followed by the player walking on stage, the makers of the Madden video game franchise will be creating virtual handshakes between the first-round selections and Roger Goodell.
To add to the realism, EA Sports contacted each likely first-round selection and asked them exactly how they planned to greet the commissioner, so that they can incorporate that into the animation. The first-round picks also get a $2,500 grant to donate to the high school football program of their choice.
Jump to
When, Where and What Time is the NFL Draft?
Much will be different about this year's NFL Draft, but the schedule for the seven rounds has not been changed.
First Round – Thursday, April 23 (8 pm ET)
Second and Third Rounds – Friday, April 24 (7 pm ET)
Fourth through Seventh Rounds – Saturday, April 25 (Noon ET)
All live events in Las Vegas have been canceled, making this a draft that will be exclusively carried out over live streams and internet connections. But the 2022 NFL Draft has not been awarded to a host city yet, and it's possible Las Vegas will be given that event as a make-up for 2020.
How to Watch the 2020 NFL Draft
Fans won't be at Caesar's Palace as originally planned, but everyone who wants to watch the NFL Draft will be able to, and through a variety of different platforms. Last year the NFL Draft drew in 47.5 million viewers from 115 different countries, and the expectation for the 2020 NFL Draft is even higher.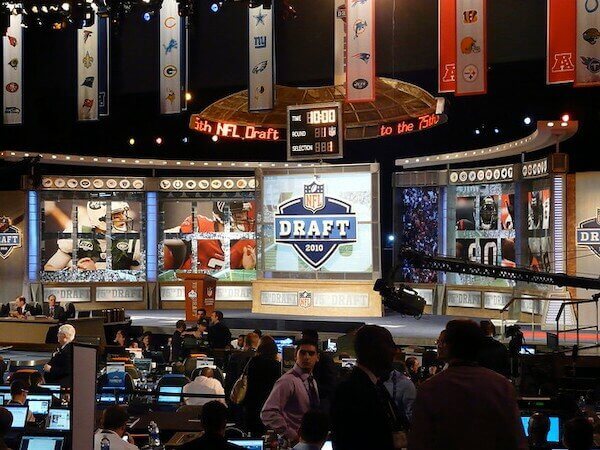 Cable TV
A total of four different network television channels will carry all seven rounds of the NFL Draft live.
NFL Network
ABC
ESPN
ESPN Deportes
Live Stream
When you are away from a television, don't worry. There is no shortage of options to watch the NFL Draft online. The following streaming services will carry all seven rounds of the draft.
YouTube TV
Hulu + Live TV
Sling TV
AT&T TV Now
Apple TV (NFL, ABC, or ESPN Apps)
Amazon Fire TV (NFL, ABC, or ESPN Apps)
Android TV (NFL, ABC, or ESPN Apps)
Roku (NFL, ABC, or ESPN Apps)
Xbox (NFL, ABC, or ESPN Apps)
PS4 (NFL, ABC, or ESPN Apps)
You can also watch the NFL Draft live stream on your mobile device or tablet using the NFL, NFL Network, ABC, or ESPN Apps.
On your computer, log on to NFL.com or ABC.go.com. For special comprehensive coverage of the draft, access your ESPN+ account.
2022 NFL Draft Order
Here is the base order for all seven rounds of the NFL Draft.
Cincinnati Bengals
Washington Redskins
Detroit Lions
New York Giants
Miami Dolphins
Los Angeles Chargers
Carolina Panthers
Arizona Cardinals
Jacksonville Jaguars
Cleveland Browns
New York Jets
Las Vegas Raiders
Indianapolis Colts (49ers own first-round pick)
Tampa Bay Buccaneers
Denver Broncos
Atlanta Falcons
Dallas Cowboys
Pittsburgh Steelers (Dolphins own first-round pick)
Chicago Bears (Raiders own first-round pick)
Los Angeles Rams (Jaguars own first-round pick)
Philadelphia Eagles
Buffalo Bills (Vikings own first-round pick)
New England Patriots
New Orleans Saints
Minnesota Vikings
Houston Texans (Dolphins own first-round pick)
Seattle Seahawks
Baltimore Ravens
Tennessee Titans
Green Bay Packers
San Francisco 49ers
Kansas City Chiefs
Teams that will begin the draft without a pick in the second round because of previous trades are the Cardinals, Raiders, Patriots, Saints, 49ers, and Redskins.
Final Summary
While this will be an unusual version of the NFL Draft that we've all grown to love and anticipate over the years, it will be a very welcome sporting distraction for a world thirsting for sports and sports wagering. The show goes on, the television coverage will be comprehensive and complete, and all of the many ways to bet on the NFL Draft are still very much available.