Get the lowdown on every game happening before September with our NFL preseason schedule.
And don't forget about the biggest day in pro football, the Super Bowl! Check out our Super Bowl betting tips.
The NFL Preseason schedule was released on May 12th. Read the schedule below.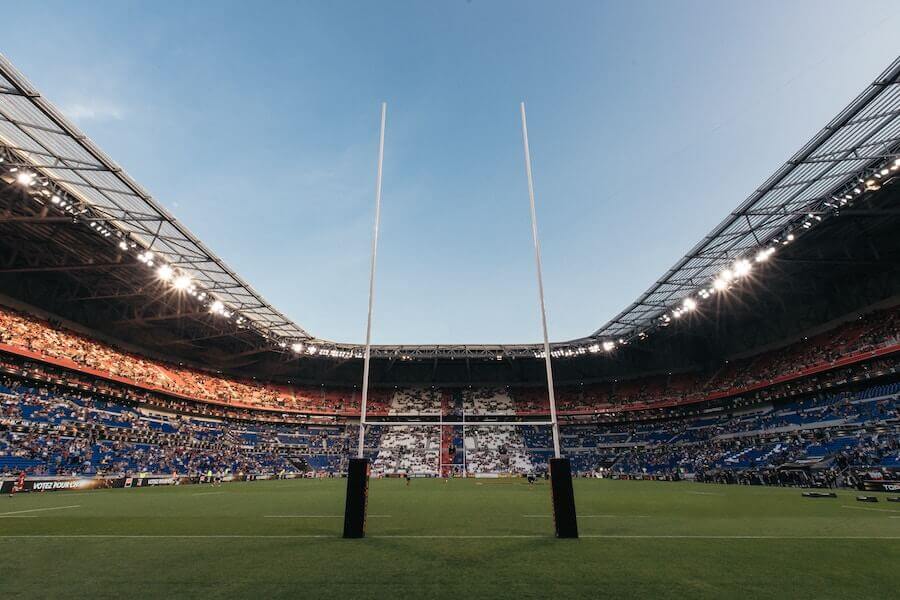 Jump to
Hall of Fame Game – Aug. 5
The 2021 NFL Preseason Schedule kicks off with the Hall of Fame Game in Canton, Ohio, on Thursday, August 5 with Dallas taking on Pittsburgh. This game takes place at the Tom Benson Hall of Fame Stadium.
Exact times and dates for the full 2021 NFL Preseason Schedule are below. Keep in mind, due to rule changes during the 2020-21 season, the preseason games are shortened, with each team playing 3 games.
| | | | |
| --- | --- | --- | --- |
| Date | Team 1 | Team 2 | Time (ET) |
| Aug. 5 | Dallas Cowboys | Pittsburgh Steelers | 8:00pm |
Be sure to brush up on your football betting skills before the 2021 NFL gets into full swing.
NFL Preseason Schedule: Week 1 – August 12-16
| | | | |
| --- | --- | --- | --- |
| Date | Visitor | Home | Time (ET) |
| Aug. 12 | New York Jets | New York Giants | 7:30pm |
| Aug. 12 | Pittsburgh Steelers | Philadelphia Eagles | 7:30pm |
| Aug. 12 | Washington Football Team | New England Patriots | 7:30pm |
| Aug. 13 | Buffalo Bills | Detroit Lions | 7:00pm |
| Aug. 13 | Tennessee Titans | Atlanta Falcons | 7:00pm |
| Aug. 14 | Miami Dolphins | Chicago Bears | 1:00pm |
| Aug. 14 | New Orleans Saints | Baltimore Ravens | 7:00pm |
| Aug. 14 | Cincinnati Bengals | Tampa Bay Buccaneers | 7:30pm |
| Aug. 14 | Houston Texans | Green Bay Packers | 8:00pm |
| TBA | Kansas City Chiefs | San Francisco 49ers | TBA |
| TBA | Denver Broncos | Minnesota Vikings | TBA |
| TBA | Carolina Panthers | Indianapolis Colts | TBA |
| TBA | Seattle Seahawks | Las Vegas Raiders | TBA |
| TBA | Dallas Cowboys | Arizona Cardinals | TBA |
| TBA | Cleveland Browns | Jacksonville Jaguars | TBA |
| TBA | Los Angeles Chargers | Los Angeles Rams | TBA |
NFL Preseason Schedule: Week 2 – August 19-23
| | | | |
| --- | --- | --- | --- |
| Date | Visitor | Home | Time (ET) |
| Aug. 19 | New England Patriots | Philadelphia Eagles | 7:30pm |
| Aug. 20 | Cincinnati Bengals | Washington Football Team | 8:00pm |
| Aug. 20 | Kansas City Chiefs | Arizona Cardinals | 8:00pm |
| Aug. 21 | Buffalo Bills | Chicago Bears | 1:00pm |
| Aug. 21 | New York Jets | Green Bay Packers | 4:25pm |
| Aug. 21 | Atlanta Falcons | Miami Dolphins | 7:00pm |
| Aug. 21 | Baltimore Ravens | Carolina Panthers | 7:00pm |
| Aug. 21 | Detroit Lions | Pittsburgh Steelers | 7:30pm |
| Aug. 21 | Tennessee Titans | Tampa Bay Buccaneers | 7:30pm |
| Aug. 21 | New York Giants | Cleveland Browns | 8:00pm |
| Aug. 23 | Jacksonville Jaguars | New Orleans Saints | 8:00pm |
| TBA | Las Vegas Raiders | Los Angeles Rams | TBA |
| TBA | Houston Texans | Dallas Cowboys | TBA |
| TBA | San Francisco 49ers | Los Angeles Chargers | TBA |
| TBA | Indianapolis Colts | Minnesota Vikings | TBA |
| TBA | Denver Broncos | Seattle Seahawks | TBA |
NFL Preseason Schedule: Week 3 – August 26-30
| | | | |
| --- | --- | --- | --- |
| Date | Visitor | Home | Time (ET) |
| Aug. 27 | Pittsburgh Steelers | Carolina Panthers | 7:30pm |
| Aug. 28 | Green Bay Packers | Buffalo Bills | 1:00pm |
| Aug. 28 | Baltimore Ravens | Washington Football Team | 4:00pm |
| Aug. 28 | Chicago Bears | Tennessee Titans | 7:00pm |
| Aug. 28 | Tampa Bay Buccaneers | Houston Texans | 8:00pm |
| Aug. 28 | Los Angeles Rams | Denver Broncos | 9:00pm |
| Aug. 29 | Miami Dolphins | Cincinnati Bengals | 4:00pm |
| Aug. 29 | New England Patriots | New York Giants | 7:30pm |
| Aug. 29 | Cleveland Browns | Atlanta Falcons | 8:00pm |
| TBA | Indianapolis Colts | Detroit Lions | TBA |
| TBA | Minnesota Vikings | Kansas City Chiefs | TBA |
| TBA | Arizona Cardinals | New Orleans Saints | TBA |
| TBA | Philadelphia Eagles | New York Jets | TBA |
| TBA | Las Vegas Raiders | San Francisco 49ers | TBA |
| TBA | Los Angeles Chargers | Seattle Seahawks | TBA |
| TBA | Jacksonville Jaguars | Dallas Cowboys | TBA |