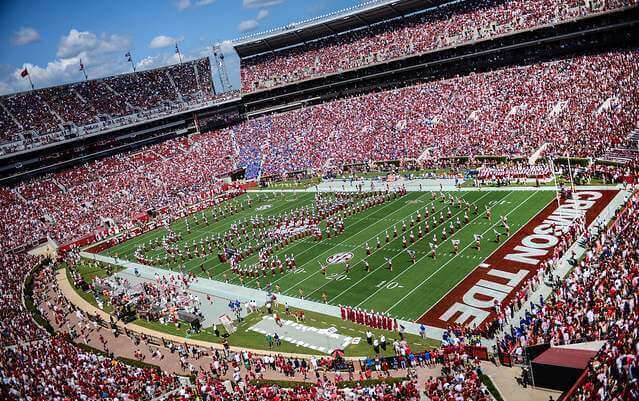 It's never too early to look at the current betting odds to win the college football national championship. These odds were released as soon as Georgia defeated Alabama back in January.
Bookmakers will continue to regularly update the odds over the next few months. Here is an early look at those odds and a breakdown of teams that might make a run.
Getting a bet in early is usually the best way to go. You will have plenty of time over the next nine months or so to bet on college football. Here is a quick breakdown of the current odds and a preview of how the upcoming season might play out.
Jump to
Clear Top Three
It became clear as soon as the betting odds were released that there are three teams favored to win the college championship next season. The three teams at the top of the list are usually there every single season, and that won't change this year.
Alabama is the current betting favorite to win the title next season, as the Crimson Tide have odds set at +325. This program is always in the mix, and they will be looking to avenge a loss in this year's title game.
Georgia (+350) and Ohio State (+700) are the two teams that are next on the list, and each team will push Alabama next year. At some point, both Georgia and Ohio State could move up to the top of this list. Both teams will be loaded with talent.
As things stand now, it's hard to envision a champion outside of these top teams.
Big 12 Can Be Competitive
The Big 12 Conference has struggled on the national stage of late, and that could be the case yet again. There are plenty of teams from this league that are going to be full of talent, but they might not have what it takes to compete for a national championship.
Oklahoma is the team from the Big 12 with the best chance to win a title as the Sooners have odds set at +200. Oklahoma State and Texas both have odds set at +3300, and that will keep them in the mix next season.
This league typically does a great job of beating up on each other, and that keeps teams from reaching the College Football Playoff.
Look For Underdogs
After the top group of teams, there are plenty of other big-time college programs that should be in the mix. Here are some of the underdog odds to keep an eye on as we head into the next college basketball season:
Notre Dame +2000
Oregon +3300
USC +3300
Utah +3300
Wisconsin +3300
This is another group of teams that always seems to spend some time in the Top 10 each season, and that will keep them in the mix next season.