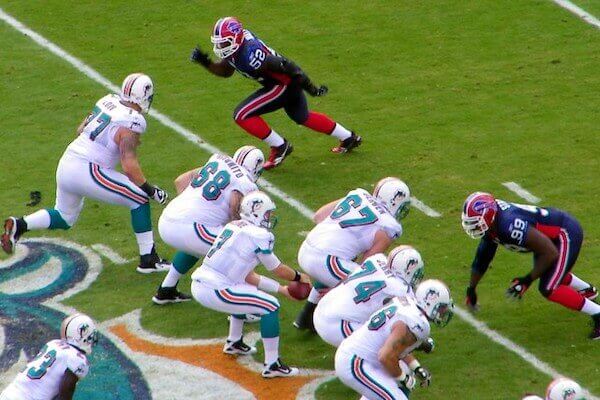 There is an inherent synergy between legal US sportsbook operators and famous athletes. Commonly referred to as brand ambassadors, they become a key component of a sportsbook's overall marketing plans.
Caesars Entertainment's vast experience in the casino gaming and entertainment industry make brand ambassadors a natural fit. This has carried over to the company's business interests in legal sports betting.
Jump to
Caesars Strong Ties to New Orleans
In an effort to rebrand the company's US William Hill operations, there has been a strong push behind Caesars Sportsbook. Part of that push involves a number of sponsorship initiatives. A prime example was securing the long-term naming rights for the Louisiana Superdome.
Caesars has always had strong ties to Louisiana and especially New Orleans. The company owns and operates Harrah's New Orleans. That is why adding the entire Manning family as brand ambassadors was a logical next move.
The team of Manning ambassadors is led by family's patriarch Archie. He first gained fame as a quarterback for the hometown New Orleans Saints in the National Football League.
Archie is also a business partner with Caesars through his New Orleans' sports bar. However, he is better known these days as the father of NFL standouts Peyton and Eli Manning. His third son Cooper is also part of the package deal.
Caesars and the Manning's Promotional Plans
As brand ambassadors, the Manning clan will appear in promotional adds and programs for Caesars Sportsbook. Eli has already posted a video announcing the new partnership on Twitter.
The Manning family will also be an integral part of Caesars Rewards. This involves participation in various member experiences. The company's popular rewards program is a vital resource. Most notably for continued customer acquisition for the sports betting app.
One media property that will not be part of the deal is Peyton and Eli's ESPN broadcast tied to Monday Night Football. However, there may some form of collaboration with ESPN as part of any future plans.
Archie's New Orleans sports bar is right across the street from the Harrah's casino. This creates a golden opportunity for cross-promotions between the two properties.
Most of this partnership is promotional by nature. Yet, the Manning family does add some technical expertise to the equation given their combined experience in the NFL. It was also mentioned that Caesars would tap into this expertise for business advice.
Financial terms of the deal were not released but a good portion of the funds have been earmarked for charity. There was no mention of any equity arrangement between the two parties. Yet, that could still be the case.
Back in July, PointsBet came to terms with former New Orleans quarterback Drew Brees. His new role as brand ambassador for that US sportsbook operator did include a small stake in the company.
One Manning that is not part of the deal with Caesars is Cooper's son Arch. He is still playing quarterback in high school. As a member of the Class of 2023, he is already a top-rated player at his position.