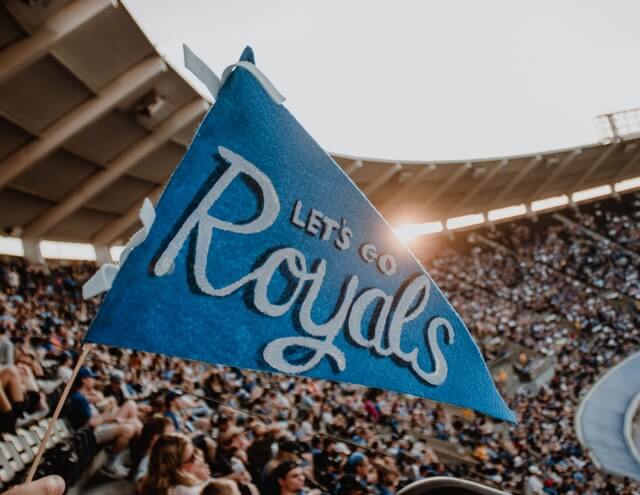 Kansas has joined the states in legalized sports betting. Boyd Gaming did not waste any time in welcoming FanDuel Sportsbook aboard at the Kansas Star Casino. The official grand opening event featured a wager by Kansas State Wildcat Jordy Nelson.
The "soft launch" opening was Sept. 1. FanDuel joined Barstool Sportsbook, BetMGM, Caesars, DraftKings, and PointsBet as one of six mobile apps. The New York-based operator also ran the retail book at the Kansas Star.
Jump to
The FanDuel Sportsbook Experience
The experience at FanDuel offers four betting windows and 20 self-service kiosks in the 2,100 square-feet sportsbook. The TV wall and lounge-type gatherings highlight the addition to the property. The bar is also a place to catch all the games.
FanDuel is a retail and online sportsbook and feels at home in Kansas. Boyd Gaming Vice President of Communications David Strow commented:
"Since we had the go from the legislature passing legislation, we've been pretty much working triple shifts to get this place ready."
Boyd Gaming has worked with FanDuel on existing products. Adding in on the partnership, Strow said:
"I've been out to help with a lot these sportsbook openings across the country and I've never seen anything like what we have from Kansas and from Wichita."
Jeff Lowich is FanDuel's Vice President of Retail Operations. He added that south-central Kansas is "a very sports-hungry part of the county." He went on to say, "and a lot of Kansas City Chiefs fans as well."
FanDuel has welcomed Boyd's Kansas Star Casino as its retail sportsbook in Mulvane, Kansas. With a brand new sportsbook now open, the Kansas Star will be a source of entertainment both Saturdays in college football and Sundays in the NFL.
Other Sportsbooks in Kansas
The four legal US sportsbooks in Kansas are all in state-operated casinos.
Hollywood Casino in Kansas City, Kansas has partnered with Barstool Sportsbook. Hollywood is state-control but it is part of Penn Entertainment. Barstool Sportsbook both has retail sports betting and online betting with a mobile app.
Kansas Crossing Casino in Pittsburg, Kansas is working with BetMGM, Caesars and PointsBet. The casino has mobile sports betting in all three online sportsbooks. Plans for a retail sportsbook at Kansas Crossing will be announced soon.
Boot Hill Casino and Resort in Dodge City, Kansas will offer online sports betting with DraftKings' mobile betting app. A DraftKings retail sportsbook will be announced soon as well.