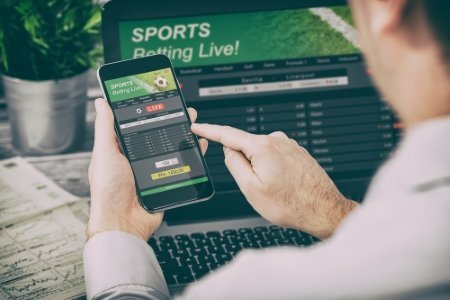 Two different states recently took mobile online sports betting in two different directions. One was a positive change for the emerging legal online sports betting industry in the US market. The other has to be seen as a step backwards for avid mobile bettors.
Rhode Island Removes In-Person Mobile Betting Registration
Rhode Island Gov. Gina Raimondo signed legislation that dropped the in-person requirement for opening an online mobile account. She cited the current situation as her reasoning for allowing Rhode Island online sports betting. It does not make sense to force online sports bettors to open a betting account at a land-based gambling venue in the middle of a health situation. The actual bills were SB 2919 and HB 8097. Both measures received wide-scale support.
Even though Rhode Island is one of the smallest states in the country in terms of land mass, signing up in person only hinders the growth of the online betting market. New Jersey online sports betting and Pennsylvania online sports betting were able to maintain sports betting tax revenue levels online while their land-based casinos were shuttered the past months.
Each of those states remain well ahead of the curve when it comes to the overall development of their online sports betting monthly handle. The progressive approach to change in Rhode Island should provide a much needed boost now that major betting leagues such as MLB, NBA and NHL are starting back up.
The two land-based casinos in the state are Twin River Casino and Tiverton Casino. You can also find the Twin River Sportsbook online. IGT handles mobile registration. Rhode Island's Department of Revenue reported 14,000 online applications were never completed due the in-person requirement for activation. This adds up to 55 percent of the applications that were first initiated online.
IGT PlayDigital VP of Sports Betting is Charles Cohen. He already publicly stated that IGT will quickly adapt its current technology for mobile sports betting registration ahead of these two bills becoming state law.
Illinois Does Away With Remote Mobile Betting Registration
Illinois Gov. JB Pritzker stunned the sports betting world by rescinded the remote registration process for mobile sports betting. He issued a Gubernatorial Disaster Proclamation. The rational for making sports bettors sign up for mobile betting at a land-based casino is a bit perplexing.
In early June, the restriction was lifted. In-state casinos were allowed to reopen on July 1 so it appears that the governor decided to go back to the original law on the books.
DraftKings had plans to launch a mobile sports betting app in the state. The online sportsbook already works with Casino Queen as a land-based partner. While it was issued a license for mobile betting, Casino Queen still needed certification to move forward with the mobile capabilities.
FanDuel Sportsbook is also a major player in the Illinois online sports betting market. This company's plans for a stand-alone FanDuel sportsbook app are also up in the air. The process to bid for a $20 million untethered license is another option at a much higher cost. The other road to market is through a land-based casino partnership.