Major League Baseball's offseason is well and truly in the swing of things, and the sport could see history made this winter as several top teams consider moves for the hottest names up for grabs.
Manny Machado is one particular name drawing headlines after he went to the World Series in his first season with the Los Angeles Dodgers, while Bryce Harper's six-year spell as a Washington National could be about to reach its end.
What's more, now is as good a time as any to celebrate the most lucrative contracts in MLB history, being that it's around the anniversary of Alex Rodriguez signing his 10-year, $275 million dollar deal with the New York Yankees. It is only fair that you also celebrate with a BetMGM bonus code.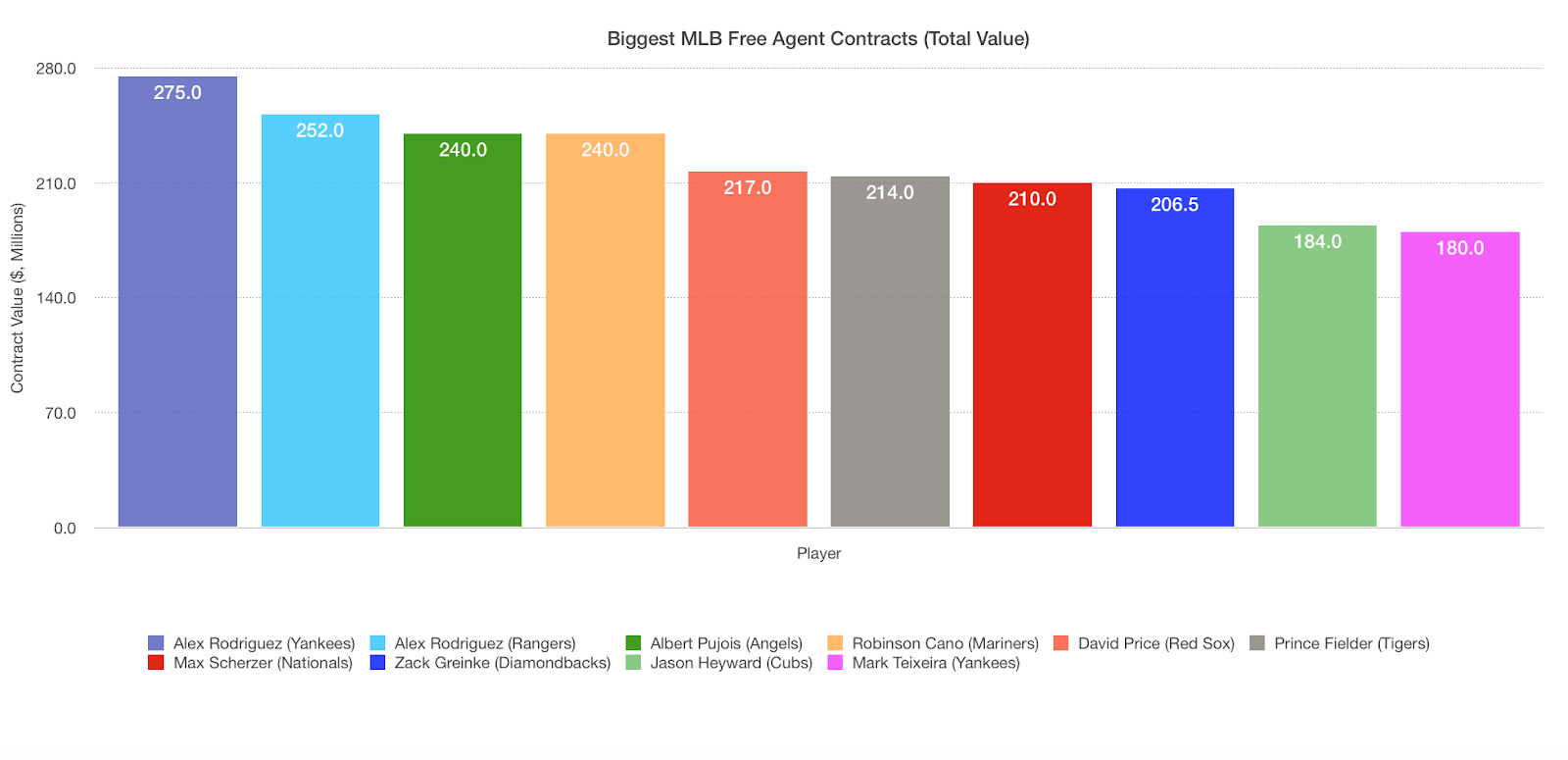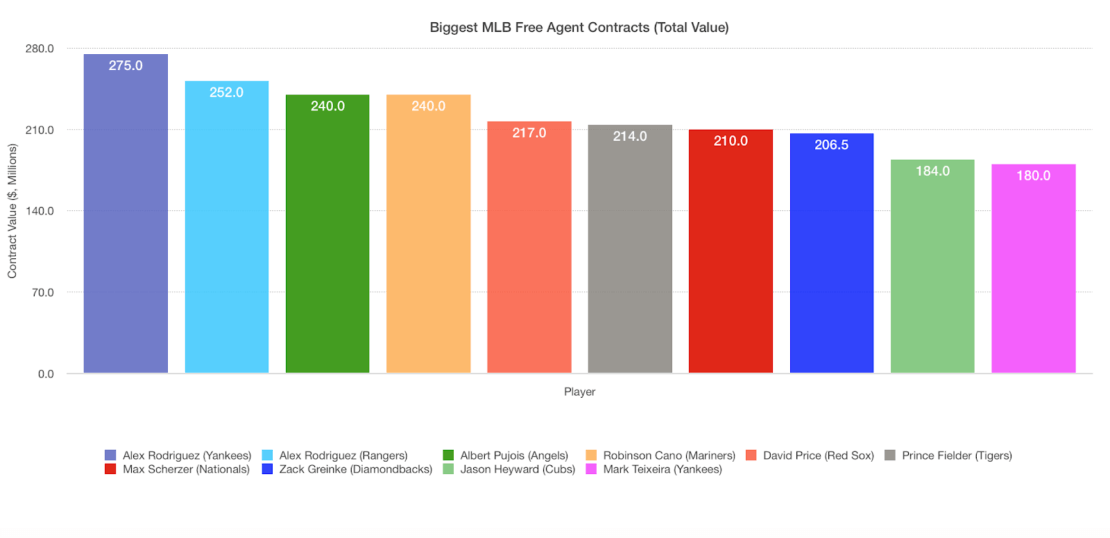 To this day, that sum stands as the largest any baseball team has ever paid to sign a free agent. And not only that, but the only person who can even come within 10% of matching that figure is—A-Rod himself:
Rodriguez first topped the free-agency contract charts in 2001, when he first signed for the Rangers and agreed a 10-year, $252 million deal that was the biggest in sports history at the time. But he went one better seven years later, penning a contract worth the incumbent record of $275 million.
Albert Pujois and Robinson Cano are the only two players to get near those kinds of sums and signed $240 million contracts with the Los Angeles Angels and Seattle Mariners, respectively.
It's believed this could be the year in which one of Machado or Harper breaks the $300 million rate and sets a new standard as the costliest man in MLB.
A deal of such magnitude is incredibly rare, though, and only a player of truly elite class—such as Rodriguez—can be argued as worthy of such immense cost. Of the top 10 biggest contracts signed by free agents in MLB history, three were signed pre-2010, and Rodriguez accounts for two of them, which is important if you like to bet on baseball.
That being said, A-Rod's Yankees contract only comes in at fifth if we were to rank the biggest deals in terms of their value per season, as opposed to overall value. A player's quality is arguably even better analyzed by looking at annual revenue, perhaps as a result of being given a shorter contract as a free agent.
For example, over the course of its 10 years, Rodriguez averaged $27.5 million per year in New York, but the honor of the most lucrative free-agent signing deal goes to Zack Greinke: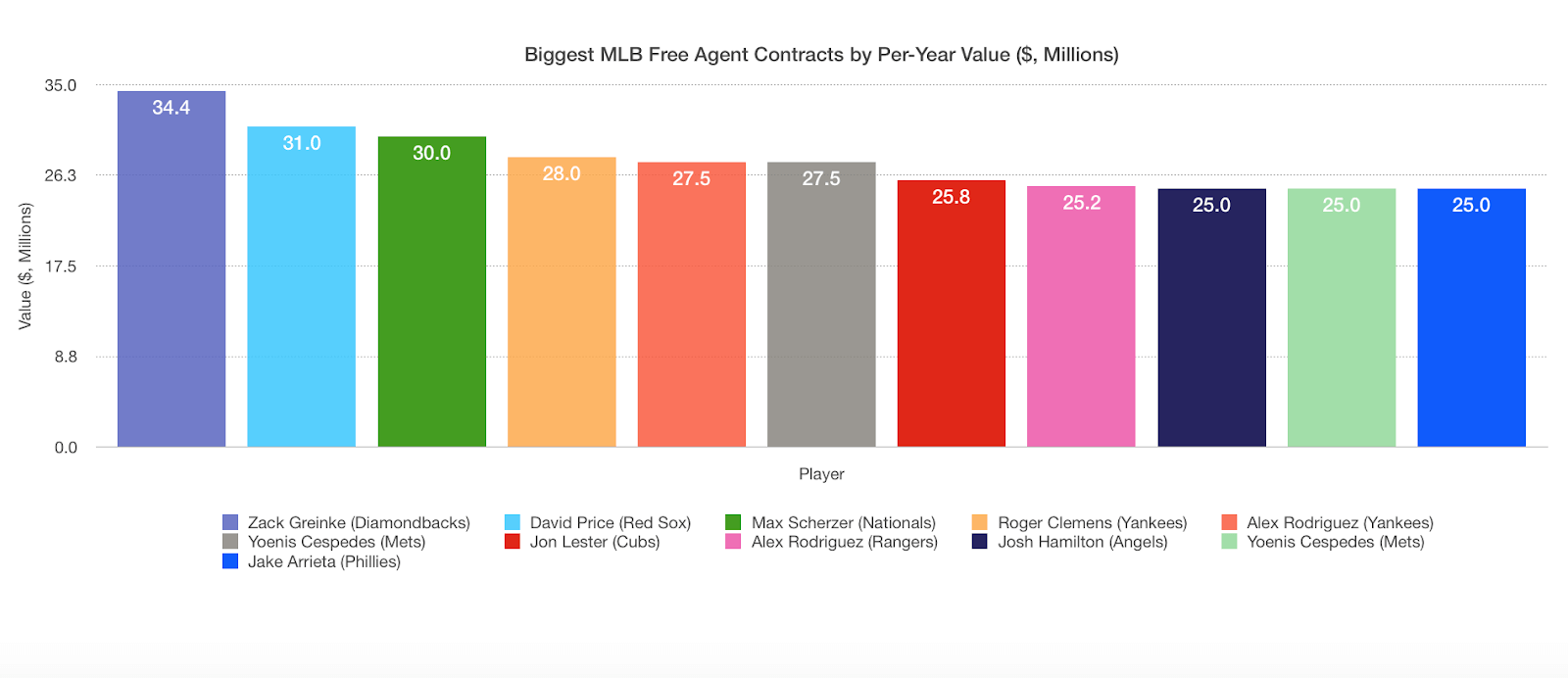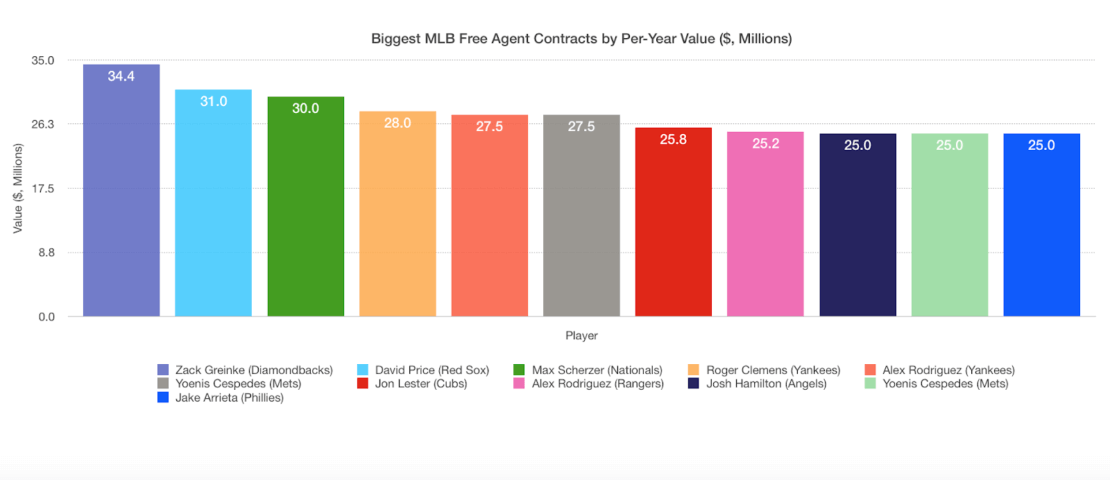 Not only was Greinke's six-year contract with the Arizona Diamondbacks (signed in 2015) worth more than Rodriguez's, the pitcher took home on average $7 million more per year than his New York rival (until the latter retired in 2017).
Of course, this only accounts for basic salary at any players' respective team, and it's likely Rodriguez will have struggled to find competition in the league accounting for total earnings.
To give Greinke's contract with the Diamondbacks some gravitas, Josh Hamilton and Jake Arrieta are two players who have in the past signed deals worth $25 million per year, tied for ninth all-time among free agents. One would have to increase that offer by 38% to match the annual value of his deal in Arizona.
But that's all bearing in mind most of the big deals listed were signed in recent years, towards the end of Rodriguez's time in MLB and even afterward.
More than a decade on and the record is in danger of being smashed, but only if one of baseball's heavy hitters plumps big for Machado or Harper.