Kleberson Exclusive: "Dani Alves would fit in well with Liverpool"
Commercial Content | 21+ | T&Cs Apply
Ahead of the Copa America final on Sunday, US-bookies spoke with Brazilian World Cup winner Kleberson, currently coach in Pennsylvania. He shared his thoughts on Dani Alves potential next move, why he wants to bring the Ginga style of football back to the national team, and how the Brazilian women have done their country proud at a time where legal sports betting is quickly developing in the U.S.
Dani Alves would fit in well with Liverpool
I wanted to get Dani Alves to join me in the MLS! He's a phenomenal player with amazing quality. I feel maybe could fit in well at Liverpool and Klopp would like him as a style of player. He's very technical, fast and has an incredible temperament in the big games. He's a winner.
Brazil's performance in the Copa America so far has been solid but not amazing
Brazil's performance in the Copa America so far have been solid but not amazing. The South American teams have improved over the last few years especially Venezuela with younger players.

Brazil are not in a great moment for the national team, for me now there is a lot of change and quite a few young players coming through giving the coaching staff tough decisions to make.

Brazil are playing well but they are doing just about enough. We have some performances where we are like wow against Peru where we won five-nil. But we aren't playing well consistently enough. I want to see Brazil play against good teams like England and play amazing football with style and be proud of it. Now we play well, and we win the game, but the team isn't as strong as before.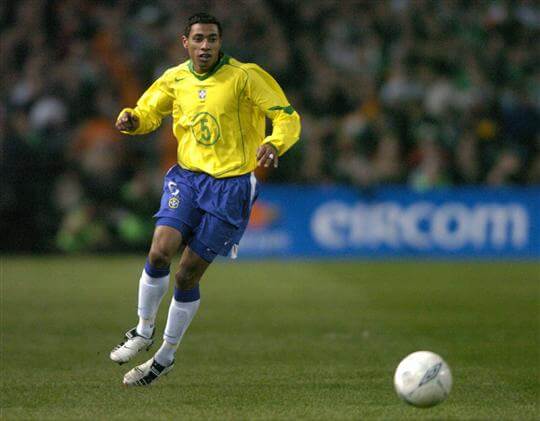 We need to bring back the Ginga to the national team
Brazil need to improve a lot, especially with the academy team. The last tournament in Toulon, Brazil did great as they have so many good young players. But today in football, it's too easy to put a lot of expectation on the players and putting them into the first team too quickly so the club can sell these players to receive money.

Sometimes the player is not 100% prepared and needs to improve more in the academy before they play in the first team. We need to play more like Brazilians should play with everyone happy, smiling and playing the Ginga and Brazil can go back and produce good players like a few years ago. The likes of Ronaldo, Ronaldinho and Neymar. We need to bring the Ginga back to the players of Brazil because in our nationality we are creative players, we always want to offer something different to other players. We need to improve on new generations for soccer.
Everton is playing like a Brazilian and it's great to see
Everton from Gremio is a player I really like, he scored two beautiful goals recently and coming off the bench has played amazing. Right now, he's the best player for Brazil. When he steps on the field, he has no fear and is playing like a Brazilian, he wants to take people on, create spaces, passes, score goals.

Everton is young and playing for Brazil, everyone is going to want to sign him. It's a tough situation for Firmino and Coutinho, they are under a lot of pressure to perform and need to keep playing well otherwise fans lose faith.
Argentina have a lot of passion and they need to translate that onto the pitch
Argentina's coach Scaloni has come in with a new style and then bringing a lot of younger and newer players through, they are in a transition moment and it is not really working for them. They need to build their team around Messi, and they haven't got a real style of playing. Argentina have a lot of passion and they need to translate that onto the pitch.
Brazil women did themselves proud, the future is positive
I'm so sad to see Brazil out of the Women's World Cup, they played great games against France and throughout the World Cup. They did so well, particularly as the standard for women's soccer is not the same standard as USA or England, France, Netherlands. They have more of a budget and structure in place to prepare better than Brazil, but we have great players with new generation coming in. I understand that the World Cup was tough for Brazil's women because there are so many good teams and some great players in other countries.
Marta is amazing, and a great ambassador for our country
I'm so proud of Marta, because she won the country over where not too many people have focused on women's football and become a great leader for the team, she's very committed to the Brazil national team, and is a great ambassador for our country.
I'm very proud of her for this generation, I'm still upset because one day Marta will stop playing and I hope Brazil find another Marta who can take the women's game to new heights.