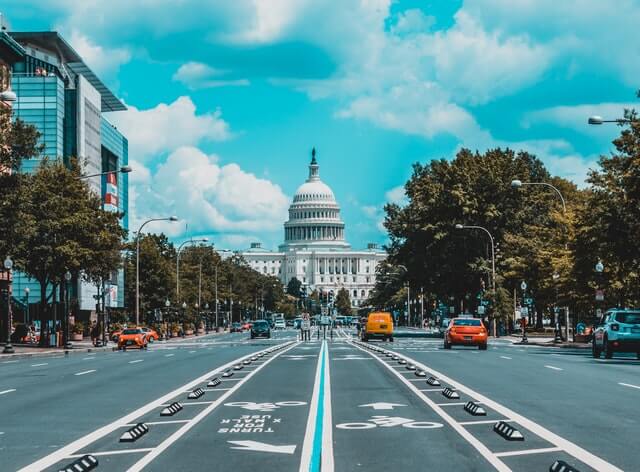 FanDuel Sportsbook and Audi Field made history this week in Washington D.C. Despite offering retail betting in D.C., the analysts are not expecting FanDuel to launch an online sportsbook.
FanDuel Sportsbook earned a chance to offer sports betting in Washington D.C. after partnering with DC United of Major League Soccer. This partnership allowed FanDuel to earn a sports betting license over a year ago, but the sportsbook is just now taking advantage.
The FanDuel Sportsbook at Audi Field officially launched on Friday with a big ceremony to celebrate the occasion. With the launch of this sportsbook, Audi Field is now the first MLS stadium to have a retail sportsbook on-site.
FanDuel has already launched a sportsbook at the Footprint Center in Phoenix, Arizona, becoming the second stadium sportsbook for the company. The Footprint Center has become a leader in Arizona, but Audi Field is not going to be as profitable for the company.
Jump to
No Online Sports Betting
When FanDuel Sportsbook was granted a D.C. sports betting license, both online and retail wagering was included. Even though FanDuel is one of the leaders in online sports betting, it actually isn't planning to offer online sports betting in D.C.
Washington D.C. has some interesting sports betting rules, and that limits online sports betting to just a two-block radius from Audi Field. Because of this FanDuel is not currently ready to offer its mobile sportsbook app, and it has no plans of launching in the future either.
There is also a 20% tax on all sports betting revenue for online sportsbooks. FanDuel is not really happy with paying that tax to D.C.
GambetDC Can't Keep Up
There is one mobile option that is available anywhere in Washington D.C., and that is the GambetDC sportsbook app. This option was launched by the DC Lottery, and it has a monopoly in the area, even though it hasn't helped it see much business.
Sports bettors have been criticizing GambetDC for having unfair betting lines and odds, as there just isn't any real competition with the sportsbooks. In May, GambetDC had a total sports betting handle of around $5 million and a revenue of $724,000.
BetMGM and Caesars combined to post a total handle of more than $12 million and a revenue of $1.3 million.
No More Risk-Free Bets
FanDuel Sportsbook also made headlines this week as it is changing the name of one of its most popular promotions. Since its launch, FanDuel has been known to offer risk-free bets, but you will no longer see that option in the mobile app.
Instead of using the phrase "risk-free," FanDuel Sportsbook is now offering a no-sweat bet to all new customers on the site. This type of promotion is similar to the risk-free bet, as customers can still get money back after posting a losing bet.
FanDuel Sportsbook continues to be the online market share leader for legal online sports betting in the United States.