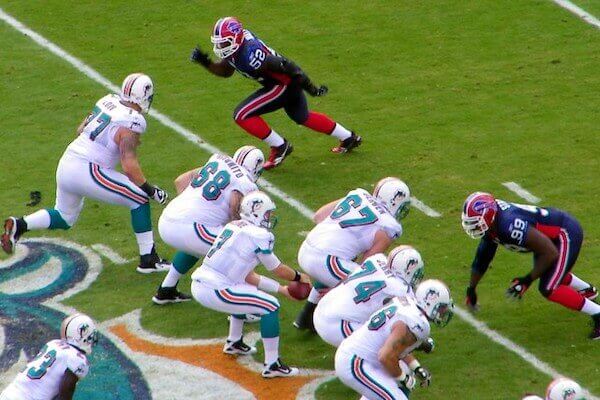 Las Vegas is still known as a major attraction for avid sports bettors even though sports betting is now legal in more than 30 different US states and the District of Columbia.
Home to some of the most famous casinos in the world, Circa Resort and Casino in the downtown area of Las Vegas has carved out its own niche with the sports betting crowd. Marketed as the largest operator in the world, Circa sportsbook has quickly become the biggest attraction in town for betting on the games.
Jump to
Circa Sports Survivor Pro Football Contest
One of the most popular sports betting contests for the NFL regular season is a survivor pool. Each week of the season, contests need to pick one winning NFL team. All that team has to do is win its game straight-up regardless of the point spread.
If that contestant's team goes on to win, they advance to the next week of games. If that team loses, they are out of the competition. What makes an NFL survivor contest so hard to win is the simple rule that you can only use a team once during the 18-week season.
Since there are a total of 32 teams in the league, this rule adds a major degree of difficulty as the regular season wears on.
Circa Sports upped the ante on this season's NFL survivor contest with millions of dollars up for grabs in prize money.
Contests had to fork over $1,000 to enter this contest which covered all 18 weeks of the 2021 season. All told, there were a total of 4,080 entries in what Circa touted as "the world's largest legal survivor football contest."
When it was all said and done, five contestants survived the entire gauntlet to lay claim to their share of the grand prize. Those five winners each walked away with $1.2 million. Three of those winners also qualified for a $333,000 bonus by not using Tampa Bay or Kansas City until the final round of games in Week 18.
In conjunction with the survivor contest, Circa Sports also ran an NFL handicapping contest known as Circa Million III Contest. The winners of this season-long challenge split a total of $4 million in total prize money.
The $11 million in total prize money was awarded to all the winners as part of a special ceremony at Stevens' D Las Vegas casino on Jan. 14.
Circa Sports Defines Sports Betting Among Las Vegas Books
It is no big surprise that Circa Sports remains in the spotlight on a year-round basis when it comes to Las Vegas sportsbooks. Owned by Derek Stevens as an avid sports betting in his own right, the Circa Sports brand continues to blaze a trail for industry innovation.
Jeff Benson is Circa's sportsbook operations manager. He had this to say about Circa Sports NFL contests:
"For us, this all boils down to our CEO and owner, Derek Stevens, being passionate about contests, specifically football survivor contests. These are the two best rake-free contests in the world. Stevens never backed down, and it's something that has put us on the map."