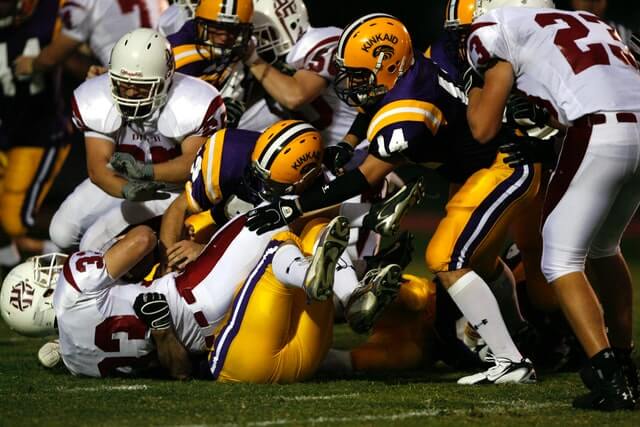 The Big 12 Conference should be extremely competitive when it comes to college football in 2022.
The conference is set to lose some teams in the coming years, and that's going to make things interesting for the league. The exits of Texas and Oklahoma will have a negative impact on the Big 12.
This conference has been extremely competitive over the last few years, and that should be the case yet again. The betting odds to win the Big 12 Conference are out, and you will see some familiar names at the top.
Jump to
Rivals Leading the Pack
There are two teams that appear to be ready to battle it out for a Big 12 Championship this season, and those two teams have plenty of experience in dealing with one another. The Oklahoma Sooners are the favorites to win the Big 12 at +200, and the Texas Longhorns are next at +250.
Even though these are clearly the most talented teams in the Big 12 Conference, each team has some questions as well. Oklahoma will have a new head coach and starting quarterback, and Texas still has to prove that they can win a big game.
Plenty of Competitors
Oklahoma and Texas are going to be two of the best teams in college football, but they aren't good enough to go undefeated. With that in mind, there are plenty of other teams that could end up making a run at winning this conference title in 2022.
Here is a look at the odds for some of the top competitors in the Big 12 Conference:
Oklahoma State +600
Baylor +600
TCU +1200
Kansas State +1800
Iowa State +1800
Oklahoma State and Baylor are both capable of beating the top two teams, and that could push them to a Big 12 Conference title. You would be betting on a pretty big underdog beyond those two teams, but it could definitely be done.
The teams such as TCU, Kansas State, and Iowa State will have a big impact on the title race as they are likely going to beat some good teams.
Bottom of the Conference is Weak
The middle of the Big 12 Conference is strong, but there are also some pretty bad teams down at the bottom. A number of Big 12 teams are going to struggle to make it to a bowl game, and they are going to have a long year in the Big 12 Conference.
West Virginia has odds set at +2000 to win the Big 12 Conference, and that doesn't give them much of a chance. Texas Tech is at +5000 this season, and Kansas is last on the list at +25000.
The Kansas Jayhawks are in a familiar position at the bottom of the Big 12, but Texas Tech and West Virginia have been competitive in recent years.
All in all, we are in for an exciting season!