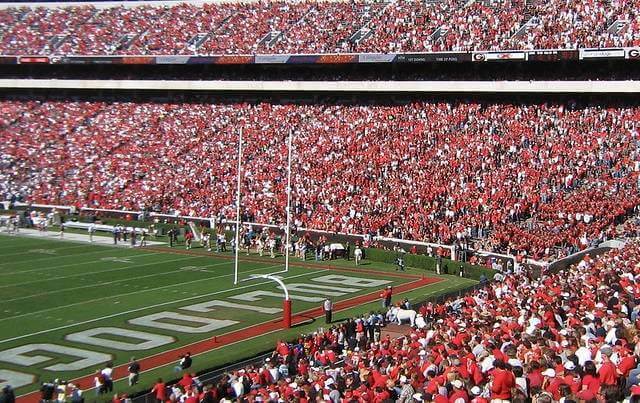 The College Football Championship matchup is set, as the Georgia Bulldogs are ready to take on the Alabama Crimson Tide. Both teams picked up easy wins in their semifinal games, and it should set up for a terrific title game.
Alabama beat Georgia 41-24 in the SEC Championship Game, and that game wasn't even that close. The Bulldogs will now be looking for some revenge on January 10, and it would come at the perfect time.
Despite winning the SEC title, the Alabama Crimson Tide are 2.5-point underdogs against Georgia.
Jump to
Alabama Has Explosive Offense
The Crimson Tide come into the title game, scoring over 41 points per game. Alabama ran the football with plenty of success in the win over Cincinnati, but the Crimson Tide can also throw the football.
Quarterback Bryce Young won the Heisman Trophy this season, and he has thrown for 44 touchdowns on the year. Alabama will look to play with a ton of tempo in this matchup in an effort to wear down the Georgia defense.
Alabama held Cincinnati to just six points on New Year's Eve, and they played well against Georgia in that first meeting. The Crimson Tide will have to stop the run if they want to win another CFP championship.
Georgia Wants to Defend
Georgia is holding opponents to just 9.5 points per game this season, and they gave up just 11 points in the win over Michigan. The Bulldogs have a ton of NFL prospects on the field, and they will be coming after Bryce Young in this matchup.
Quarterback Stetson Bennett has gotten better as the season has moved along, and he has 27 touchdowns to just seven interceptions. Bennett will have to take care of the football, but he will also have to take some chances to win this game.
If Georgia is able to get a lead, then they will use the rushing attack to hold on for the win. The Bulldogs are averaging close to 200 rushing yards per game, but they are going to face a loaded defensive front in this game.
Crimson Tide Rolls to Title
This is the matchup that most expected to see, and there will be plenty of future NFL stars taking the field. Alabama is the much better offensive team, but Georgia has been a dominant defense all season long.
Georgia was unable to stop Alabama in the first meeting of the year, and that should happen once again in this game. The Crimson Tide just have so many offensive weapons, and they are going to put up a ton of points in this matchup.
Expect a much closer game than the first meeting, but the end result will be the same. Bet the Alabama Crimson Tide moneyline as they are going to beat Georgia again to win the College Football Championship.