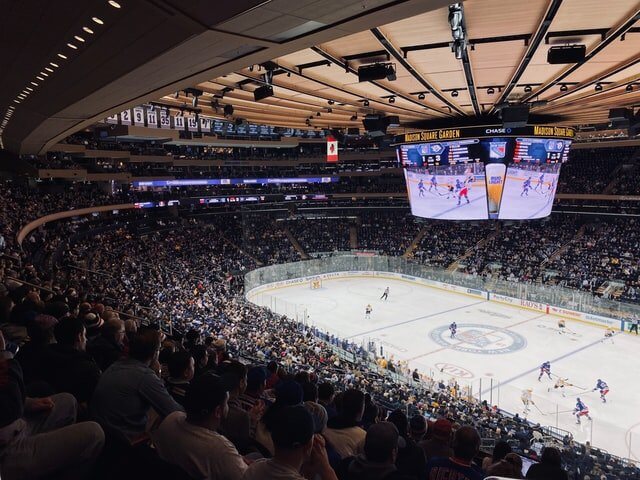 The first haymaker was recently thrown in the fight for market share in the legal mobile online betting industry in New York.
Earlier this month, the New York State Gaming Commission gave its approval to nine US-based online sportsbook operators. Legal online betting in the state through mobile betting apps should go live early next year.
Jump to
BetMGM and Madison Square Garden
One of the biggest US operators on that list is BetMGM. The King of Sportsbooks did not waste any time in creating a strong brand presence in what could turn into the biggest legal sports betting market in the US.
BetMGM has entered into a landmark partnership with both Madison Square Garden Sports Corp. and Madison Square Garden Entertainment Group Corp. Combined, this is the ownership entity behind the NBA's New York Knicks and the NHL's New York Rangers, not to mention the iconic Madison Square Garden itself.
As part of the deal, BetMGM will have a very lucrative signage package at one of the most recognized sporting and entertainment venues in the world. This also creates a significant edge in the New York City market with connections to the Knicks and the Rangers as two additional iconic brands.
Ron Skotarczak is the Executive VP, Marketing Partnerships for MSG Entertainment. His comments included the following:
"We're excited to be partnering with BetMGM to bring them an unparalleled platform in sports and entertainment. MSG Sports and MSG Entertainment are made up of world-renowned brands that set industry standards for excellence, exposure, and engagement – making us ideal partners to help drive sports betting's continued growth."
Also adding his insight was Matt Provost as the Chief Revenue Officer for BetMGM. He commented:
"New York is a critical state for BetMGM's continued growth and I can't think of a better way to begin our relationship with The Empire State."
Latest Hollywood Casino News
BetMGM's Branding Opportunities
BetMGM's branding opportunities at Madison Square Garden include signage in and around the venue. This will connect with the actual fans at the games as well as the TV viewing audience.
Both courtside and ribbon LED signage will be offered through "GardenVision. Along with brand exposure during Knicks' games on basketball stanchions, it will be present on the MSG Zamboni during Rangers' games.
Another tie-in is with MSG Network. This expands broadcast coverage to the New Jersey Devils and the New York Islanders as two more area NHL franchises.
This signage package also includes digital advertising boards outside MSG. This will be visible to millions of visitors to New York City on a regular basis. Additional digital opportunities cover social media outlets such as Facebook, Twitter, and Instagram.
New York Market Potential
Competition for betting customers in the New York mobile market is going to be fierce. All the top US operators such as FanDuel, DraftKings, Caesars, and Wynn are going to be fighting for a bigger piece of the pie.
By landing the first strategic partnership with MSG as the home to the Knicks and Rangers, BetMGM has gained a highly valuable marketing edge ahead of the actual launch.
New York is projected to yield close to $600 million in online sports betting revenue during the first full year of operation. This could grow to $1.3 billion in as few as three years. That becomes a pie that is worth fighting for.