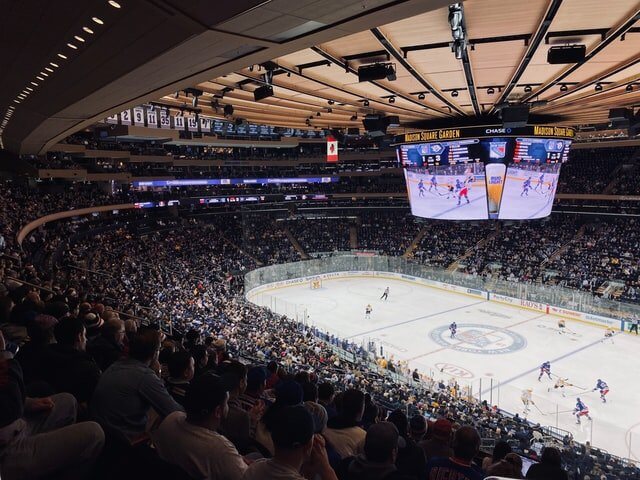 Legal US sportsbook operators love to add former professional athletes to their list of brand ambassadors. This can create a direct connection with the fan base supporting that player's former team.
Going right to the top of the list in the NHL, BetMGM recently announced a marketing partnership with Edmonton Oilers center Connor McDavid. He also happens to be the league's reigning Most Valuable Player.
Jump to
McDavid Presents a Landmark Sponsorship
The main difference between McDavid and other sportsbook partnerships with athletes is his active playing status in the NHL.
Prior sponsorships were with star athletes that were retired from their respective sport. With BetMGM partnering with McDavid, this deal represents the first with an active player in any of the four major US professional sports leagues.
This partnership between the NHL's top points scorer and the King of Sportsbooks is being labeled as an "endorsement" deal. This status does not necessarily portray McDavid as a BetMGM brand ambassador.
His endorsement deal gives BetMGM the right to feature McDavid in various marketing campaigns. This includes specific promotions and social media content. He can appear at live events on behalf of BetMGM.
This is BetMGM's biggest foray into player sponsorships. In the past, former NFL running back Barry Sanders acted on behalf of the brand. Pro golfer Jason Kokrak has also represented BetMGM as an active athlete participating in an individual sport.
McDavid marks a major departure from past marketing efforts. This also opens up an interesting situation for future endorsement deals with other active players. It is obvious that the NHL did not have any issues with this deal. Yet, some concerned individuals could see this as a conflict of interest.
BetMGM currently offers regular NHL player prop bet options for Oilers' games in which McDavid is an active participant. It remains unclear what stance the NFL, NBA and MLB will take on sportsbook deals with active players.
Latest Hollywood Casino News
BetMGM's Broad Stroke Marketing Plan
As the third biggest US-based sportsbook operator in terms of total market share, BetMGM controlled roughly a 15% share at the end of 2021.
FanDuel led the way at 36% followed by DraftKings with an estimated 24% of the legal US market. Altogether, the top three US sportsbook operators have a combined market share of 75%.
The next operator on the list would probably be Caesars Sportsbook after making a concerted effort to expand its share of the legal US market.
One of the biggest issues facing any US-based sportsbook operator is improving overall profitability. To date, the cost of expanding market share in the US has eaten up any profit derived from the sports betting revenue taken in.
Most of those costs are attributed to advertising and promotional campaigns aimed at new customer acquisition. Earlier this year, Caesars Entertainment announced plans to limit heavy promotional spending to just new market expansion.
BetMGM is part of a collaboration between Las Vegas casino gaming giant MGM Resorts International and UK-based gaming giant Entain. As publicly traded companies, they still need to answer to their stockholders when issues of profitability arise.