The FanDuel App gives players from AZ, CO, IA IL, IN, LA, MI, NJ, NY, PA, TN, VA, WV, and WY the opportunity to place sports bets from their mobile devices within their respective states.
The app is available for both iOS and Android devices that meet the minimum system requirements.
Read our full FanDuel Sportsbook review. The table below provides an overview and rating of what to expect from the FanDuel Mobile App.
| FanDuel App | Get the App |
| --- | --- |
| Download/system requirements | iOS & Android compatible |
| Features | Live streaming, live betting, quick bet, cash out |
| Last verified | Dec 8, 2023 |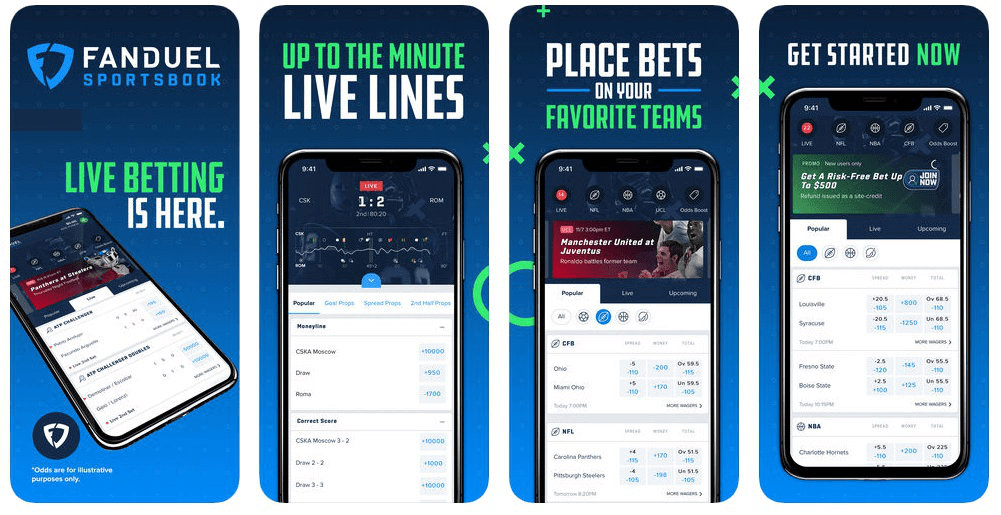 Jump to
How to download FanDuel Sportsbook app
Downloading the FanDuel Sportsbook mobile app is a simple process that should only take a few minutes and you can do it with a FanDuel promo code. The following step-by-step instructions can be used to ensure you don't run into any issues:
FanDuel iOS App
Visit the iTunes Store and search for "FanDuel Sportsbook".
Locate the correct app and click on the Download button.
The FanDuel App will automatically download and install on your mobile device.
Open the app by clicking on the FanDuel icon.
FanDuel Android App
Visit the FanDuel Sportsbook on your mobile browser and click the Android icon in the mobile download section.
You may then click on the Download Now button in your browser.
The FanDuel App will automatically download and install on your mobile device.
Open the app by clicking on the FanDuel icon.
Be sure to read about the FanDuel Fantasy platform if you want DFS instead of sports wagering.
System Requirements and Compatibility
To download the FanDuel Sportsbook App certain system requirements must be available on your mobile device:
Fanduel App for iOS
Requires iOS 8.1 or later
Compatible with iPhone, iPad, and iPod touch
Must be age 21 or older
Fanduel App for Android
Requires Android 7.0 or later
Must be age 21 or older
How to get your welcome bonus
Download FanDuel Sportsbook on iOS or Android
Create a FanDuel Sportsbook Account.
Login and make a qualifying deposit.
Place a qualifying bet. If the bet loses your account will automatically be credited with a matching amount of your first bet up to a maximum of $500.
Be sure to keep an eye out for any FanDuel Sportsbook promo codes when creating your account as it may be required to activate a bonus.
What features are on FanDuel Sportsbook?
A number of actions and services are available using the FanDuel App which gives players the ability to place quick bets while on the go. The following is a list of top features you can look forward to:
Notifications: players can set up their FanDuel Mobile App to alert them whenever one of their bets completes or one of their favorite teams is playing.
Live Betting: live in-play betting is available on the FanDuel App, providing players with the chance to bet on a variety of betting markets once select sporting events have already commenced.
Quick Bets: betting on the app is as simple as tapping on the sporting event and typing in your wager.
Cash Out: players may cash out of bets while they are progress for a loss or gain based on the current state of the sporting event.
FAQs
The following questions and answers can be used to help with any issues you may be having regarding the FanDuel Mobile App.
How can I place a bet?
Placing a bet is very simple on the FanDuel Mobile App. Simply click on the sporting event you would like to wager on and a betting slip will pop-up in your app. You may then type in the amount you would like to wager and click on the 'Place Bet' button to confirm the bet.
How do I make a deposit?
To make a deposit, players must first create a FanDuel Account and log in to the app. Users may then visit the cashier section and use any of the payment methods available by simply clicking on them. After, players must type in the amount the would like to deposit and confirm the deposit.
How can I withdraw my winnings?
Much like making a deposit, players will be required to access the cashier section to make a withdrawal. In the cashier section, players may pick the withdrawal option and then pick a method of their choice. They must then pick and amount the would like to withdraw and confirm the withdrawal. Keep in mind certain withdrawing methods have minimum withdrawal amounts.
How do I contact customer service?
Users can contact customer support via Live Chat, email, and phone on the FanDuel Mobile App. Live Chat is available 24/7 and is recommended as the fastest and most effective way to contact the customer service team.
FanDuel Sportsbook: Our opinion
FanDuel mobile betting is made easy on the FanDuel Sportsbook app, but there is some room for improvement:
| What we like | What we don't like |
| --- | --- |
| Live Betting Available | Live Streaming Unavailable |
| Cash Out Function Available | Somewhat Difficult Verification Process |
| Simplified Betting | |
As you can see from above, the FanDuel Sportsbook app has many great qualities that make it a great pick for online sports bettors in New Jersey, Pennsylvania, Indiana, and West Virginia. With the addition of live streaming and a bit of fine-tuning, the app can become one of the best sportsbook apps in the state.