Connecticut Huskies defeated San Diego State Aztecs (76-56) in the 2023 NCAAB tournament finals.
The Elite Eight of the NCAA Tournament is appropriately named, as a team has to be one of the best in the country to get there. Because the level of competition is so high, betting on the Elite Eight is thrilling from start to finish.
In this guide to Elite Eight betting in the NCAA Tournament, pick up some useful strategies for betting in this round before the Final Four and Championship Game.
Jump to
Elite 8 Odds
Elite 8 odds for the 2024 season are not yet available. Below are the odds for the 2023 season Fanduel.
Odds are subject to change. Last updated
November 28, 2023 8:37 am
.
Elite Eight Betting
Essentially this means two things: what teams will reach the Elite Eight round, and how should you bet on an Elite Eight game?
The Elite Eight round is the culmination of the second weekend of the NCAA Tournament, and teams will punch their tickets to the Final Four with a win in this game.
Your bracket is probably busted in several different ways at this point of the tournament, but that does not necessarily mean that all hope is lost. There are still some great betting opportunities in the Elite Eight round, and we will go over those in this article.
Making March Madness picks is never an easy task, but hopefully, this information will give you the ammo needed to win.
Who to bet on in the Elite 8?
With the Elite Eight being reserved for eight of the best teams in college basketball, there is a lot to think about when betting on it. Fortunately, there are some historical lenses to view this portion of the tournament. These can help bettors make informed decisions when the Big Dance gets down to crunch time.
Most Elite Eight Appearances by Team
When looking at the programs with the most Elite Eight appearances in college basketball history, the blue blood programs top the list. Kentucky has by far the most Elite Eight appearances all-time with 38. North Carolina is second to them with 28. And Kansas, Duke, and UCLA take spots three through five with 24, 22, and 21, respectively.
Overall, there are 17 programs in the history of college basketball with 10 or more trips to the Elite Eight. High-level programs like Villanova, Michigan State, and UCLA belong to this group. But it should be noted that while some teams have a lot of Elite Eight appearances under their belt, it doesn't mean that they are likely to make that round in an individual year.
Even the best programs in college basketball go through down years, thanks to the timing of recruiting cycles. In the 2021 NCAA Tournament, all-time great programs like Kentucky and Duke didn't even make the tournament. You can put some stock into the history of teams getting to the Elite Eight. Just don't let that history control your decision-making.
Most Elite Eight Appearances by Conference
There are five or six power conferences in college basketball. Those leagues have used their superior resources to make the Elite Eight more than the rest of the leagues in college basketball.
The ACC, Big Ten, Big 12, Pac-12, SEC, and Big East have the most Elite Eight appearances. They will likely not be overtaken by the smaller conferences around the country due to the differences in resources pertaining to recruiting and facilities.
Grouping college basketball success by conference can be a little tricky. For example, Kentucky has had 38 Elite Eight appearances to lead all programs, while the rest of the SEC has lagged significantly behind in that regard.
The Big East, meanwhile, has a high number of Elite Eight appearances. But the bulk of those appearances came decades ago before conference realignment shifted which teams played there. As is always the case in college basketball betting, context is just as important as the statistics themselves when making March Madness Predictions.
Look at Top 25 Teams
If you look at the history of the Elite Eight in college basketball, you will see a correlation between being a top-25 team and advancing to that round of March Madness. To get to the Elite Eight, a team needs to win three games against some of the best competition in college basketball.
Because of that, most of the teams that get that far are among the 25 best in the nation heading into the NCAA Tournament. With that said, college hoops fans should not consult the rankings when making Elite 8 predictions.
Upsets are a regular occurrence during this tournament, even for top-25 teams. And with the difference between top-25 teams and teams just outside of the rankings being minuscule, there is no guarantee that a ranked team has an edge in a given contest.
Elite Eight Betting Tips
Betting on the Elite Eight consists of so much more than placing single-game bets. There are several ways to get involved with wagering on this round of the NCAA Tournament.
From parlays to futures bets and, yes, single-game wagers, bettors can use a variety of strategies to bet the Elite Eight. These are a few of our favorite ways to bet on the regional final round of March Madness.
Parlay All Four Regional Finals
There are four games that take place during the Elite Eight round of the NCAA Tournament. That means that there are just enough games to build a parlay that can payout at decent odds if it is successful. This can be done by selecting four spread bets, moneylines, totals, or a combination of the three.
Parlays are not guaranteed to have success, as bettors need four Elite Eight outcomes to go their way for them to cash. But if bettors put a small amount on a parlay of all four games, they could walk out of the Elite Eight with a handsome payout.
Look at Regular Season Results
In the Elite Eight, there is a chance that the teams scheduled to face one another have squared off before. With certain conferences being more likely to get to the Elite Eight, there is always the possibility of a matchup that already took place in the regular season.
Even elite non-conference foes that played in early season tournaments can meet for a second time at this stage of March Madness.
To get an idea of how these repeat matchups may play out in the Elite 8, it is always smart to look back through the schedules of the teams playing in the regional finals. There is always a chance that these matchups don't play out the same way they did before.
Thus, it is more important to use those initial matchups to identify matchup advantages rather than looking only at the results.
Location Matters
Each year, the NCAA Tournament is split into four regions. The East, West, Midwest, and South regions are typically headlined by a team from those regions.
That system gives the top seeds in each region as close to a home-court advantage as there is in the Sweet 16 and Elite Eight. Top-seeded teams like Gonzaga, for example, get to play on the West Coast, where their fans can easily access these venues.
While this benefit for top seeds does not guarantee teams the ability to advance to the Final Four, it can certainly be impactful. Just how impactful depends on the teams benefiting from this geographic advantage and the teams they are playing.
With most Power 5 teams being no strangers to winning in hostile environments, this is an edge that needs to be evaluated on a team-by-team basis.
In 2021, the Elite Eight will not offer this advantage to any team in the field. All of the games in the 2021 tournament are taking place within a series of venues in the state of Indiana. That bubble system was designed to guarantee that the tournament could go on as scheduled after being canceled entirely in 2020.
Point Spread Betting is the Best
While there are a plethora of ways to bet on Elite Eight games, point spread betting is the most popular. And there is a good reason for that, as point spread betting has benefits that most betting markets cannot compete with.
First, betting the Elite Eight against the spread is tied to the margin of victory. Unlike betting on the over/under, the margin of victory is at least correlated with each team's goal to win their games.
And unlike betting on the moneyline, the point spread limits the amount that must be risked by bettors. Most spread bets require $110 to win $100, whereas moneylines can require a variety of risk amounts to win the same amount.
Make a National Champion Future Bet
For those looking for a payout with more heft to it than a single-game bet, a futures bet to win the National Championship is still a viable option. Heading into the Elite Eight, each of the eight remaining teams needs to win just three more games to claim the national championship. Betting on a team to win three more games will yield a better payout than wagering on that same team to win one game.
As is the case before the tournament, betting in the futures market in the Elite Eight is all about finding value. Every team is likely at a worse price than they were before the tournament started because they have fewer games left to win. The goal of every bettor in this market should be to back a team they think can win it all at a price that is better than their likelihood to win the title.
Hedge Past Bets
Hedging is one of the most interesting ways to bet on the Elite Eight of the NCAA Tournament. The act of hedging consists of betting strategically to guarantee profit alongside wagers that have been made previously. In the case of the NCAA Tournament, this is best done by betting on the futures market against previously made futures wagers.
For example, if you bet on a three or four-seed at 15/1 odds before the tournament, you could hedge by betting against them in the Elite Eight. That would result in either the futures ticket still being alive or the single-game bet cashing.
If both bets are weighted properly, this strategy will guarantee a chance at profit remaining alive by the end of the tournament.
Some bettors do not believe in hedging, as they prefer to let their original bets stand. With the goal being to turn a profit when betting on sports, though, hedging is a smart idea when done right.
In the Elite Eight, there are opportunities to hedge properly and bet on the NCAA Tournament. Those opportunities should be taken advantage of.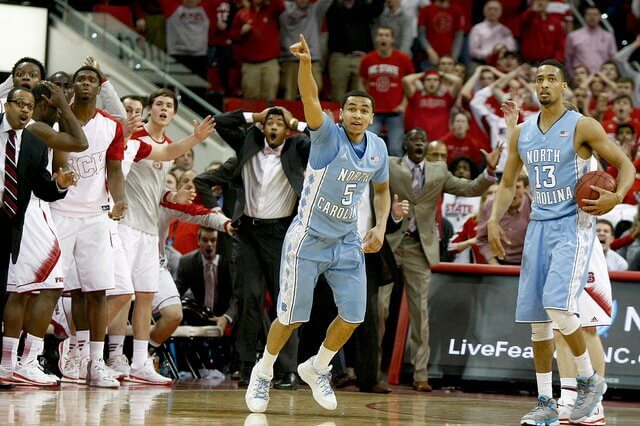 How Can You Bet on the Elite Eight?
Betting on the Elite Eight is easy to do. The first step is to find a sportsbook with which to wager on the games.
The availability of sportsbook apps and websites varies depending on which state a bettor is in. But states with legal sports betting typically have a variety of sportsbook choices to take advantage of.
Before placing any bets with your preferred sportsbook, it is a good idea to see what bonuses are available at that site. New players are sometimes eligible for new player bonuses that afford them additional funds on their first deposit, bonus bets, or other perks for signing up with a new sportsbook.
Once you are enrolled, it is time to place your bets. This is the easiest part of the process. To bet on the Elite Eight, go to the college basketball section of your preferred sportsbook.
From there, select what game you want to bet on and what market you want to wager on within that matchup. Then, enter an amount to risk on the game and finalize your bet.
Should You Pick the Elite 8 Now or Wait?
Whether you should wait to bet on the Elite Eight or bet it as soon as possible depends on your individual betting strategy. If your approach suggests that you should bet favorites whose value will diminish closer to the start of the Elite Eight, you should place your bets right away. If you are someone who prefers to wait to see how the market reacts to the initial betting lines, then waiting is the best strategy for you.
Betting strategies are like a nice suit in that they are not one size fits all. Instead, bettors need to tailor their approach to their strengths and develop a system that works for them. Whether that means waiting to bet on the Elite Eight or betting on those games as soon as the odds are available depends entirely on the individual.
Summary of Elite Eight Betting
At the end of the day, Elite Eight betting is one of the most enjoyable forms of college basketball wagering. Bettors who take part in NCAA Tournament Elite 8 betting are betting on some of the highest quality basketball of the season.
And with so many different bet types to make on this round, there are countless ways to enjoy what is arguably the best weekend of the year in basketball, both collegiate and professional.
No matter how you take part in betting on the Elite Eight, make sure that you are betting in ways you are knowledgeable about and that you are betting responsibly. And remember that the ultimate goal of sports betting is to get the best possible odds and maximize your profits at every turn.