Iowa Online Sports Betting 2020
Commercial Content | 21+ | T&Cs Apply
Like many of the states across the US, Iowa doesn't have the reputation of being a gambling haven like Nevada or New Jersey. However, Iowa online sports betting practices are starting to pick, and operators already setting up shop. The gaming expanse is quickly evolving for more accessibility owing to different factors as you will find out in today's review.
A New Dawn for Legal Sports Betting in Iowa
There are a handful of crucial developments nationwide that have led to the sudden turn of events for sports betting Iowa. For instance, now that most North American sports allow for controlled sports betting, it was inevitable that locals would be allowed to bet online. Moreover, the excellent revenue from taxing gambling activities was also a big incentive that contributed to the change of heart for the state.
Above anything else, the recent Supreme Court ruling takes most of the credit for the turning of tables for sports betting Iowa, and several other states in the country.
As of 2020, you can now engage in Iowa online sports betting. At the moment, you still need to register in person at a retail sportsbook. Moreover, the places where you can bet online from your device are still limited. However, this is a great start for the Hawkeye state and things will be moving quicker in the following months.
Iowa Online Sports Betting
Iowa has been in the news recently for legalizing sports betting (May 13, 2019) following the action of a string of states. This move is construed by many experts as a result of the Supreme Court ruling which struck down the federal 1992 Professional and Amateur Sports Protection Act (PASPA) and its subsequent upholding of a 2014 New Jersey state law on gambling.
Initially, the 1992 PASPA Act banned sports betting and online bookmarkers in most states except Nevada.
In addition to this, sports lotteries were only limited to a few states, namely Montana, Delaware, and Oregon. Unlike the past where only Nevada enjoyed a monopoly of having the best online sportsbooks, several states are tapping into the taxable income and revenue generated from gambling. It remains to be seen if the move caters to the small population of Iowa or is tailored for the citizens' neighboring states that are yet to pass the laws which come to Iowa. Either way, Iowa sports betting is about to get more interesting!


Best Online Sportsbooks in Iowa
| IA Online Sportsbook | Status | Land-based partner |
| --- | --- | --- |
| William Hill | Live | Prairie Meadows Casino, Racetrack & Hotel, Lakeside Hotel Casino, Isle Casino Hotel Waterloo & Bettedorf |
| Elite Sportsbook | Live | Grand Falls Casino, Riverside Casino, and Rhythm City Casino |
| PointsBet | Live | Catfish Bend Casino |
| FanDuel | TBA | Diamond Jo properties |
| FoxBet | TBA | TBA |
| Hard Rock | TBA | Hard Rock Casino in Sioux City |
| DraftKings | TBA | Wild Rose Casino |
Compiling a list of the best legal sports betting platform in Iowa is a tricky affair depending on which angle you look at it. Currently, there exist 19 brick and motor casinos. Those are allowed to partner with two different brands, to make it to 38 possible skins.
There is a likelihood of a spike in numbers granted the new sports betting legislation by the state.
However, the 3.1 million strong state isn't big enough a market for many online bookmakers. The only upside is surrounding states haven't yet legalized sports gambling. The trickle effect would be a massive flow of people of other states playing in Iowa.
Experts contend that the Iowa sports betting market will see a remarkable rise in the number of operators and users. In part, this can be attributed to the convenience that mobile betting offers, real-time updates, and user-friendly interface.
Granted operators can use two skins, partnerships between two or more casinos sharing one skin is a possible reality.
This is workable considering they can both share their customer base, facilities in terms of physical registration and cut down on advertising revenue. Alternatively, an influx of game developers that partner with individual casinos are expected to cater to the mobile market and is also projected to rise exponentially.
Mobile Sports Betting in Iowa
With the recent change of Iowa gambling state laws, online gambling is now legal within the state lines. Owing to this long-awaited legislation, there will soon be plenty of Iowa Sportsbook apps that players can use place bets on the go. If you would like to enjoy mobile betting in Iowa, you will like the information that you can find below.
Iowa Sportsbook Apps
In the next few months, we expect to see the launch of different sportsbook mobile apps. Local gaming enthusiasts could then enjoy the convenience of playing via mobile devices. In case you are curious to know the options that could be available as Iowa Sportsbook apps, watch out for brands like FanDuel, Caesars, and DraftKings.
Better yet, as we speak, William Hill and PointsBet are already offering sports betting apps in the state. More operators are expected to be licensed and approved by the Racing and Gaming Commission soon. Read the next section for a closer look at the sportsbook mobile applications that will offer you the most rewarding experience.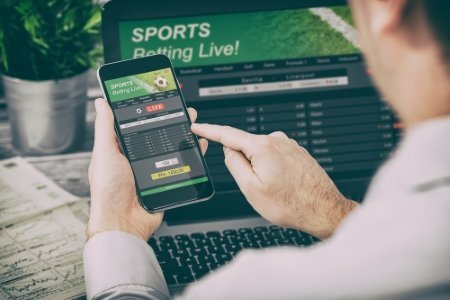 Best Betting Apps in Iowa
The following apps are already live and accept real money wagers. Bear in mind that you will need to register in-person. Moreover, for some of these operators, you can only use the site and app at their physical sportsbook.
Elite Sportsbook App (Live)
FoxBet (Pending)
Hard Rock Sportsbook App (Pending)
William Hill App (Live)
PointsBet App (Live)
Fanduel (Pending)
Draftkings (Pending)
William Hill Mobile Betting App
William Hill is one of the largest betting sites in the world. It has successfully made a mark in the UK betting industry. But it has also made a huge presence in the US Market lately. Currently, they are well-established in New Jersey and Nevada, which recently passed the law to permit online gambling.
William Hill betting apps for Android and iOS are be among the first sports betting apps that locals can download so that they can bet mobile.
FanDuel Sportsbook Mobile App
FanDuel is an online betting platform based in New York State. They offer a wide range of betting services that mostly revolve around sports betting. At the moment, they not only offer their betting services to NJ residents but to many other players based in other states.
For instance, players from the neighboring New Jersey can place bets at FanDuel as they wish to.
Being that Iowa doesn't restrict their players from wagering on out of state betting sites, there's a good chance that players from Iowa will soon be able to back their favorite teams via betting apps for Android and iOS.
DraftKings Sportsbook Mobile App
DraftKings is an amazing sportsbook based in Boston, Massachusetts. It provides its players with a wide range of betting markets, in popular sporting events in baseball, football, hockey, tennis, and many others. Additionally, lots of Americans already know it as a hub for fantasy football.
Iowa Mobile Betting Regulations
Initially, mobile betting in Iowa was illegal at both the state and federal levels until 2018 when all the federal restrictions on sports betting were changed. It is now legal to bet mobile via retail sportsbooks and statewide online sports betting platforms.
Since the law that permits gambling has just been passed, the gambling infrastructure in Iowa is still not completely developed by now. Even so, there are specific brands whose services are already live in the state.
Given most betting is still subject to state laws, mobile betting comes with the stringent requirement of geotagging. In layman terms, this means that you have to be physically present within state lines to bet online. The explosion of the use of smartphones and tablets makes sports betting even more accessible than brick and mortar counterparts. It's no wonder why there is stricter regulation for legal sports betting on mobile.
One such control is the use of in-person registration that is continuously going on until January 1, 2021. This measure ensures that it is not easy for vulnerable groups like minors to register anonymously online give the minimum age is 21 years. Also, you need to go and register at the local casino before placing an online wager. Mobile betting constitutes use of HTML5 browsers to access betting sites for easier and more efficient accessibility.
Iowa Sports Betting Regulations
The SF 617 legal sports betting legislation was passed and signed. This effectively made Iowa the third state to legalize sports betting. This covers both brick and mortar betting house and online bookmakers. The law pegs a friendly 6.75% taxation rate on sports betting revenue from the online sports betting Iowa operators. It goes further to obligate a $45,000 license fee and subsequent $10,000 annual fee for renewal.
Betting houses get only two skins per license and limited but spelled out sports betting coverage. There is an in-person registration window for mobile apps window active until January 1, 2021. Another development in compliance with the Wire Act is that to bet online; mobile betting must be carried out in the confines of the state.
Interestingly enough, there is a paradox in the law where a prohibition on prop wagers for collegiate teams in the state is effective, yet you can bet online on college sports. The Act empowers the Iowa Racing and Gaming Commission as the overseer of all the betting and gambling acts in the state.
However, there are other additional fine print regulations to be added before the operationalization of the Act. Even so, we all know that many of these laws aren't usually set in stone, and thus, they could be tightened or slacked over time.
Which Sports Can I Bet on in Iowa?
Granted the Supreme Court ruling that deemed the PASPA Act unconstitutional, Iowa sports betting covers the four major leagues in America (NBA, NFL, MLB, MLS) and NCAA. This means you can bet online on basketball, baseball, football, soccer, and collegiate games to enjoy betting odds in online bookmakers.
There is, however, an additional restriction on props that comes with college games. In addition to these, horse and motorsports aren't left behind for Iowa sports betting. Besides, all the previously covered sporting events by the sanctioned 21 casinos are still covered. Experts predict that there is a possibility of increased coverage by subsequent rules established by Iowa Gambling Commission which may elect to include other previously non-included sporting disciplines.
Fantasy Sports Betting
Fantasy sports betting has been a legal sports betting form for a while now due to the exemption of Unlawful Internet Gambling Enforcement Act (UIGEA) that was passed in 2006 to block payments to online gambling firms.
It has the advantage of faster payouts since the games are settled within a day and you don't need to wait an entire season to take advantage of betting odds. A perfect example is NFL fantasy football, with CBS fantasy football being one of the best online betting sites for the activity.
NFL Fantasy Football
Fantasy betting on NFL is one feature most online bookmakers like CBS fantasy football capitalize in generating a following. Punters can play for real money in NFL fantasy football and also have control over their teams. This also includes the drafting of NFL fantasy football players.
If your NFL fantasy football team accumulates best statistics you win the bet and enjoy an instant payout in 24 hours and such is the case for CBS fantasy football. Most fantasy games in CBS fantasy football come with cheat sheets that aid the punter in making decisions, unlike other sports betting where you strictly rely on betting odds.
How to Choose the Best Online Betting Sites in Iowa
Thanks to the repealed sports betting legislation, anyone over 21 years old in Iowa can bet online. However, picking the right legal sports betting platform may prove to be a tough nut to crack particularly since most locals are accustomed to the likes of CBS fantasy football. To select the best online sportsbooks in Iowa, here are a few tips of how you can go about it:
Research
This is a no brainer. Before selecting a legal sports betting site to wager on, ensure you have scouted and compared a range of options. There is ready information gained from reviews from gambling authorities and editions.
Additional information, like customer support, payouts, deposit options, bonuses, and withdrawal options, is readily available on online review sites like ours.A keen comparison of each would come in handy. Also, go to the official regulator to confirm if the site is licensed to carry out legal sports betting activities in Iowa.
Security
Online activity exposes our vulnerability. The fact is complexed further by the transaction, personal and financial information being shared between the betting houses and punters. Always ensure you engage an online bookmaker who pays attention to securing your credentials and financial information from access by third parties.
A legal sports betting platform should have SSL encryption and airtight privacy policy to safeguard its players.
Sports coverage
Not all online sites cover all the sporting disciplines that you may want to bet online on or follow up. Spare some time to look at the individual market coverage and pick a legal sports betting platform that offers unlimited gambling options.
The popular sports that you should look out for include football, rugby, basketball, baseball, tennis, and motorsports as well as horse and hound racing.
Payment options
Considering you are transferring money from your financial institution to the sportsbook when you bet online you a variety of fast and secure options at hand for ultimate flexibility.
Most online bookmakers operating in the USA offer money transfer options like Paypal, Skrill, and Neteller other than the usual inter-bank transfers, plus cars from Visa, MasterCard and American Express.
Processing time for payouts
How soon you can access your winnings is every punter's lingering question. The processing time between a win and when the money hits your account plays a role in selecting where you want to bet online. The best online betting sites will process your winnings on the same day, especially after you comply with the wire act (in mobile betting) and verification process. Others make these transfers real time.
Add-ons and bonuses
For online sports betting Iowa, nothing entices like words such as free bets, free spins, cashbacks, best betting odds guaranteed and accumulator boosts. Thus, pick an internet gaming platform with bonuses from day one of your membership.
Furthermore, the best online sportsbooks will even go an extra mile to please their customers by offering loyalty bonuses and comp points to keep you coming back to the platform. However, it is also vital to pay attention to the fine print that will come with these promotions to avoid hiccups when you're about to cash out.
Which Casinos will offer Mobile Betting?
The latest sports betting law in Iowa allows mobile sports betting across the state for any player 21 years old. You also must be physically living within the Iowa state, if you are to bet on mobile within the confines of the law.
However, since the law only allows for operators with an affiliated land-based platform locally to offer gambling services, you will need to visit the brick and mortar facility in-person to create an online betting account. Only then can you use the credentials to log in to the betting apps for Android or iOS availed.
Bear in mind that this physical casino registration will only be effective until January 2021. Then from that day forward, new players will register an account to bet mobile without the need of physically visiting the sportsbook outlet.
The law permits each gaming venue to partner with only two online sportsbooks. This means that residents of Iowa will have quite a significant number of state-approved Iowa sportsbook apps they can play with.
We cannot really confirm the specific dates the Iowa sportsbook apps will go live because the Iowa Racing and Gaming Commission has yet to authorize potential sportsbooks like William Hill to go live. So, sit tight, and we'll update you with every new player unveiled.
As we wait for official communication from respective operators, the only thing we can do is speculate. It is not yet clear which casinos will offer mobile betting for Android or iOS, but following the latest trends in US gambling, we think some Iowa Sportsbook apps could launch operations in the following casinos:
Hard Rock Hotel and Casino
Diamond Jo Casino
Catfish Bend Casino
Harrah's Council Bluffs
Mohegan Sun Casino
Eventually, these venues may also branch out to offer IA online casino platforms.
How to Bet on Sports on Mobile
For beginners who would like to gamble on their favorite sports of the day, read the steps outlined below to help you bet mobile with ease and confidence.
Choose the right sports betting sites – It is essential that you select legitimate sports betting sites you can trust. It should have a legal operation license plus SSL encryption for player protection.
Create your account – As a novice, you will need to sign-up for a new account by filling out relevant information. Some details you will have to enter our phone number, address, name, dates of birth, and a password. Once you are done, in most cases you will be asked to verify your account via email. You can complete this process directly from betting apps.
Take advantage of the bonuses on offer – During your registration, make sure you opt-in for the various welcome bonus packages so that you can start playing with perks such as free bets.
Choose your sport of choice – After you log in to the sportsbook mobile app, you will find a variety of sports games. Scroll through to find the game or event you would like to wager on.
Place your bet – Click on the event or game you are interested in, and a bet slip will pop up. Enter the amount of money you want to spend on your wager and hit the 'place bet' button.
As you can see, this process is quite easy, and you can start enjoying yourself in no more than a few minutes.
How to Play Fantasy Football on Mobile
Fantasy football allows you to simulate being an NFL team manager or team owner, which gives the players another level of freedom than normal football watching. You will need to assemble your team, which will face another team assembled by another competitor.
Your scores will heavily rely on what your players do in the field every week. So, whether you are a pro player or a newbie, it never hurts to brush up your skills on fantasy football. See the steps below for more insights on the game.
Getting started with a fantasy football betting app
When you want to get started on mobile, here is what you will need to do.
Find a reliable mobile fantasy football site that has all the features you need. You can pick any of the Iowa sportsbook apps for fantasy football such as DraftKings or FanDuel
After logging in in the football betting app, create your team and give it a name
The Draft
This is the most critical part of the game where you draft your players. The players you will choose will typically be rated for you by the site. So, if you don't know who is a good player, just check for the rating next to the picture of the player.
As you draft, make sure you go with a plan. You can use online cheat sheets written by fantasy experts to help you find the best players at each position if you do not understand what to do. Remember that you will also need to prepare backup players as a quick reference for players if your draft takes a wrong turn.
And as the draft goes on, you should keep an eye out for exceptional players who are good, especially those who can play in different positions. This will allow you to have options of where you can put them in your roster.
The Basics
After you are done with drafting, your team will play against another team of players drafted by another person. Every matchup will take a week long and will be composed of the stats that each of the team's players earns over the week.
Tricks and Tips for Better Performance
Here are a few tricks you can use as you play fantasy sports in any of Iowa sportsbook apps that host Fantasy sports.
Take note of Injuries: Players may get injured, and you will need to change your lineup. You should do this by trading away some players' bearing injuries. In most fantasy sports betting sites, they are marked with a bold red on next to their name.
For players who have insignificant injuries, you will need to make judgment calls. For instance, trade a player with a torn anterior cruciate ligament injury but not the player with just a sprained knee. Also, if your best player is injured, get more information about the extent of their ailment, then decide if they should go.
Don't trust the player's ratings too much: Keep in mind that some players will always perform worse or better than they have been rated. Therefore, keep players with more playing time because they will accumulate more statistics for you.
Keep tabs on your league: Keeping tabs and staying updated will always help you know more about the free agents that are in your league. Some fantasy sports platforms keep track of what percentage of the league owns a particular player. The higher the rating, the better the player should be, and the more people would want the player. You can use this as an indicator to look for good players.
Learn more about your opponents: It is also a great idea to learn more about your opponent. Know what they have and search for any advantages you may have over them. For instance, in football, if you know that your opponent has a terrible defense in particular areas, pick a wide receiver other than a tight end at your cornerback.
Play for free if you are a beginner: Some football leagues may have some entry fees that include real money, but sometimes, you might find leagues with free entry. Start with free leagues to learn all the tricks necessary to win on the playoffs.
Final Words on Iowa Online Sports Betting
Currently, many of us in Iowa are still depending on a fantasy football to have fun on the go and enjoy the thrill of mobile and online betting. Fortunately, with the new law that now accepts legal sports betting in the state, there are several options for online sports betting.
Betting apps for Android and iOS are now available, with many more to come. Meanwhile, bookmark our site, and you'll be the first to know when we have any new information about Iowa sportsbook sites and apps. Bye for now!