Which international women's soccer team is most likely to win the Women's World Cup in 2023? If you paid any attention to Women's World Cup betting, you'd know that the US women were the betting favorites in 2019 and they won the title. Once again, they are favorites to win World Cup, this time in Australia and New Zealand.
In all likelihood, the US women are your best betting future pick to take the Women's World Cup title in 2023 again.
The Women's World Cup in 2023 will be held in Australia and New Zealand from July 20 to August 20. This will be the first time that 32 teams will compete since the last championship had 24 teams.
📅 When is the next Women's World Cup?
July 20 – August 20, 2023
🌎 Where is the next Women's World Cup?
Australia and New Zealand
⚽ How many teams are participating?
32
🏟️ Stadiums
• Hindmarsh Stadium in Adelaide
• Eden Park in Auckland
• Brisbane Stadium in Brisbane
• Dunedin Stadium in Dunedin
• Waikato Stadium in Hamilton
• Melbourne Rectangular Stadium in Melbourne
• Perth Rectangular Stadium in Perth
• Stadium Australia and Sydney Football Stadium in Sydney
• Wellington Stadium in Wellington
🏁 First game
July 20 – New Zealand vs. Norway at Eden Park, Auckland
🏆 When the World Cup finals take place?
August 20 at Stadium Australia, Sydney
Jump to
Read on to discover what the sportsbooks thought of the last tournament. Make future bets with offers like a bet365 bonus code or Unibet bonus code.
Women's World Cup Betting Odds 2023
US Women are the obvious choices to bet to win in 2023.
When you're looking at Women's World Cup betting, you should look at who the sportsbooks see as favorites to win the soccer competition and those who are priced as outsiders to find value. Defending champions USA is most likely to win, according to World Cup odds. They're an outstanding soccer side, current holders of the trophy and have started the campaign in rampant fashion.
Who else is likely to challenge? The table below shows current World Cup lines for the winners market. Compare these odds before you bet on Women's World Cup games.
Odds provided by BetMGM – Subject to change
England, Spain, Germany, and France, along with Team USA, are much shorter priced than any other side in the competition. While the bookies may think the Women's World Cup is a two-horse race, most betting fans will know those major sporting events are prone to throwing up surprises. Bear this in mind when you're looking to bet on Women's World Cup matches.
Let's take a closer look at how the soccer sportsbook favorites could fare as we discuss our predictions for the rest of the tournament. We'll start with the favorites to win, which can be useful for those of you looking to bet on USA World Cup games.
Where to bet?
If you want to bet on World Cup, check out some of the bookmakers we recommend. You can even use some of our bonus codes and get some great welcome bonuses.
2023 Women's World Cup Predictions
There seems to be much more attention paid to the 9th edition of this prestigious soccer event than previous editions. As we mentioned earlier, this is the first time that the World Cup will have 32 teams in the group stage. Moreover, this is the first time that two countries are hosting the World Cup – Australia and New Zealand.
The Women's World Cup also provides us with plenty of betting opportunities. USA, the most successful side in the history of the competition, as well as the reigning Champions, are favorites to retain their title. There are many options for you when you're looking to bet on USA World Cup action in particular.
However, there are a number of other sides who can realistically challenge the Americans. England, along with France, Spain and Germany, will all be looking to push Vlatko Andonovski's side all the way. There is a lot of value in looking at winner and runners up odds when you're looking to bet on Women's World Cup games.
It's the USA that has the best chance to win, having won the previous two competitions (2015 and 2019).
We're going to take a detailed look at those soccer sides expected to challenge in this year's tournament. Read our guide to the teams most likely to win, and how you can bet on Women's World Cup action.
Team USA Prediction
As we said earlier, the USA national team won the last two world championships, and bookies consider them the first favorite to repeat that success once again. After the last World Cup, Jill Ellis stepped away, and Vlatko Andonovski took over the role of coach of the USA national team. The team won a bronze medal at the 2021 Olympics and then won their ninth CONCACAF championship in the summer of 2022.
They had a series of friendlies in October and November and didn't have that great results. USA experienced defeats against Spain, England and Germany. The loss to Germany ended a streak of 71 consecutive games won at home. However, the USA managed to fight back and won the second leg two days later.
In any case, friendly matches are one thing, competitions are another. And the USA definitely knows how to win competitive matches.
What a start to the last tournament USA has enjoyed. The reigning champions put Thailand to the sword, breaking records along the way in a 13-0 victory. A Women' World Cup record, star player Alex Morgan also matched fellow American Michelle Akers' record of five goals in a single soccer World Cup game.
The result is also the largest margin of victory in the history of the tournament, and also featured the most individual goalscorers in a Women's World Cup match. Those who bet on USA World Cup Goals markets would have found plenty of value in this one.
Much was made of Jill Ellis' decision to blood some youngsters and inexperienced players at the start of this tournament. It's paid off, though, with four World Cup debutants getting on the scoresheet in the demolition of Thailand.
Team France Prediction
France is one of the most consistent teams in this century. They qualified for most of the major competitions and passed the group stage. But they are still missing medals. The team was seen as the second favorite to win the last World Cup, as they were the hosts. But they were unlucky to meet the USA in the quarterfinals.
The team has reached the semifinals of the biggest competitions three times: World Cup 2011, Olympics 2012, and European Championship 2022.
They qualified for the next World Cup with a perfect record in the group stage – winning all 10 games – no defeats, no draws. They also had the great goal difference of +50.
This fall, Corinne Diacre's team played three friendlies and it didn't go very well. They lost to Germany and Sweden and won a game against Norway.
How far France can go is yet to be seen. They're a difficult side to judge, particularly when you bet on Women's World Cup action.
Team England Prediction
France's run to the World Cup is impressive, but England's is even better. They also won their group with 10 wins, but what's more, they managed to do it without conceding a goal. That gave them a goal difference of the most incredible +80. Semi-finalists in the 2015 and 2019 editions, England head into the next World Cup full of confidence.
The team from the birthplace of football managed to win the European Championship this summer. They brought a gold medal from any major senior competition to England for the first time in more than 50 years.
In four friendlies this autumn, they had two wins and the same number of draws, which officially made them the team without losing a match in 2022.
That's why most of the Women's World Cup lines suggest that Sarina Wigman's team are second favorites to lift the trophy. There is not much difference between the first favorites USA and third Spain.
If you're looking at England when you bet on Women's World Cup action, take a look at the Goals market. England possesses quality up front, with a number of players capable of getting on the scoresheet regularly. Moreover, in the qualifiers for the next World Cup, they achieved the biggest victory ever – 20:0 over Latvia.
Group Stage Winners Women's World Cup 2023
Group betting is also an option with many of the sportsbooks that offer Women's World Cup 2023 odds. Of course, these lines can fluctuate after each match, you can enter them in this betting odds calculator to see your potential profits. The list below displays the favorites to progress as Group Winners.
Group A: Norway
Group B: Australia
Group C: Spain
Group D: England
Group E: United States
Group F: France
Group G: Sweden
Group H: Germany
The top two of each Group automatically progress to the Round of 16.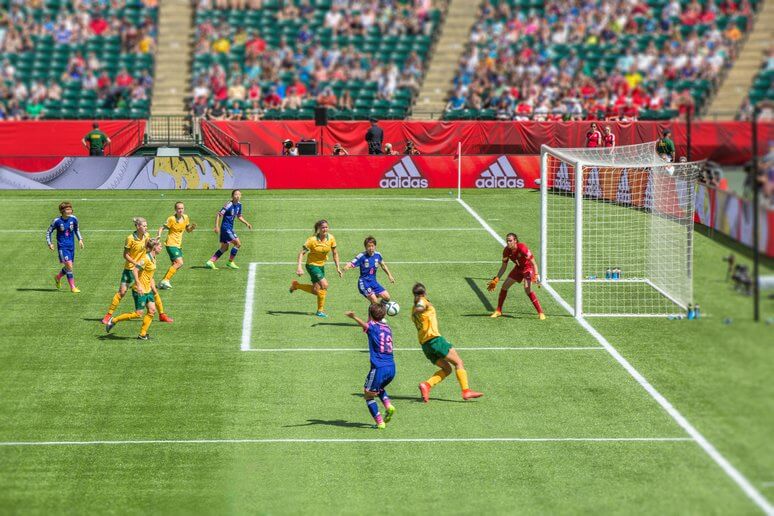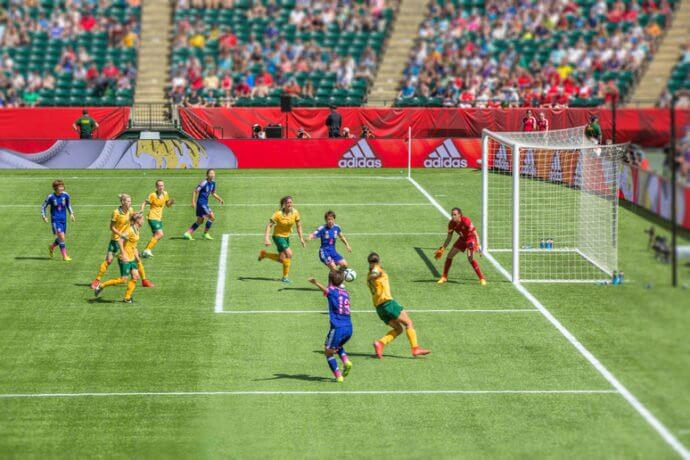 Group A Picks
New Zealand
Norway
Philippines
Switzerland
Group A has pitted together hosts New Zealand, Norway, Philippines and Switzerland
It's 1995 champion Norway and host New Zealand who are favorites to progress automatically, with most sportsbooks expecting these sides to finish in First and Second Place. Switzerland, though, could cause an upset.
Group B Picks
Australia
Republic of Ireland
Nigeria
Canada
One of the hosts of the tournament, Australia is a clear favorite to win Group B. They are up against the Republic of Ireland, Nigeria, and Canada in the Group.
Canada is the second favorite to progress through the Group.
Group C Picks
Spain
Japan
Zambia
Costa Rica
The third favorite to win World Cup Spain got lucky in the draw. Their opponents will be Japan, Zambia and Costa Rica. The second favorite to progress to the round of 16 is the 2011 champion Japan.
Group D Picks
England
Denmark
China
Haiti
Group D sees second favorites for winning the tournament itself and current European champions England up against Denmark, China and Haiti. Although Haiti is an outsider, it is difficult to predict who is the second favorite in this group – Denmark or China, as both teams have equal chances to win.
Group E Picks
United States
Netherlands
Portugal
Vietnam
Group E sees current holders the United States are clear favorites to top the Group. Their greatest opponent should be the Netherlands. Two teams played in the 2019 finals.
Portuguese are not underdogs, even though they are making their World Cup debut. The team is in excellent shape, as they haven't lost a game since last summer.
Vietnam did not have much luck in the draw on its World Cup debut.
Group F Picks
France
Brazil
Jamaica
Panama
Last championship semi-finalist and fifth favorite to win the 2023 title France leads Group F. Their main opponent is Brazil, a finalist in 2007 and a team that has never missed the world's biggest competition in women's football.
Jamaica and Panama are in the group of teams that bookmakers do not give much chance of success in this competition.
Group G Picks
Sweden
Italy
Argentina
South Africa
This should be the most exciting group. First favorite Sweden is up against Italy, the last championship quarter-finalists. Argentina and South Africa are also in this group, and both of them will try to reach the round of 16 for the first time ever.
Group H Picks
Germany
Morocco
Colombia
South Korea
One of the favorites to win the tournament itself, Germany is also a clear favorite to win Group H. The two-time winners are up against Morocco, Colombia and South Korea. It is Morocco's debut at the World Cup, and Colombia and South Korea's biggest successes were reaching the round of 16 (both in 2015).
Previous World Cup Winners
2023 will be the ninth edition of the Women's World Cup. Check previous eighth winners and runner-ups.
| | | | |
| --- | --- | --- | --- |
| 🌎 World Cup | 🥇 Winner | 🥈 Runner-up | ⚽ Score |
| 2023 – Australia and New Zealand | TBD | TBD | TBD |
| 2019 – France | United States | Netherlands | 2:0 |
| 2015 – Canada | United States | Japan | 5:2 |
| 2011 – Germany | Japan | United States | 2:2 (3:1) |
| 2007 – China | Germany | Brazil | 2:0 |
| 2003 – United States | Germany | Sweden | 2:1 |
| 1999 – United States | United States | China | 0:0 (5:4) |
| 1995 – Sweden | Norway | Germany | 2:0 |
| 1991 – China | United States | Norway | 2:1 |
Women's World Cup 2019
The previous World Cup was very successful, with good attendance numbers in one of the nine stadiums in the host country France and at home.
USA started off in incredible fashion in France in the World Cup. After a record-breaking 13-0 win over Thailand, there were few who were betting against USA picking up their fourth World Cup soccer title. not only with the maximum number of points, but also without conceding a goal.
The United States national team defeated Spain, France and England in the knockout stage. All matches ended with a score of 2:1. In the final, the USA met the Netherlands. The European team finished the group stage with three wins in Group E. They defeated Japan (round of 16), Italy (quarterfinals), and Sweden (semifinals) to meet the USA in the final.
The USA won that game 2:0 and became world champions for the fourth time. England and Sweden fought for third place, and Sweden won that game by 2:1.
Women's World Cup 2015
The 2015 Women's World Cup edition saw Canada, Germany, Japan, United States, Brazil, and France win their respective groups to reach the knockout stages.
The other sides to qualify, due to either achieving the second spot or the best third-placed side were China, Netherlands, Norway, Cameroon, Switzerland, Australia, Sweden, South Korea, England, and Colombia.
A difficult one for those who bet on Women's World Cup action, with the tournament full of surprises. The Semi-Finals saw the United States take on Germany, with England up against Japan.
The US reached its fourth Final with a 2-0 victory. England versus Japan was an extremely tight game, with Japan just clinching the win with a 2-1 scoreline.
This set up a repeat of 2011 Final. Those who bet on USA World Cup title winners then were left disappointed.
While the United States lost that one on penalties, they put that right with a 5-2 victory to claim their third Women's World Cup title, overtaking Germany to become the most successful side in World Cup history.
So, for those who bet on USA World Cup victory, it was a successful tournament.
England got third place, beating the German side 1-0 after extra time in the Third Place Playoff.
FAQ
Check some of the most frequently asked questions about the upcoming World Cup.
Who will win the World Cup?
While the USA is a clear favorite to win the competition again this year, it shouldn't be forgotten that England, Spain, Germany and France are also strong contenders.
Who won the last Women's World Cup?
With a win at the 2019 World Cup, the USA is also favored to win the competition this year.
Who qualified for the Women's World Cup?
As of February, all 32 participants of the championship are known: New Zealand, Norway, Philippines, Switzerland, Australia, Republic of Ireland, Nigeria, Canada, Spain, Japan, Zambia, Costa Rica, England, Denmark, China, Haiti, United States, Netherlands, Portugal, Vietnam, France, Brazil, Jamaica, Panama, Sweden, Italy, Argentina, South Africa, Germany, Morocco, Colombia, and South Korea.
How can I bet on the World Cup?
Most bookmakers offer futures odds for the winner of the World Cup. You can check BetMGM, Caesars, FanDuel, Parx, Pointsbet or BetRivers.