Which international women's soccer team is most likely to win the Women's World Cup in 2023? If you paid any attention to Women's World Cup betting, you'd know that the US women were the betting favorites in 2019 and they continued to win the title.
In all likelihood, the US women are your best betting future pick to take the Women's World Cup title in 2023 again.
Jump to
Read on to discover what the sportsbooks thought of the last tournament. Make future bets with offers like a bet365 bonus code or Unibet bonus code.
Women's World Cup Betting 2023
US Women are the obvious choices to bet to win in 2023.
See who were the early favorites in the previous Women's World Cup.
When you're looking at Women's World Cup betting , you should look at who the sportsbooks see as favorites to win the soccer competition and those who are priced as outsiders to find value. The USA is most likely, according to World Cup odds. They're an outstanding soccer side, current holders of the trophy and have started the campaign in rampant fashion.
Who else is likely to challenge? The table below shows current World Cup lines for the Winners market. Compare these odds before you bet on Women's World Cup games.
| Team | World Cup Winner Lines | Top 4 (Semi Final Place) Lines |
| --- | --- | --- |
| USA | +235 | -250 |
| France | +285 | -225 |
| England | +700 | -125 |
| Germany | +750 | -125 |
| Netherlands | +1200 | +150 |
| Australia | +1400 | +275 |
| Canada | +3000 | +350 |
| Spain | +3000 | +450 |
| Brazil | +3500 | +550 |
| Japan | +3500 | +375 |
Use a promo code at one of the top US sportsbooks like DraftKings, FanDuel, BetMGM, etc.
Hosts France, along with Team USA, is much shorter priced than any other side in the competition. While the bookies may think the Women's World Cup is a two-horse race, most betting fans will know that major sporting events are prone for throwing up surprises. Bear this in mind when you're looking to bet on Women's World Cup matches.
Let's take a closer look at how the soccer sportsbook favorites could fare as we discuss our predictions for the rest of the tournament. We'll start with the favorites to win, which can be useful for those of you looking to bet on USA World Cup games.
2019 Women's World Cup
There seems to be much more attention paid to the 8th edition of this prestigious soccer event than previous editions, with good attendance numbers watching in one of the nine stadiums in host country France as well as at home.
The Women's World Cup also provides us with plenty of betting opportunities. USA, the most successful side in the history of the competition, as well as reigning Champions, are favorites to retain their title. There are lots of options for you when you're looking to bet on USA World Cup action in particular.
USA has started off in incredible fashion in France in the World Cup. After a record-breaking 13-0 win over Thailand, there are few who are betting against USA picking up their fourth World Cup soccer title. After that game, many who are looking to bet on Women's World Cup, and bet on USA World Cup action especially, are now looking at value in the Goals market.
However, there are a number of other sides who can realistically challenge the Americans. Host nation France, along with England and Germany, will all be looking to push Jill Ellis' side all the way. There is a lot of value in looking at winner and runners up odds when you're looking to bet on Women's World Cup games.
It's USA who've started off most impressively, though. The US side also won the competition in 2015, beating Japan 5-2 in the Final in Vancouver.
This was a reverse of the previous Final, held in Germany in 2011. A tight soccer game, ending 2-2 after extra time, went through to penalties in Frankfurt, with the Japan side proving victorious.
We're going to take a detailed look at those soccer sides expected to challenge in this year's tournament. Read our guide to the teams most likely to win, and how you can bet on Women's World Cup action.
Team USA Prediction
What a start to the tournament USA has enjoyed. The reigning champions put Thailand to the sword, breaking records along the way in a 13-0 victory. A Women' World Cup record, star player Alex Morgan also matched fellow American Michelle Akers' record of five goals in a single soccer World Cup game.
The result is also the largest margin of victory in the history of the tournament, and also featured the most individual goalscorers in a Women's World Cup match. Those who bet on USA World Cup Goals markets would have found plenty of value in this one.
Much was made of Jill Ellis' decision to blood some youngsters and inexperienced players at the start of this tournament. It's paid off, though, with four World Cup debutants getting on the scoresheet in the demolition of Thailand.
The game wasn't without its controversy though, with seemingly clear-cut penalty decisions not given, along with the VAR ruling out what could have been the opener.
USA players have also earned criticism, with some unimpressed by their so-called over the top celebrations. Well, in soccer if you're scoring goals galore in what turned out to be a record breaker, why wouldn't you celebrate?
The USA came into this tournament as favorites, and the odds show they remain that way. There's very few in this competition who could compete with Ellis' side, they remain the most likely to lift the trophy on 7 July.
After that convincing win, those who bet on USA World Cup action will notice that odds on the USA in the Total Goals market, in particular, have been slashed. It might be worth looking at other markets to find a better value.
Team France Prediction
Hosts France has a perfect record so far in this year's Women's World Cup. With a Played 2 Won 2 record, France started extremely well with a 4-0 victory over South Korea.
That win was followed by a 2-1 defeat of Norway, though that game wasn't without its controversy either. VAR, being used for the first time in this competition, adjudged Norway's Ingrid Engren fouled Marion Torrent in the box, which Eugenie Le Sommer dispatched to clinch the win.
So, France not at their convincing best, but two wins from two is a great start for the host nation. That six points should see them progress through the Group as winners, with easy passage to the Round of 16.
How far France can go is yet to be seen. They're a difficult side to judge, particularly when you bet on Women's World Cup action. Yet to be Women's World Cup winners since the tournament began in 1991, France has only made the Semi-Finals on one occasion.
Being on home turf could help them improve on that record, but their chances of success depend on who they could meet in the next round.
Team England Prediction
Semi-Finalists in the 2015 edition, England have gone into this one full of confidence. Their first game, against arch-rivals Scotland, wasn't the most dominant of performances, but Phil Neville's side got the three points in the bag with a 2-1 victory.
Most Women's World Cup lines suggest England are third favorites to lift the trophy. There is a huge difference in odds between England and second favorites France, but this English side has improved immeasurably since the last campaign.
If you're looking at England when you bet on Women's World Cup action, take a look at the Goals market. England possesses quality up front, with a number of players capable of getting on the scoresheet regularly.
Group Stage Winners Women's World Cup 2019
Group betting is also an option with many of the sportsbooks that offer Women's World Cup 2019 odds. Of course, these lines can fluctuate after each match, you can enter them in this betting odds calculator to see your potential profits. The list below displays the favorites to progress as Group Winners.
Group A: France
Group B: Germany
Group C: Brazil
Group D: England
Group E: Netherlands
Group F: United States
The top two of each Group automatically progress to the Round of 16. There are also opportunities for the top-ranked Third Place sides to reach the Knockout Stages too. The four best-ranked sides will be awarded a spot in the next round.
The favorites to achieve this, as shown by current Women's World Cup 2019 lines, are as follows:
Australia
China
Nigeria
Japan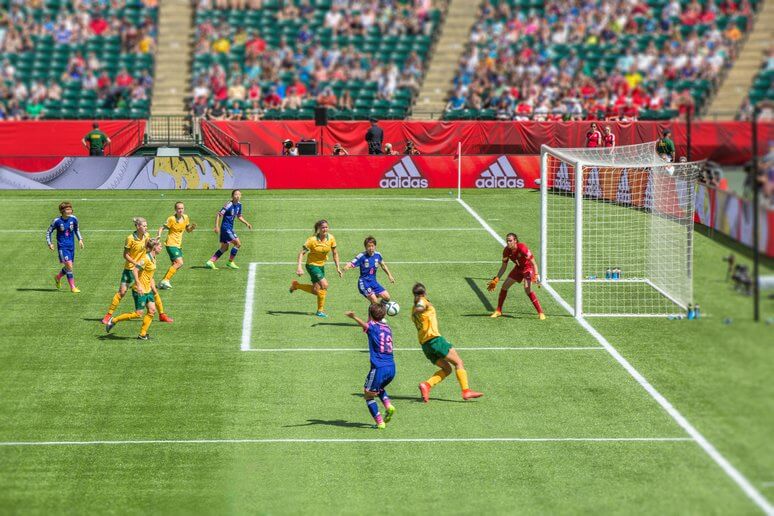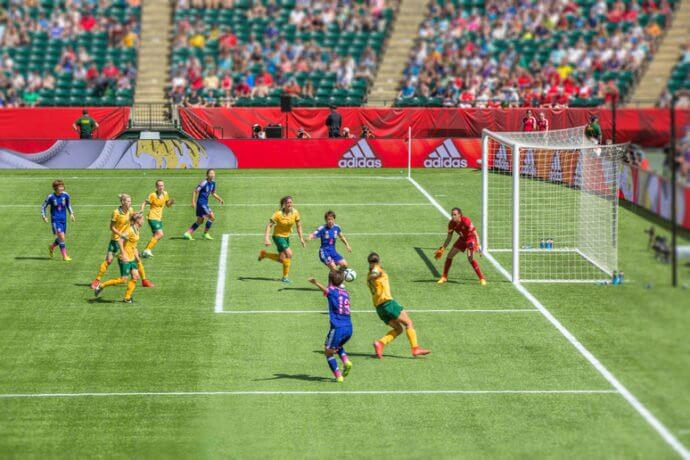 Group A Picks
Group A has pitted together hosts France, Norway, Nigeria and South Korea. It's France and Norway who are favorites to progress automatically, with most sportsbooks expecting these sides to finish in First and Second Place.
Nigeria, though, could cause an upset. At the very least, they're expected to progress as one of the top four Third Place sides.
France is favorites to win the Group with odds of -500, with Norway priced longer at +400.
Group B Picks
One of the favorites to win the tournament itself, Germany is also a clear favorite to win Group B. The two-times winners are up against Spain, China, and South Africa in the Group, and have odds of around -250 to go through in top spot.
Spain is the second favorite to progress through the Group, with Women's World Cup odds on China not far behind.
Group C Picks
An extremely difficult Group C sees Brazil up against Australia, Italy, and Jamaica. Brazil may be one of the favorites to progress as Group Winners, but defeat to Australia, after being 2-0 up, could cost them top spot.
It's difficult to choose between the top three sides. It's likely, though, that all three will progress to the Round of 16, with one of the three picking up a best Third Place spot. It's Italy, though, that are current favorites for a top position with odds of -134.
Group D Picks
Group D sees third favorites for the tournament itself England up against Argentina, Japan, and Scotland. England is the favorite for the Group too with odds of -455, with Japan priced as second favorites at +300 to progress as Group Winners.
Japan is reasonably short-priced. The 2015 runners up, and 2011 winners, could face an uphill battle to qualify in the top two places, following a 1-1 draw with Argentina. Still, you'd expect the experience and quality of the Japanese side to see them through in second place.
Group E Picks
Canada and Holland are clear favorites to progress through to the knockout stages. In which order is up for debate, but Holland are favorites to be Group Winners with most sportsbooks, priced at around -210.
The Women's World Cup odds on New Zealand and Cameroon to qualify are long, with very few giving either a chance of success at any stage.
Group F Picks
The final Group sees current holders the United States are clear favorites to top the Group. They're currently at odds of -835, unsurprisingly short considering their blistering start to the competition.
Second favorites for the Group Sweden are out at +450 to top the Group. These two sides are most likely to progress, with Chile and Thailand judged as huge outsiders with odds of +100000 and +500000 respectively.
Women's World Cup 2015
The 2015 edition of the Women's World Cup saw Canada, Germany, Japan, United States, Brazil, and France win their respective groups to reach the knockout stages.
The other sides to qualify, due to either achieving second spot or best third-placed side were China, Netherlands, Norway, Cameroon, Switzerland, Australia, Sweden, South Korea, England, and Colombia.
A difficult one for those who bet on Women's World Cup action, with the tournament full of surprises. The Semi-Finals saw the United States take on Germany, with England up against Japan.
The US reached its fourth Final with a 2-0 victory. England versus Japan was an extremely tight game, with Japan just clinching the win with a 2-1 scoreline.
This set up a repeat of the 2011 Final. Those who bet on USA World Cup title winners then were left disappointed.
While the United States lost that one on penalties, they put that right with a 5-2 victory to claim their third Women's World Cup title, overtaking Germany to become the most successful side in World Cup history.
So, for those who bet on USA World Cup victory, it was a successful tournament.
England got third place, beating the German side 1-0 after extra time in the Third Place Playoff.
Latest NWSL Odds
Houston Dash
Kansas City Current
Odds are not currently available.
Odds are subject to change. Last updated
October 4, 2022 4:40 am
.
Select your favorite operator or the best odds above.