Super Bowl Winners
Commercial Content | 21+ | T&Cs Apply
The Super Bowl is perhaps the most well-known test of physical prowess and tactical skill in US history. Watched by tens of millions of people across the globe, two teams of hardened professionals compete toward winning the coveted Super Bowl trophy. Below, get the full list of all Super Bowl winners.
Contents

Super Bowl Stats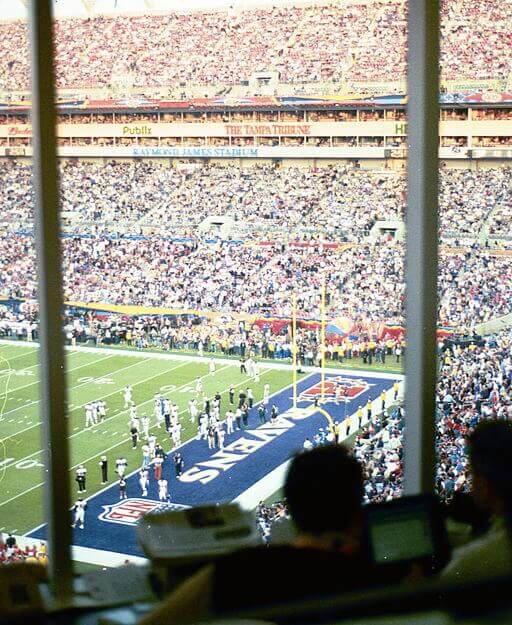 Super Bowl rings are a hallmark of a successful football career. Having just one puts you in an elite club with some of the greatest athletes in the country, and it can usually grant you a paycheck for life. Speaking engagements, books, and endorsements can carry a Super Bowl champion well into retirement.
In the Super Bowl, a score of just one point's difference can mean the difference between triumph and defeat. In NFL Super Bowl history, only seven franchises have ever won two Super Bowls back to back, and only one of those franchises has done so twice: the Steelers.
The Patriots and the Steelers are tied for the most Super Bowl wins at 6. The New England Patriots, while 6-time Lombardi trophy winners are no strangers to loss: the Pats have five Super Bowl losses, a record that they've tied with the Denver Broncos. Naturally, this makes Super Bowl betting a challenge at times.
Some additional interesting stats regarding Super Bowl champions: the highest cumulative score in a game was 75 in Super Bowl XXIX between the 49ers and the Chargers. The San Francisco team pulled in a namesake 49 points that game, and the record for most cumulative points stands to this day.
Past Super Bowl winners include teams that don't exist anymore, like the St. Louis Rams (now the LA Rams) and the LA Raiders (now back in Oakland). Usually, these are a result of franchises switching cities or owners. Those will be listed below, in addition to a list of all the other past Super Bowl winners. 
| NO. | DATE | RESULT |
| --- | --- | --- |
| I | Jan. 15, 1967 | Green Bay 35, Kansas City 10 |
| II | Jan. 14, 1968 | Green Bay 33, Oakland 14 |
| III | Jan. 12, 1969 | New York Jets 16, Baltimore 7 |
| IV | Jan. 11, 1970 | Kansas City 23, Minnesota 7 |
| V | Jan. 17, 1971 | Baltimore 16, Dallas 13 |
| VI | Jan. 16, 1972 | Dallas 24, Miami 3 |
| VII | Jan. 14, 1973 | Miami 14, Washington 7 |
| VIII | Jan. 13, 1974 | Miami 24, Minnesota 7 |
| IX | Jan. 12, 1975 | Pittsburgh 16, Minnesota 6 |
| X | Jan. 18, 1976 | Pittsburgh 21, Dallas 17 |
| XI | Jan. 9, 1977 | Oakland 32, Minnesota 14 |
| XII | Jan. 15, 1978 | Dallas 27, Denver 10 |
| XIII | Jan. 21, 1979 | Pittsburgh 35, Dallas 31 |
| XIV | Jan. 20, 1980 | Pittsburgh 31, Los Angeles Rams 19 |
| XV | Jan. 25, 1981 | Oakland 27, Philadelphia 10 |
| XVI | Jan. 24, 1982 | San Francisco 26, Cincinnati 21 |
| XVII | Jan. 30, 1983 | Washington 27, Miami 17 |
| XVIII | Jan. 22, 1984 | Los Angeles Raiders 38, Washington 9 |
| XIX | Jan. 20, 1985 | San Francisco 38, Miami 16 |
| XX | Jan. 26, 1986 | Chicago 46, New England 10 |
| XXI | Jan. 25, 1987 | New York Giants 39, Denver 20 |
| XXII | Jan. 31, 1988 | Washington 42, Denver 10 |
| XXIII | Jan. 22, 1989 | San Francisco 20, Cincinnati 16 |
| XXIV | Jan. 28, 1990 | San Francisco 55, Denver 10 |
| XXV | Jan. 27, 1991 | New York Giants 20, Buffalo 19 |
| XXVI | Jan. 26, 1992 | Washington 37, Buffalo 24 |
| XXVII | Jan. 31, 1993 | Dallas 52, Buffalo 17 |
| XXVIII | Jan. 30, 1994 | Dallas 30, Buffalo 13 |
| XXIX | Jan. 29, 1995 | San Francisco 49, San Diego 26 |
| XXX | Jan. 28, 1996 | Dallas 27, Pittsburgh 17 |
| XXXI | Jan. 26, 1997 | Green Bay 35, New England 21 |
| XXXII | Jan. 25, 1998 | Denver 31, Green Bay 24 |
| XXXIII | Jan. 31, 1999 | Denver 34, Atlanta 19 |
| XXXIV | Jan. 30, 2000 | St. Louis 23, Tennessee 16 |
| XXXV | Jan. 28, 2001 | Baltimore 34, New York Giants 7 |
| XXXVI | Feb. 3, 2002 | New England 20, St. Louis 17 |
| XXXVII | Jan. 26, 2003 | Tampa Bay 48, Oakland 21 |
| XXXVIII | Feb. 1, 2004 | New England 32, Carolina 29 |
| XXXIX | Feb. 6, 2005 | New England 24, Philadelphia 21 |
| XL | Feb. 5, 2006 | Pittsburgh 21, Seattle 10 |
| XLI | Feb. 4, 2007 | Indianapolis 29, Chicago 17 |
| XLII | Feb. 3, 2008 | New York Giants 17, New England 14 |
| XLIII | Feb. 1, 2009 | Pittsburgh 27, Arizona 23 |
| XLIV | Feb. 7, 2010 | New Orleans 31, Indianapolis 17 |
| XLV | Feb. 6, 2011 | Green Bay 31, Pittsburgh 25 |
| XLVI | Feb. 5, 2012 | New York Giants 21, New England 17 |
| XLVII | Feb. 3, 2013 | Baltimore 34, San Francisco 31 |
| XLVIII | Feb. 2, 2014 | Seattle 43, Denver 8 |
| XLIX | Feb. 1, 2015 | New England 28, Seattle 24 |
| 50 | Feb. 7, 2016 | Denver 24, Carolina 10 |
| LI | Feb. 5, 2017 | New England 34, Atlanta 28 |
| LII | Feb. 4, 2018 | Philadelphia 41, New England 33 |
| LIII | Feb. 3, 2019 | New England 13, Los Angeles Rams 3 |