10 Best Super Bowl Halftime Shows
Commercial Content | 21+ | T&Cs Apply
Whether you're a football fan or not, the Super Bowl Halftime show is a huge reason to tune into the popular sporting event. For some people, it's the only reason. Check out our list of the 10 best Super Bowl halftime shows.
And if you're here on FBP, you probably want the latest online Super Bowl betting tips.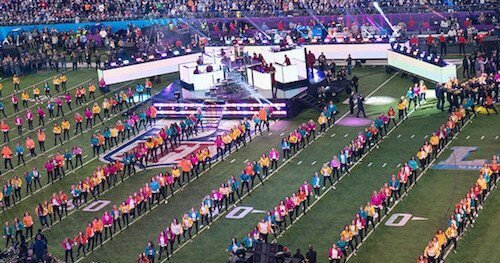 10. Super Bowl XXXV: Aerosmith, Britney Spears, Nsync, Nelly & Mary J. Blige (2001)
This Super Bowl Halftime show is one people love to hate. It's certainly odd, but ultimately, interesting.
Nsync opens by running on the field towards the stage and then performing "Bye Bye Bye" with the iconic dance moves we've all come to love. Sure the outfits are insane, but it was a new millennium!
Aerosmith takes the stage next with "I Don't Want to Miss a Thing" – that little diddy from Armageddon. Nsync takes back over with "It's Gonna Be Me" and Aerosmith finishes the last line for them before moving into "Jaded".
Nsync comes back out to repay the favor and help finish "Jaded" and then they all move onto "Walk This Way". Britney Spears joins in a tight football-themed outfit and Mary J. Blige joins in a fur coat. What is going on?
When you finally give up on making sense of anything, Nelly joins and they finish out the Aerosmith classic altogether, making it one of the odder Super Bowl halftime shows out there. 
9. Super Bowl XLII: Tom Petty and the Heartbreakers (2008)
Opening with "American Girl", the crowd starts running towards the stage and Petty very quickly feels like a natural fit for the Super Bowl. Performing a list of massive hits, Petty proves that even a Super Bowl performance at its heart is about the music.
"I Won't Back Down" is next and the band's iconic imagery (rocket ships, hearts & arrows) play on screens behind them. Next to the stage: a giant lit-up arrow in a heart shines blue and the lights dim as an indication of what's to come. Flashlights come out for the Los Angeles centric hit "Free Fallin'" and the crowd sways along with the music.
Three screens behind them begin to play shots of a moving highway and "Runnin' Down a Dream" starts to play. Lead guitarist Mike Campbell delivers another packed solo that closes out the show. It's hard to believe Tom was in his mid-50's during this performance and even harder to believe it's now been two years without him. 
8. Super Bowl XLIX: Katy Perry, Missy Elliott, Lenny Kravitz & Left Shark (2015)
Opening with a Pepsi Logo made of lit-up orbs held by a crowd of people, Katy Perry literally rides in on a giant metal tiger while singing, "Roar". Dancers accompany her for "Dark Horse" and the stage becomes an incredible display of graphics
Seemingly out of nowhere, Lenny Kravitz joins for "I Kissed A Girl" and delivers an impressive guitar solo while Perry delivers some impressive ponytail spinning.
Shortly after that, "Teenage Dream" starts playing and the scene changes to a beach complete with surfboards and a cultural emblem none of us knew we needed, left shark. 
The dancer stole the show and might even be the real reason for the placement of this performance. Singing "California Girls", Perry continues to wow with the unique style that made her a household name.
Missy Elliott then joins for a performance of "Get Ur Freak On", "Work It" & "Lose Control" before leaving Perry to finish the show solo. Perry appears in a new outfit covered in stars, singing "Firework".
She stands on a small platform flying in the air under a shooting star in a scene that is nerve-wracking to watch. They finish, appropriately, with fireworks. 
7. Super Bowl XL: Rolling Stones (2006)
The Rolling Stones have always been known to push the envelope. Their famous hit, "Sympathy for the Devil" worked people into such a frenzy at their 1969 Altamont show that a man was stabbed to death. So, the NFL was taking no chances when the Rolling Stones were asked to play in 2006.
It was a particularly trying time for the NFL who just two years earlier found themselves in quite a bit of hot water over the now infamous Janet Jackson/Justin Timberlake performance. To avoid any potential controversy, they had Mick Jagger's mic dialed down during some of the songs more risqué lines, something the band was not too jazzed on.
Still, they started their performance with the appropriately fitting "Start Me Up". Wearing a sequin coat with tails, Mick moves around the stage in his own patented way. Moving on to "Rough Justice" and losing the jacket as if he's ready to get down to business, the crowd reacts to the legend's stage prowess.
Finishing with "(I Can't Get No) Satisfaction" and shedding another layer, Mick continues to work the crowd from every edge of the stage. The performance was so iconic, the famous tongue logo they performed on remains the largest Super Bowl stage ever assembled. 
6. Super Bowl XXXIX: Paul McCartney (2005)
The Beatles probably have the most famous music catalog in the world. So, when Paul McCartney signed on to perform at the halftime show in 2005, it was expected that he was going to play some bangers.
Starting with "Drive My Car", "Get Back" and "Live and Let Die", Paul flooded the stage with the particular nostalgia, familiarity & warmth of The Beatles. "Live and Let Die" ended with fireworks and a pyrotechnic display of megastar proportions.
However, perhaps the most memorable and moving moment of the performance was the final song, an especially soulful rendition of "Hey Jude". Paying homage to the 1968 promotional video which was recorded with a live orchestra, the performance featured fans gathered around Paul's piano. With flashlights waving in the air and a sing-along led by Mr. McCartney himself, the excitement in the crowd was palpable.
Paul was the perfect choice for the NFL, which was still reeling from the backlash of their last halftime show (Justin Timberlake & Janet Jackson). He kept people singing along with affirmations of, "You sound so sweet to me" and proved that the best things in life really never get old.
5. Super Bowl XLIII: Bruce Springsteen & The E Street Band (2009)
With a nickname like "The Boss", you better own whatever stage you're on. So starting out by screaming at everyone at home to "Step back from the guacamole dip" and "Put those chicken fingers down!" seems like a great way to assert your authority.
Beginning with "Tenth Avenue Freeze-Out" and moving into "Born to Run", you can hear the entire crowd singing along. "Working on a Dream" is next and Bruce is joined by a full choir.
Steve Scialfa shares Springsteen's mic and they deliver a rendition "Glory Days" with a few new football-themed lyrics. The performance ends with a tongue-in-cheek comedic moment where Bruce tells Steve they need to wrap it up. "Steve, I think it's quitting time," he starts and a ref comes up on stage and mimes "time out".
The two go back and forth like that for a while in a very who's on first style routine. Then Bruce asks the question of the night, "Steve, what time is it?" Steve responds with what we're all thinking, "It's boss time." Yes. Yes, it is.
4. Super Bowl XLVIII: Bruno Mars and Red Hot Chili Peppers (2014)
There is no denying the performance ability of Bruno Mars and the sheer oddness of this pairing makes it one of the most memorable Super Bowl halftime shows.
The performance opens with a choir of young children holding hands and singing the intro to "Billionaire", (Bruno's hit with Travie McCoy). He quickly moves into a drum solo that could have quieted any Bruno naysayers, if there even are any.
"Locked Out of Heaven" is next, performed with his signature backing band by his side. Clad in gold suit jackets and synchronized moves, it has all the mastery we've come to expect from Mr. Mars.
Showcasing a range of talent that honestly feels kind of disgusting, Mars moves into "Treasure", making all the girls in the crowd swoon if they weren't already.
From there, "Runaway Baby" is next with a small tribute to "Shout" by The Isley Brothers. He does some flawless James Brown-style dance moves and then teases his musical guest with the line "Give it away give it away give it away now".
Joining him on stage, the Red Hot Chili Peppers jump up and down with Bruno's band while performing their hit, "Give It Away".
The show closes with videos of members of the military dedicating his last song, "Just The Way You Are" to their significant others. Ending with fireworks and some incredible final vocals, Bruno literally finishes with a bang.
3. Super Bowl XLVII: Beyoncé and Destiny's Child (2013)
Pretty much everyone in the world worships at the altar of Beyoncé. So, is it really any surprise she made it to #3 on this list? Opening with shots of people running onto the field towards the stage, the camera moves to an unmistakable silhouette of the Queen herself. She starts with a riff of "Love on Top", but quickly transitions to "Crazy in Love"
Beyoncé keeps the all-black costumes chic and understated so the performance shines. And boy does it. A guitar solo with fire shooting out of either side of the guitar? Of course, it's Bey.
She moves into "Baby Boy" featuring multiple LED Beyoncés dancing in time with her. Then comes arguably the best part – the reunited force that is Destiny's Child.
Is Destiny's Child the best girl group in the world? They seemed to have the crowd thinking so. Starting with "Bootylicious" and moving to "Independent Women", the group showcased a strong sense of female solidarity.
Michelle and Kelly then join Beyoncé in singing "Single Ladies" which is an unexpected addition. When they leave the stage, Beyonce finishes the show with "Halo" crouching down with her fans for some emotionally charged final moments. Without a doubt, one of the best Super Bowl halftime shows to date.
2. Super Bowl XXX: Diana Ross (1996)
Opening with "Stop! In The Name of Love", Diana's name appears spelled out in dancers on the field and the camera zooms in on her. She's wearing a short red sequin dress and quickly transitions to "You Keep Me Hangin' On" with a slew of all-male background dancers in suits, white gloves & hats behind her.
Packing in the love, Diana performs a medley of "Baby Love", "You Can't Hurry Love" and "Why Do Fools Fall In Love" next.
In what might be some of the most iconic fashion moments of any Super Bowl halftime show, Diana changes into several outfits throughout the performance. The first change comes while "Chain Reaction" is playing and it does not disappoint.
A dramatic strapless gown with bright layers of orange and fuchsia that would make most people look insane, but on her is simply brilliant. She takes a moment to perform, "Reach Out and Touch Somebody's Hand" before changing into her final outfit of the night, a tight fuchsia one-piece pantsuit under a trailing gold jacket. Diana Ross is the '60s and the future all at once.
She performs "Ain't No Mountain High Enough" while literally rising up in the air with gold lame flowing and making her look larger than life, which somehow feels believable. Finally, she steps off her platform to sing the Gloria Gaynor number, "I Will Survive". Finishing out the night with "Take Me Higher", Diana literally gets into a helicopter and flies away.
1. Super Bowl XLI: Prince (2007)
Don't trust a list that doesn't include this performance as it's number one. There is no one who could make a performance as prestigious as Super Bowl halftime shows look as effortless – especially in the pouring rain; a complication that did not seem to faze Prince. He was famously even quoted in a behind the scenes video as saying, "Can you make it rain harder" while being told of the conditions for the performance.
"We Will Rock You" by Queen starts playing as fire lights up the stage. Wearing an aqua suit with an orange shirt, he begins playing "Let's Go Crazy" to a screaming crowd.
The guitar work and stage presence was without a doubt the best Super Bowl halftime shows have ever seen. The Florida A&M Marching Band joins him for "Baby I'm a Star" and he unbuttons his suit jacket in a way that makes us all wonder how he makes everything look so cool.
Seamlessly transitioning to a rendition of Tina Turner's "Proud Mary" followed by a rendition of "All Along the Watchtower", Prince covers two giant, iconic songs and owns them by the end. Next is "Best of You" by Foo Fighters in a performance that might make even Dave Grohl feel insecure.
Finally, in his best live performance of his crowning achievement, "Purple Rain", Prince finishes the show in the storm almost as if he planned it that way. A sheet blows in the wind and his silhouette and custom Axe Heaven PR-285 guitar are magnified behind it.
With the crowd delivering the perfect vocal accompaniment to the legend's final guitar solo, he ends his performance along with anyone's ability to top it. Certainly, Prince's performance is number one on the list of the 10 Best Super Bowl halftime shows.