The Super Bowl is known for being the premier sports contest of the year in addition to being a great place to see some stellar Super Bowl ads.
These ads are famous for creating cultural touchstones. They're hilarious, absurd, or to-the-point. In some cases, Super Bowl ads have the power to unite and divide.
Below, here's a list of the top 20 Super Bowl ads.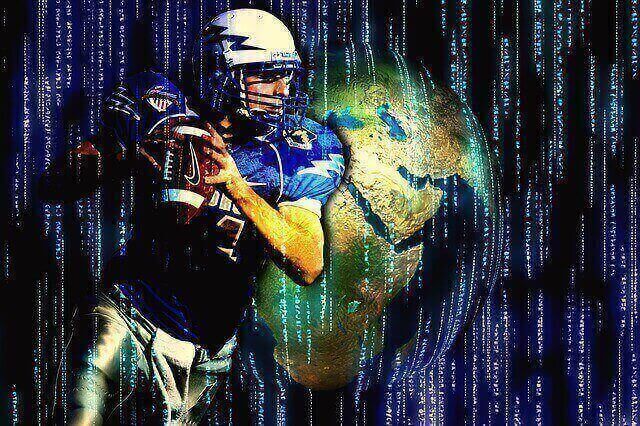 Jump to
Make sure you know how to read football odds before you start betting on the Super Bowl!
Wassup
Perhaps one of the first memes of the 21st century, everyone over the age of 25 remembers this ad. A few friends are just chatting about their day on the phone, watching the game, havin' a Bud.
Some argue that the "wassup" commercial was one of the first to establish the tradition of absurd, hilarious Super Bowl ads. However, there's at least one ad that predates the Wassup ad, and it's again from the people at Budweiser.
Budweiser's Singing Frogs
The year was 1995 and another cultural touchstone was created for the Super Bowl: the Budweiser frogs. This is another of the best Super Bowl commercials that pop up in the consciousness of every American in their 30s.
Even if you're a bit younger, you've probably seen one of the many recent incarnations of the Budweiser frogs or have at least heard about them. Three frogs, each calling out a syllable of the famed beer brand: "Bud", "Weis", and "Er". Simple but effective advertising!
It's A Tide Ad
In 2018, the world had Stranger Things fever. It seemed like everyone was vibrating about this rag-tag crew of curious and supernatural tweens, concerned and disinterested parents, and of course, Chief Hopper.
David Harbour was a working actor in Hollywood for quite a few years, but his big break was the role of Chief Jim "Hop" Hopper on Stranger Things. Harbour's gruff but amiable face appeared in Tide's 2018 Super Bowl commercial, in which he pops into several commercials with different products. As David Harbour explains– every ad is a Tide ad.
Budweiser's 9/11 Tribute
In 2002, Budweiser created a moving tribute to the victims of 9/11. During the 36th Super Bowl, right after the harrowing attacks of 9/11, Budweiser aired a wordless ad of the famous Clydesdales being taken through Manhattan's streets.
It was a reflection on New York's proud history. The Budweiser ad made a nod to the events of previous months and gave viewers a quiet moment of reverence during the otherwise loud and boisterous Super Bowl.
America The Beautiful
During Super Bowl XLVII, Coca-Coca aired a commercial depicting the rich tapestry of America's cultural fabric. Americans of all colors and nationalities are shown sharing Cokes and laughing together while "America the Beautiful" is sung.
Interestingly, the song is sung not only in English, but in Tagalog, Hindi, Senegalese, Hebrew, French, and Spanish. Coca-Cola received a bit of backlash from some less-than-tolerant Americans, but the ad still remains as one of the most memorable of the Super Bowl commercials.
Hare Jordan
Hare Jordan was the precursor to Space Jam. It's a fantastic commercial featuring Michael Jordan and everyone's favorite rascally rabbit, Bugs Bunny. After a bunch of basketball-playing bullies rough up Bugs, he calls on his pal from the Chicago Bulls to come set the record straight in a game of 2 on 4.
Naturally, Bugs and Michael leave the basketball bullies in a heap on the floor. This commercial spun off into a pair of sneakers and, arguably, one of the most memorable sports movies of the '90s: Space Jam.
Puppy Love
This one's a tearjerker. Budweiser certainly tops the list of best Super Bowl ads for most mentions. The Clydesdale horse and the Budweiser brand are mainstays of Super Bowl culture, and the ad from XLVIII is yet another winner from Anheuser-Busch.
Featuring an impossibly cute golden retriever pup and a statuesque Clydesdale, this Budweiser Super Bowl ad depicts a bond that can't be broken. The pup, best friend to the Clydesdale, climbs over fences and runs through midnight rain to be with his horse pal.
When the pup is adopted out to a man in a sedan, the horses intervene. The commercial ends with a group of massive Clydesdales blocking the vehicle, reuniting canine and equine soulmates.
Cindy Crawford's Pepsi Ad
Cindy Crawford became a household name in 1992 with her Pepsi ad. On a dusty rural road, she pulls over to a vending machine and gets out a can of ice, cold Pepsi. Striking a pose, she throws her head back to enjoy a rewarding gulp while two local boys look on, their jaws on the floor.
The audience gets turned on its head at the end, however. The boys can't muster up the right words until they spurt out, "is that a great new Pepsi can or what?" The boys weren't admiring Cindy at all, but rather the design of the new aluminum can.
Betty White & Snickers
Betty White made a comeback in 2010 with her appearance on the Snickers ad for Super Bowl XLIV. If you're familiar with the Snickers brand, you've probably seen their "you're not you when you're hungry" ads.
In this ad, "Mike" (played by Betty White) is playing a game of tackle football with a group of friends: 200-pound, six feet tall men in their 30s. Betty proceeds to get slammed to the muddy ground as her teammates complain that she's "playing like Betty White". Also featured in this commercial is the late Abe Vigoda, another 80-something being tackled to the ground.
Divas
Also part of Super Bowl XLIV's "you're not you when you're hungry" campaign, this commercial features a car full of weary travelers on a road trip. One of those weary travelers is particularly vocal about their discomfort: the legendary Aretha Franklin.
After getting a Snickers bar, Aretha goes back to being a 20-something male, having fixed his "diva" attitude. As the commercial closes, it appears another passenger is getting cranky from hunger pangs– celebrated songstress Liza Minelli!
HORSE
Two of the best basketball players in history met up for this McDonald's commercial in 1993. Super Bowl XXVII saw a match between the Bills and the Cowboys, and McDonald's pits two similarly giant sports figures up against one another in a game of HORSE: Larry Bird and Michael Jordan.
They're competing for a Big Mac and fries. The HORSE competition escalates to the point that they end up atop a skyscraper, aiming at a tiny hoop far below. It seems these two are so equally matched that they have to go to extreme lengths to get ahead!
The Doritos Ultrasound
Doritos held a contest in 2016 called "Crash the Super Bowl", letting fans write the script for their own Super Bowl commercial. Not a winner but certainly an honorable mention, the Doritos Ultrasound ad aired a quarter before the Super Bowl halftime show and left people laughing in discomfort.
To sum it up, a middle-aged father is standing eating Doritos as his wife receives an ultrasound. It seems like the unborn kid is a fan of Doritos because his image on the sonogram reaches out for the Doritos bag. At the end of the commercial, it's all but explicitly stated that the baby launched itself out of the mother's womb to grab a tasty chip.
This one didn't win the "Crash the Super Bowl" contest and certainly made some people uncomfortable. However, its creator won a $100,000 prize for landing a top-three spot in the contest.
Quick, Do Something Manly!
One of Snickers' most memorable commercials received a bit of flak for being perceived as poking fun at gay people. A couple of male mechanics share a Snickers Lady and the Tramp-style, each eating it from one end and meeting for a brief touch of the lips in the middle.
Once they realized that they've accidentally kissed, they react wildly to "do something manly". This involves ripping out chest hair, chugging windshield wiper fluid and motor oil, and other stereotypical "man stuff".
Terry Tate, Office Linebacker
Perhaps one of the most hilarious and surprising Super Bowl ads, this commercial involves Terry Tate, office linebacker. The commercial opens with Paul, an office worker, taking the last cup of coffee without making a new pot. Paul saunters around the office greeting people before Terry slams him to the ground with a hard side tackle. "You kill the joe, you make some more!"
Every office could use an office linebacker, and this hilarious Reebok commercial from Super Bowl 37 shows us why. He's great for productivity!
Hey Kid, Catch!
Mean Joe Greene was a terrifying presence on the field. However, this commercial from 1979 made him seem like a gentle giant. While not technically a "Super Bowl commercial", this ad did air during Super Bowl XIV in 1979, a game during which Mean Joe Greene was the defensive tackle for the Steelers.
The commercial has been parodied numerous times, namely by The Simpsons and Family Guy. Essentially, a young fan hands Greene a Coke, and in return, Greene throws him his jersey. According to Greene, the scene took three days to film. That's because he was constantly burping or needing to excuse himself to the restroom.
Space Babies
When confronted with the innocent question of "where do babies come from", a young father comes up with an explanation on the fly. Kia put out this visually impressive and funny ad for the 2013 Super Bowl. In it, a father describes "Babylandia", a distant planet that sends babies of all species in rocket pods to Earth.
The commercial became a viral sensation for its depiction of baby animals in realistic space suits leaving an exotic, faraway planet. Luckily, Kia's built-in entertainment system swoops in and distracts with a rendition of "Wheels on the Bus" before the kid has a chance to ask any further questions.
Hotbots
Kia made another pretty impressive showing with its "Hotbots" commercial from the same year as the "Space Babies" spot. The ad depicts a young man at a reveal of the latest Kia model.
The man proceeds to smear his hands all over the rear window. Also, he breathes heavily on the driver's side before kicking the car's tire. The attractive feminine androids guarding the vehicle take note. One of these "Hotbots" kicks the man in the shin and gives him an atomic wedgie. Then, she kicks him into a wall, throwing her hands up in a field-goal celebration.
Volkswagen: May The Force Be With You
This ad from Volkswagen is cute in a devious way. We see a young person in a Darth Vader suit attempting to use the Force. At first, they're discouraged by their lack of progress.
When Dad comes home, however, his electronic keyfob gives the young Vader a new sense of accomplishment. The "Sith Lord" successfully "uses the Force" to make the headlights flash. It was definitely the Force and not the handy keyfob offered with the 2012 Volkswagen Passat…
The Bud Knight Loses
This is perhaps one of the first instances of a commercial starting to advertise one product, then seemingly disparaging it by killing the mascot, pivoting, and advertising another product altogether. We see a medieval-looking scene unfold as lords and ladies are drinking Bud Light at a jousting match.
The Bud Light "Bud Knight" rides triumphantly towards his opponent. Then, he's toppled from his horse, accosted by his opponent, and gets his eyes gouged out. Next, a dragon destroys the place, turning this Bud Light ad into a Game of Thrones ad. Simultaneously, it destroys all of the Bud Lights and murders the Bud Knight.
1984
Considered to be the greatest commercial of all time, this commercial for the first Macintosh computer was directed by Ridley Scott. Airing in 1984, the ad is a massive nod to the book of the same name.
This commercial depicts a hammer-wielding athlete running into a room of seemingly soulless individuals staring at a screen. She spins and releases the hammer, shattering the large screen depicting the despot in charge, presumably a Big Brother figure. To this day, this Super Bowl ad is consistently listed as one of the most memorable ads of all time. Plus, it cemented Apple as a major name in tech.
The Best Super Bowl Ads
What do you think of our list of the top 20 controversial, memorable, and heartwarming Super Bowl ads? The Super Bowl is responsible for $10 billion dollars in consumer spending. So, it's no wonder that these ad spots cost companies millions of dollars.