Steelers betting odds are very much in demand. One of the NFL's most successful teams, there are plenty of opportunities for Pittsburgh Steelers betting. How will Pittsburgh fare in the coming season? We're going to examine their performances last time out, along with tips, picks, and predictions of what to expect this season.
Jump to
Pittsburgh Steelers Picks
Steelers Betting Picks of the Week
The 2018 season was certainly a disappointment for the Steelers. Ending with a 9-6 record, much improvement is required for the six-time Super Bowl winners.
The season started promisingly, with most believing the Steelers would make, at least, the playoffs for the fifth consecutive campaign. Instead, the side faltered, partly due to poor form, especially in defense.
Referee mistakes didn't help, either. Nevertheless, we expected more from what is undoubtedly an extremely talented squad.
So, what can 2019 bring for the Steelers? In all honesty, it's difficult to say. Pittsburgh Steelers betting has been difficult to get right. If you're looking to bet on the Steelers, moneylines might not be the way to go.
Successfully picking the right result was tough last season, with the next campaign looking like it will be similar. Instead, it might be worth your time considering some of your other betting options. Let's take a look at some of these now.
Over-Under
Points Spread
Prop Bets
Pittsburgh Steelers Schedule
Whether you're an experienced punter or new to the betting scene, there are a number of aspects that can help you bet successfully. One of these aspects is to plan your betting. Below, we've displayed the current schedule for the Steelers.
Week
Date
Kickoff (ET)*
Opponent
1
Sept 14
7:15 p.m.
at New York Giants
2
Sept 20
1:00 p.m.
Denver Broncos
3
Sept 27
1:00 p.m.
Houston Texans
4
Oct 4
1:00 p.m.
at Tennessee Titans
5
Oct 11
1:00 p.m.
Philadelphia Eagles
6
Oct 18
1:00 p.m.
Cleveland Browns
7
Oct 25
1:00 p.m.
at Baltimore Ravens
8
BYE WEEK
9
Nov 8
4:25 p.m.
at Dallas Cowboys
10
Nov 15
1:00 p.m.
Cincinnati Bengals
11
Nov 22
1:00 p.m.
at Jacksonville Jaguars
12
Nov 26
8:20 p.m.
Baltimore Ravens
13
Dec 6
1:00 p.m.
Washington Redskins
14
Dec 13
8:20 p.m.
at Buffalo Bills
15
Dec 21
8:15 p.m.
at Cincinnati Bengals
16
Dec 27
1:00 p.m.
Indianapolis Colts
17
Jan 3
1:00 p.m.
at Cleveland Browns
*Starting at Week 9, kickoff time is displayed in EST.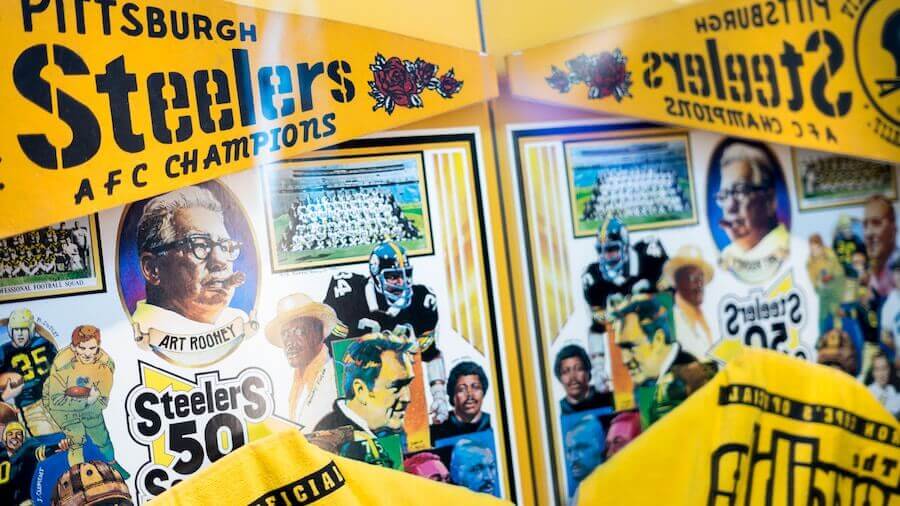 History of the Pittsburgh Steelers
The Steelers are among the oldest franchise in the American Football Conference. Established in 1933, the early days of the club were not successful. At one stage, they were the oldest franchise to never have won a Championship.
The club was first known as the Pittsburgh Pirates, becoming the Steelers in 1940. Due to player shortages during World War II, the side joined forces with other clubs in order to field a team. First, they merged with the Pittsburgh Eagles, followed by a merger with the Chicago Cardinals.
Early on, the Steelers only made one division playoffs, coming up against the Eagles in 1947. It wasn't until 1970 when the Steelers returned to the playoffs. The 1970s became a hugely successful period for the franchise, winning four Super Bowls.
Despite regularly reaching the playoffs, the Steelers didn't return to the Super Bowl until 1995. Super Bowl XXX ended in defeat to the Cowboys. Ten years later, another Super Bowl appearance was made. This time, the Steelers added to their four previous titles with a victory over the Seahawks.
In total, the Steelers have won six Super Bowls, a joint-record held with the New England Patriots. The Steelers are the only side to win consecutive Super Bowls twice.
In total, the Steelers record stands at 664 wins, 583 defeats, and 22 ties.
Team Creation
Pittsburgh Steelers were founded in 1933 as the Pittsburgh Pirates.
Best Seasons
The Steelers have enjoyed some incredible campaigns, with six Super Bowl titles to their name. Their most successful period came in the 1970s, with Super Bowl wins in 1974, 1975, 1978 and 1979.
The 2000s also saw Super Bowl success. In 2005, a 21-10 over Seattle Seahawks saw the side pick up their fifth Super Bowl. The Steelers then followed this up with another win in 2008 with a victory against the Cardinals.
Most Famous Players
The Steelers have been home to some of the NFL's all-time greats. We have to start with Joe Greene. Considered to be amongst the best defensive linemen in history, Mean Joe Greene spent his entire playing career with the Steelers, picking up four Super Bowl titles in that time.
Jack Lambert was part of the same side who won four Super Bowls in the 1970s. Winning an array of individual awards too, Lambert is considered by most to be one of the greatest linebackers in the history of the NFL.
Other famous names who made their mark with the Steelers include Troy Polamalu, Mel Blount, and Jerome Bettis.