Get the latest on New York Jets betting below. There are many things you need to know when you are looking to place a bet on your favorite team. So, this guide will help you learn everything you need to in order to wager your money this season.
Jump to
Jets Picks
Jets Betting Picks of the Week
When looking into New York Jets betting, you will want to see what types of bets you can place. And, you will want to make sure you know just how well the team is playing. So, you will need to make sure you read the team's record.
And, you will want to research the types of bets that will be best for you. Picks for outright win bets can be very easy in games with uneven odds. These predictions will help you win modest amounts of money in an outright win bet.
However, if you want to even the odds in an unevenly matched up game, you can start line betting. Line betting adds a handicap element to the bets, so you are not betting on the same odds. And, that can make the bet better for you in the event that it pays out.
You may also want to look into spread betting. Spread betting is more focused on the points and not the winner. So, if you are tired of outright winner bets, this can be a fun alternative.
Over/under betting can also be a fun alternative. You will also be using points to place an over/under bet. However, you will be choosing whether the total game points will be over or under a certain amount.
Jets Schedule
Now, you will definitely want to be able to watch the Jets play their games.
Week
Date
Kickoff (ET)*
Opponent
1
Sept 13
1:00 p.m.
at Buffalo Bills
2
Sept 20
1:00 p.m.
San Francisco 49ers
3
Sept 27
4:05 p.m.
at Indianapolis Colts
4
Oct 1
8:20 p.m.
Denver Broncos
5
Oct 11
1:00 p.m.
Arizona Cardinals
6
Oct 18
4:05 p.m.
at Los Angeles Chargers
7
Oct 25
1:00 p.m.
Buffalo Bills
8
Nov 1
1:00 p.m.
at Kansas City Chiefs
9
Nov 9
8:15 p.m.
New England Patriots
10
Nov 15
4:05 p.m.
at Miami Dolphins
11
BYE WEEK
12
Nov 29
1:00 p.m.
Miami Dolphins
13
Dec 6
1:00 p.m.
Las Vegas Raiders
14
Dec 13
4:05 p.m.
at Seattle Seahawks
15
TBD
TBD
at Los Angeles Rams
16
TBD
TBD
Cleveland Browns
17
Jan 3
1:00 p.m.
at New England Patriots
*Starting at Week 9, kickoff time is displayed in EST.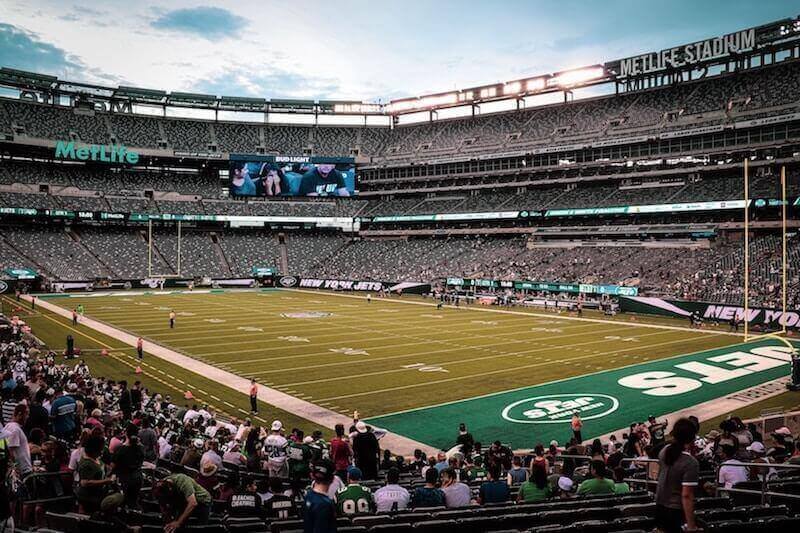 History Of the New York Jets
The New York Jets are a much younger team than the other New York team, the Giants. The Jets are also not known to be as consistent a team as their New York counterparts. So, fans of this team tend to be die-hard versus fair weather.
The Jets are one of only three teams to win their only Super Bowl appearance. The team has not been back to the Super Bowl since their win in 1968 in Super Bowl III. However, the team has competed in the playoffs a total of thirteen times.
The team has also competed in the AFC championships a total of four times. The team's Super Bowl drought is the largest in the NFL except for those teams who have never attended. The team has had rivalries with: the New England Patriots, the Buffalo Bills, the Miami Dolphins, and the New York Giants.
Team Creation
The Jets is one of the newer teams in the National Football League comparatively. The team was founded on August 14th, 1959, and is sixty years old.
Best Seasons
The Jets best season is arguably the season it won its first and only Super Bowl, the third Super Bowl ever, back in 1968. However, the team has competed in the AFC Championships four times, most recently in 2010. The Jets have also appeared in the playoffs thirteen times.
But, the team has not returned to the Super Bowl since 1968 and Super Bowl III. Which makes it the longest drought a team has from the Superbowl not counting teams who have never been. However, they did win their only Super Bowl appearance.
As mentioned above, the team is one of only three to win their only Superbowl appearance. The other teams to do so are the New Orleans Saints and the Tampa Bay Buccaneers.
Most Famous Players
Without a doubt, the most famous player from the Jets is Joe Namath. Joe Namath's name is synonymous with football and he is one of the most famous professional football players to have ever lived. He was a quarterback for the Jets.
Namath helped lead the Jets to their only Super Bowl win. Running back Curtis Martin is also quite a notable player from the team. Darrelle Revis is a famous cornerback from the New York team.