Betting on NFL action has proven incredibly popular, with Los Angeles Chargers betting no different.
Naturally, there are a variety of markets available for Chargers betting. Moneylines, Point Spreads, and Over Under betting are all common. Let's take a look at our tips and predictions for the upcoming season.
Jump to
LA Chargers Picks
Chargers Betting Picks of the Week
The Chargers came close to making a Super Bowl last season. After beating the Ravens in the Wild Card playoffs, the Chargers suffered defeat to eventual Super Bowl winners New England Patriots in the Divisional playoffs by 41 -28.
Signing off the regular season with a 12-4 record was a fantastic achievement. More of the same is expected of Los Angeles Chargers, with a roster of some fine talent available.
Many are predicting the Chargers to make a Super Bowl appearance in the upcoming campaign. If you're looking for Los Angeles Chargers betting options, let's run through some of the more popular markets.
Moneylines
Points Spread
Over-Under
Prop Bets
Moneyline betting is arguably the easiest way to take part in Chargers betting. Look at other markets too, though. Betting against the spread could be an option, along with a variety of prop and special bets.
Don't miss out on Super Bowl betting!
Los Angeles Chargers Schedule
There are many important aspects to successful betting. One is to assess upcoming games for the side of your choice. Planning is key, so below we've provided the current schedule for the Chargers.
Week
Date
Kickoff (PT)*
Opponent
1
Sept 13
1:05 p.m.
at Cincinnati Bengals
2
Sept 20
1:25 p.m.
Kansas City Chiefs
3
Sept 27
1:05 p.m.
Carolina Panthers
4
Oct 4
10:00 a.m.
at Tampa Bay Buccaneers
5
Oct 12
5:15 p.m.
at New Orleans Saints
6
Oct 18
1:05 p.m.
New York Jets
7
Oct 25
10:00 a.m.
at Miami Dolphins
8
Nov 1
1:05 p.m.
Jacksonville Jaguars
9
Nov 8
1:05 p.m.
Las Vegas Raiders
10
BYE WEEK
11
Nov 22
1:05 p.m.
at Denver Broncos
12
Nov 29
10:00 a.m.
at Buffalo Bills
13
Dec 6
1:25 p.m.
New England Patriots
14
Dec 13
1:25 p.m.
Atlanta Falcons
15
Dec 17
5:20 p.m.
at Las Vegas Raiders
16
TBD
TBD
Denver Broncos
17
Jan 3
10:00 a.m.
at Kansas City Chiefs
*Starting at Week 9, kickoff time is displayed in PST.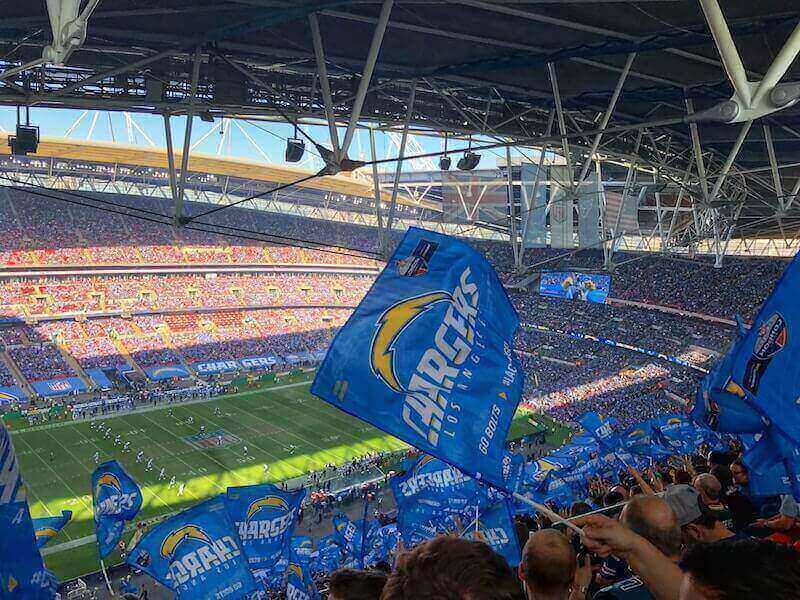 History Of Los Angeles Chargers
The Chargers were established in Los Angeles in 1959. Becoming a member of the AFL in 1960, the club finished as Western Champions before their loss to the Oilers for the AFL Championship.
The following year saw the Chargers swap LA for San Diego. A similar season followed, with the Chargers once more becoming Western Champions. Again, though, defeat to Houston Oilers followed in the AFL Championship game.
Success was only round the corner, with an AFL Championship win over the Patriots in 1963. To date, the Chargers have one AFL Championship and three NFL titles to their name.
The Chargers made their first, and to date only, Super Bowl appearance in 1994. After a narrow victory against the Dolphins in the Divisional playoffs, the Chargers then met the Steelers. A 17-13 win saw the Chargers win the AFC Championship and with it a place in Super Bowl XXIX.
Up against the 49ers, the San Diego side suffered a 49-26 defeat. Since then, the Chargers have made eight playoff appearances. The hope is that the 2019 season will see Anthony Lynn's side make a long-awaited return to Super Bowl action.
The franchise returned to LA in 2017. The Chargers' overall record, up to the start of the 2019 campaign, shows 459 wins, 460 losses, and 11 ties.
Team Creation
The Los Angeles Chargers were formed in 1959, making their first AFL appearance the following year.
Best Seasons
The Chargers have enjoyed numerous successful seasons. The 1994 campaign, which saw the side make their only Super Bowl appearance, must surely go down as the best campaign so far in Chargers history.
Most Famous Players
There have been many famous players pulling on the Chargers shirt in the NFL. LaDainian Tomlinson is regarded as one of the greatest Chargers players in their history. The running back earned a range of accolades and awards in his career. This includes the NFL Most Valuable Player award in 2006.
Linebacker Junior Seau spent 12 years at the Chargers. Seau played a huge part in taking his side to the Super Bowl. He has been inducted into the Chargers Hall of Fame.
Other famous players associated with the Chargers include Antonio Gates, Philip Rivers and Kellen Winslow.