NFL Futures Betting
Commercial Content | 21+ | T&Cs Apply
It's a fact that most NFL betting happens on individual games in the form of totals and points spreads. However, NFL futures betting is another very viable option worth considering. Betting on futures comes with some clear advantages and disadvantages and, in this article, we'll take you through both. So, are NFL futures the right option for you? Keep reading to find out.
Bet on NFL Futures: What is a Futures Bet?
Before we go into NFL futures betting, we'll start off with the basics. So, what is a futures bet? The answer hides in the name. A futures bet is a wager on the outcome of an event or a season. It's often made before the season or event even starts. In the case of the NFL futures betting, the most popular market is betting on the Super Bowl winner.
In online sportsbooks, you can usually find futures listed under a separate tab. This makes it easy to get an overview of the currently available markets.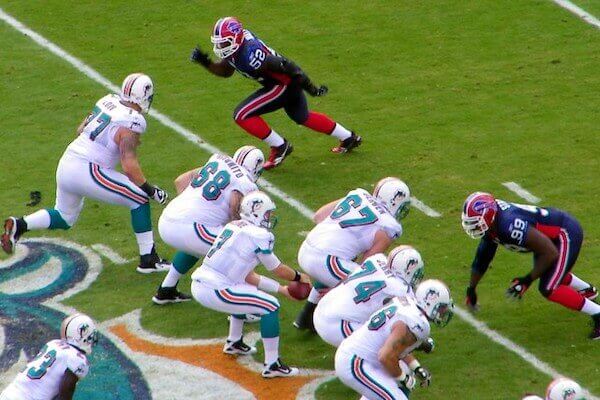 Difference between NFL Futures and Straight Bets
There are several differences between NFL futures and straight bets. For starters, there is the fact that the bet can be either won or lost. Namely, since you are betting on the final outcome of a competition, futures have no pushes.
Furthermore, you will have to wait until the entire season or competition is over before you can learn the outcome of your bet. On the other hand, you can place a straight bet right before a game starts and settle your wager within a couple of hours.
Finally, futures come with fluctuating odds. Naturally, the odds are the longest before the start of the season, when there is the least information available. The odds change once the potential variables, such as matchups, player injuries, trades, become available. The odds might also be affected by the number of bets wagered on a particular selection.
Pros & Cons of Betting on Futures
As we've said, NFL futures betting comes with a number of pros and cons. It's best to be aware of both before when you're weighing in whether you should wager on futures.
Pros
One of the biggest pros of betting on futures is the fact that they come with a big payout potential. Compared to the odds offered on totals and points spreads, the NFL future odds can be huge. This means that a relatively low wager can produce returns which are hundreds of times higher. This is one of the main reasons futures are attractive, especially to recreational bettors.
Futures also offer plenty of options for strategizing. Since you'll be placing bets at the start of the season, you can estimate different risk-reward ratios. So, you can ignore the NFL Super Bowl odds and choose a longshot winner, potentially earning a handsome payout (not to mention the bragging rights). Alternatively, you can play it safe and go with the heavy favorite, or anywhere in between the two.
All of this makes the prospect of NFL futures betting very fun. They keep things interesting throughout the season and give you an extra thing to be excited about. For many bettors, this is just what they are looking for out of their betting experience.
Cons
Now, let's take a look at the disadvantages.
As you might have guessed, it is very difficult to make a successful wager on futures markets. Football, like most other sports, is highly unpredictable. So, there are a lot of unexpected things that happen throughout the entire season. This makes futures harder to win than most other bet types.
Furthermore, you should be aware of the fact that futures often come with a heavy house edge. Though the margins are not as bad as they used to be, you will still be paying more than with other types of wagers.
Finally, futures bets can take months to resolve. For many bettors, this is part of the appeal. However, the fact that your funds will be tied up for a long time is something to take into consideration.
NFL Futures Betting Strategy
If the cons haven't discouraged you from futures, we'll give you some general tips which should improve your chances.
First and foremost, you shouldn't place too many wagers with the hopes of getting one right. Instead, be selective about the wagers you place. If you do decide to spread your risk across different selections, keep your stakes low.
Second, by all means, avoid making contradictory bets. It doesn't make much sense to bet on the Packers to win the NFC and the Seahawks to win the Super Bowl.
Third, you should consider hedging your bets. If your selection reaches the Super Bowl, it can be a good idea to also make a wager on the opponent. This will guarantee you a return regardless of the result.
Finally, you should look for the best odds. As we've said, operators often charge higher margins on futures. You can mitigate the effect by comparing the NFL future odds offered by different operators.
Futures Betting: NFL Super Bowl Odds
Though not the only option, betting on the Super Bowl winner is the most popular NFL futures bet. As we've said, the odds fluctuate as the season gets closer and progresses. Bookmakers will usually release the opening lines for the next season as soon as the current one ends. Though it's risky to bet this early, it is also the most profitable.
Once the season starts, the odds will more accurately reflect the changes but they will be much lower. So, it's up to you to estimate whether you can make an informed enough wager early enough. This will decide whether you bet the opening lines, bet at the start of the season, or during the season.
Best NFL Futures Betting Sites
If you decide to take part in NFL futures betting, you will find odds offered by most regulated online casinos. Here are some of our recommendations:
So, all there's left to do is take your pick, make a wager, and hope for the best.