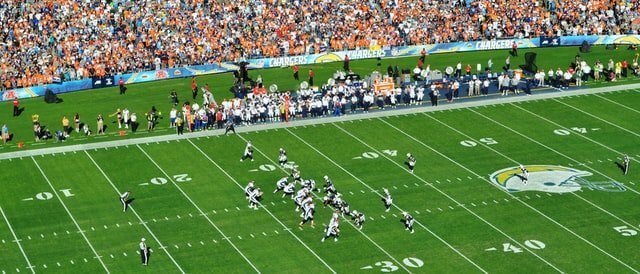 You won't find many NFL experts talking about the strength of the AFC South Division entering the 2022 season, but there are two teams that should be on top. This division hasn't been producing a true Super Bowl contender in recent years, and that will likely be the case yet again in 2022.
There are two teams that should be in a tight battle to win the division, while two other teams are going to struggle. No team in the AFC South has a projected win total of at least ten wins, and that's rare when looking at other divisions in the NFL.
Here are the win totals for all four of the teams from the AFC South Division:
Indianapolis Colts: Over/Under 9.5 Wins
Tennessee Titans: Over/Under 9.5 Wins
Jacksonville Jaguars: Over/Under 6.5 Wins
Houston Texans: Over/Under 4.5 Wins
Jump to
Colts, Titans Set For Battle
The Indianapolis Colts and Tennessee Titans both have projected win totals set at 9.5 wins for the 2022 season, and that shows you how tight the race might be. Indianapolis is a slight betting favorite to win the AFC South in 2022, but the Titans are right behind them with the odds.
The Colts made a big move in the offseason as they are now rolling with Matt Ryan at the starting quarterback position. Indianapolis will still have a terrific defense, and running back Jonathan Taylor is one of the best in the league.
Tennessee has to find a way to keep running back Derrick Henry healthy for the entire year, as he is the leader of the offense. The Titans have quietly been one of the better teams in the league, but they do have some question marks.
EDITOR: Insert appropriate reusable block here.
Can Jacksonville Improve?
The most intriguing team in the AFC South Division in 2022 is likely going to be the Jacksonville Jaguars. Jacksonville has plenty of talent on the offensive side of the ball, but those young pieces are going to have to prove that they can get it done on a consistent basis.
The Jaguars turned into a solid defensive team in 2021, and that unit can be good enough to carry this team to some victories. The over/under total is set at 6.5 wins, and that will be an interesting number to follow as the year moves along.
Texans Are Going to Struggle
The Houston Texans have plenty of holes on the roster entering 2022, and the projected win totals don't give them much of a chance to be successful. Houston could always come out and surprise everyone, but the projected win total for this team is just 4.5.
If the Texans are unable to win at least five games during the 2022 season, then they will likely have a shot at the number one overall draft pick in the 2022 Draft.