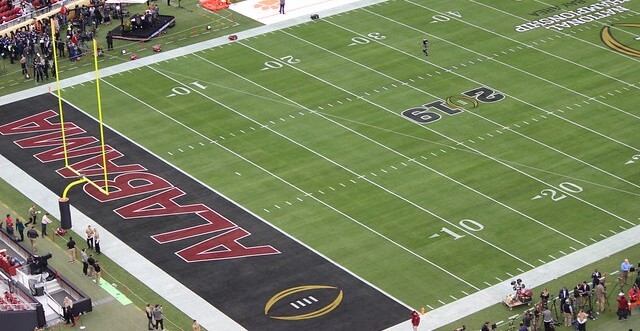 The race to the College Football Playoff (CFP) is really heating up, and there are still about ten teams with a chance to make it into the field. That group could become smaller after this weekend as there are plenty of games that will affect the race.
Rivalry games always seem to produce some interesting results, and the CFP committee will be keeping a close eye on the games this weekend. Here are three of the biggest football games of the weekend and the games that come with implications.
Jump to
Ohio State Buckeyes at Michigan Wolverines
The annual Ohio State-Michigan game is always one of the best of the year, but there is some extra juice behind the game this year. Ohio State is the second-ranked team by the CFP committee, and Michigan isn't far behind them at number six.
Ohio State is an eight-point betting favorite over Michigan, which is impressive since the Buckeyes will be on the road. The Buckeyes have dominated this rivalry of late, but a win by Michigan could cause a major shake-up with the rankings.
The winner of this game will also win the Big Ten East Division and advance to the Big Ten Championship Game. This has been one of the best divisions in football this season, and becoming the champion would be an impressive feat.
Oklahoma Sooners at Oklahoma State Cowboys
A pair of 10-1 teams are set to square off in the Bedlam Game as Oklahoma State hosts Oklahoma. There is a chance that this could be a preview of the Big 12 Championship Game, which would force the teams to play on back-to-back weeks.
Both teams are inside of the top-10 in the latest CFP rankings, but it's not looking good for the Big 12 Conference at this time. Oklahoma State has climbed up to the number seven position, and they could keep climbing with another win on Saturday.
Oklahoma still has a chance to be in consideration as well, but it will likely take a pair of wins over Oklahoma State to get them in the discussion.
This game is called bedlam for a reason, and it's going to affect the rankings regardless of which team wins.
Alabama Crimson Tide at Auburn Tigers
The Iron Bowl always seems to have CFP implications, and that will be the case yet again this season. Auburn does not have a chance at reaching the CFP this season, but Alabama could still make the field by winning out.
Alabama is a massive 20.0-point favorite in this game, but the Auburn Tigers would love to pull off a massive upset. The Crimson Tide still have some work to do if they want to win another national championship, but taking care of Auburn is the first step.