Jump to
The Good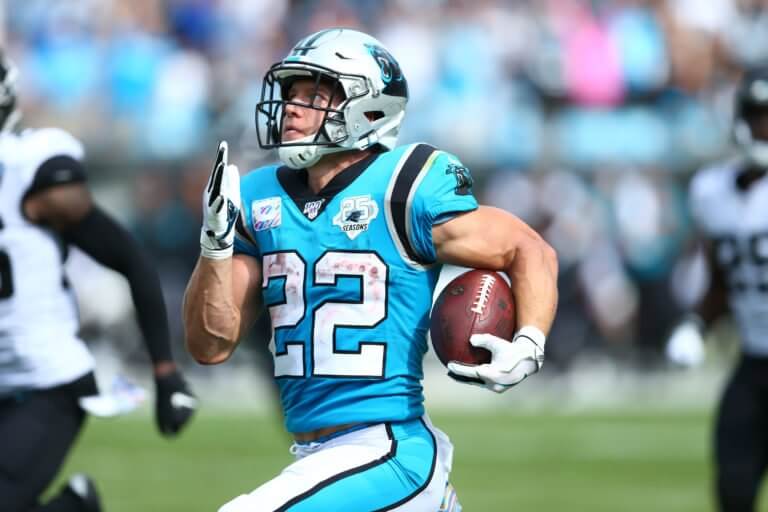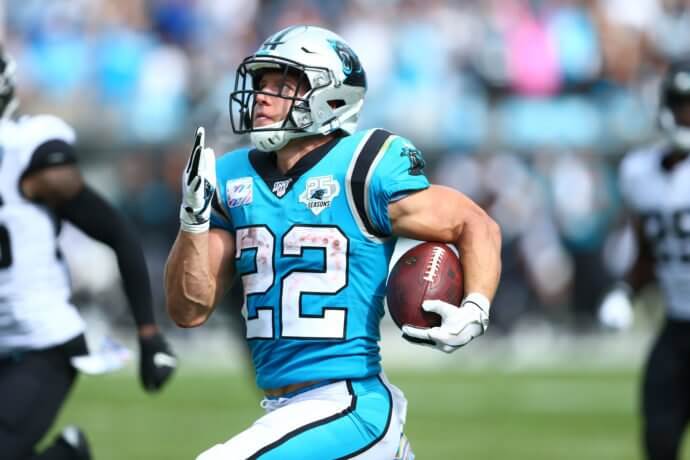 For the second straight Sunday, Tottenham Hotspur Stadium gets to host an NFL game before Wembley Stadium gets the other two of this season's matchups in England. London fans got a treat last weekend as the Oakland Raiders upended the subplot of Khalil Mack facing his former team by beating his new one, the Chicago Bears.
This weekend's matchup between the Carolina Panthers (-2/-132 ML) and the Tampa Bay Buccaneers (+2/+116) showcases Panthers running back Christian McCaffrey as he looks to lead his team to a fourth straight victory. Carolina (3-2) has thrived despite the absence of injured quarterback Cam Newton as backup Kyle Allen has gone 3-0 as a starter with 674 yards and five touchdown passes without an interception.
But it is the third-year back McCaffrey who has gotten deserved national – and now international — attention for his play and emerged as an early front-runner for NFL MVP. He leads the NFL with 587 rushing yards and 866 scrimmage yards, and the latter figure outstrips the total yardage of the New York Jets, who have totaled just 718 yards of offense in their 0-4 start.
McCaffrey has two rushing touchdowns covering at least 75 yards, picking up the most recent one in last weekend's 34-27 victory over Jacksonville as he scampered 84 yards untouched. He finished with a season-high 237 yards from scrimmage, rushing for 176 and adding another 61 receiving while scoring three times.
His worst performance in 2019, though, came in a 20-14 loss in Week 2 to the Buccaneers, who limited him to 53 total yards and stopped him on a 4th-and-1 from the Tampa Bay 2-yard line to preserve the victory. The Buccaneers have dropped two of three since that win, including a 31-24 defeat to New Orleans as they failed to generate little offense beyond Chris Godwin's seven catches for 125 yards and two touchdowns.
Godwin is third in the league with 511 receiving yards and has taken advantage of opposing defenses keying on teammate Mike Evans, who was held without a catch for just the second time in 82 games last weekend.
The Bad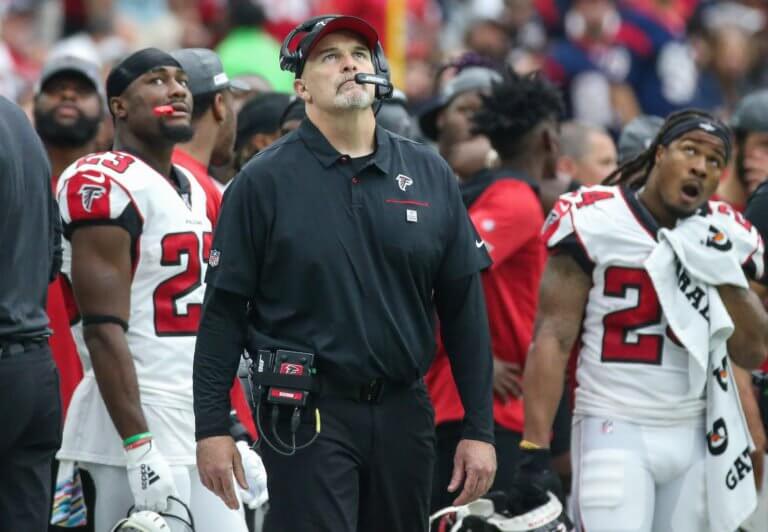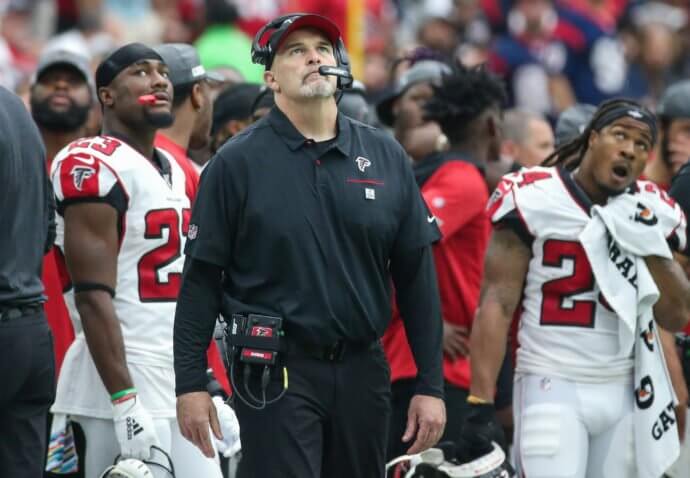 The NFL had its first coaching change Monday when the winless Washington Redskins sacked Jay Gruden on Monday, and a second may take place next week if Dan Quinn's Atlanta Falcons (-2.5/Even ML) fail to defeat the Arizona Cardinals (+2.5/-120) in the desert.
One can argue the Falcons have never truly been the same since blowing that 28-3 lead to New England in Super Bowl LI, but the soft backslide each of the last two seasons has given way to a free fall as Atlanta looks to avoid its first 1-5 start since 2007. The core of the problem has been Atlanta's defense, or lack thereof. The Falcons have given up 30.4 points per game – only the Miami Dolphins have been worse – and were roasted for 592 yards by the Houston Texans in a 53-32 defeat last weekend.
Normally, a defensive coordinator would be fired after such a start to shake things up, but Quinn did that in the offseason and took over play-calling duties on that side of the ball. The Falcons have been shredded for 10 touchdown passes and 963 yards during a three-game losing streak while opposing quarterbacks have completed 76.3 percent of his passes and been sacked only once.
All those elements could give 2019 No. 1 overall pick Kyler Murray a chance to lead Arizona (1-3-1) to back-to-back victories. The Cardinals notched their first win under Kliff Klingsbury last Sunday, beating Cincinnati 26-23 on the road. Murray rescued Arizona after it blew a 14-point, fourth-quarter lead, scrambling 24 yards to set up Zane Gonzalez's game-winning 31-yard field goal as time expired.
Murray accounted for 346 total yards and a touchdown, rushing for a season-high 93 yards and a score in addition to his 253 passing yards. The former Heisman Trophy winner has thrown for 1,324 yards with four touchdowns and four interceptions while completing 62.7 percent of his passes.
The Ugly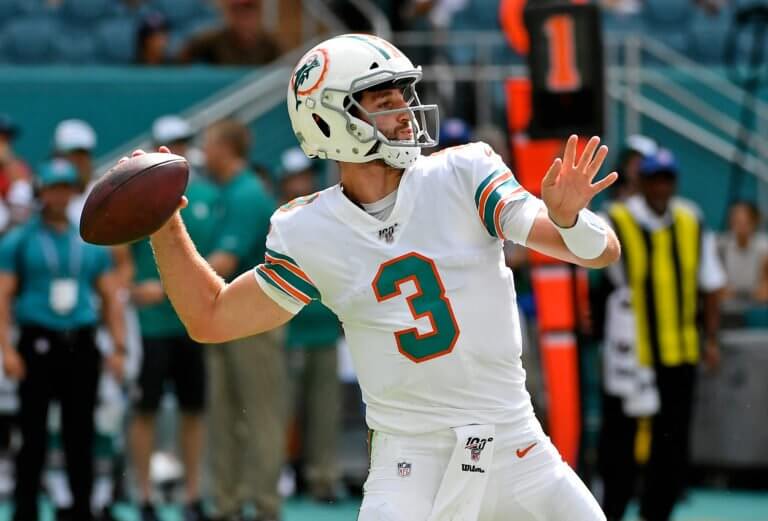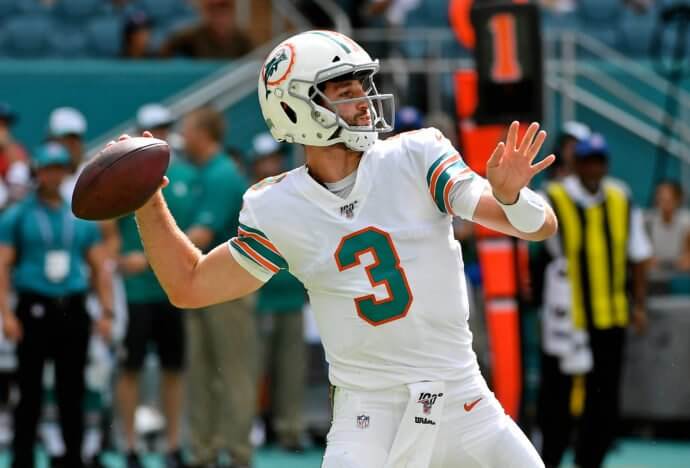 Fill in all the clichés about the resistible force facing the movable object, but the "Game of the Week" is more like the "Matchup of the Meek" as the Redskins (-3.5/-170) face the Miami Dolphins (+3.5/+148) in a battle of winless teams in which the loser may be the long-term winner by gaining the early inside track for the No. 1 overall pick in the 2020 draft.
Bill Callahan will serve as interim coach for the Redskins following Gruden's hiring, and this will be the first time he runs a team since coaching collegiately at Nebraska from 2004-07. Prior to that, Callahan coached the Oakland Raiders in 2002-03, leading them to Super Bowl XXXVII where they lost to former Raiders coach Jon Gruden and the Tampa Bay Buccaneers.
Callahan has a quarterbacking dilemma on his hands for his debut, with Case Keenum possibly returning after sitting out last weekend's 33-7 loss to New England with a foot injury. Colt McCoy started that contest and completed 18 of 27 passes for only 122 yards and was sacked five times. The odd man out in this equation is a rookie and first-round pick Dwayne Haskins, who replaced Keenum in Week 4 and was intercepted three times in that 24-3 defeat.
Opponents have outscored the Redskins by more than a 2-to-1 ratio, piling up 151 points to Washington's 73.
The Dolphins, though, would be grateful for such a margin as they have been outscored by a staggering 163-26 count in losing their first four games. Miami's bye week came at an opportune time last weekend, though it did not stop social media from making the joke the Dolphins were still underdogs against the bye.
First-year coach Brian Flores has already addressed a quarterback controversy of his own by starting Josh Rosen over journeyman Ryan Fitzpatrick. Rosen, the No. 1 overall pick in 2018 by Arizona whom the Cardinals made expendable after drafting Murray, has at least made Miami competitive in the first half of its last two games before eventually losing by a combined 45 points to Dallas and the Los Angeles Chargers.
Rosen did have his first touchdown pass of the season in Miami's 30-10 loss to the Chargers on Sept. 29 and has thrown for 574 yards while completing 43 of 84 passes. The Dolphins pass defense has been exceptionally awful, with opposing teams compiling a 137.6 passer rating – a complex formula that weighs completion percentage, yards per attempt, passing yards, interception percentage, and touchdown percentage and combines them into one figure.
To put that 137.6 ratings in perspective, a perfect passer rating is 158.3, which the Baltimore Ravens achieved in Week 1 with their 59-10 pasting of the Dolphins. Miami has 1,206 yards and 12 touchdowns through the air while recording just one interception and five sacks. The NFL single-season record for highest passer rating allowed is 116.2 by the 2015 New Orleans Saints.
(All odds from FanDuel Sportsbook app)